Bill Skarsgard Opens Up About His Role In John Wick 4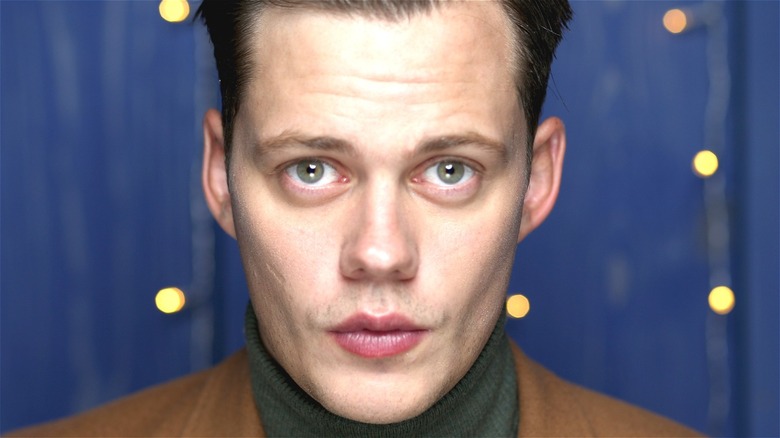 Rick Polk/Getty Images for IMDb
"John Wick 4" isn't set to be released until 2022 but the hotly anticipated quadquel already has fans of the Keanu Reeves starring franchise hyped thanks to some very intriguing casting news. Not only was it confirmed that popstar Rina Sawayama is set to make her feature-film debut in the movie, but the film has also added martial arts superstar Donnie Yen and Hiroyuki Sanada aka Scorpion from the recent "Mortal Kombat" adaptation to the roster. And all of that is to not even mention the inclusion of Bill Skarsgård, perhaps best known for his terrifying turn as Pennywise in the "It" remake.
Thus far, the particulars of who each of the new cast members will be playing have been kept under wraps. But Skarsgård did open up a bit about his role during a recent interview (via Collider). While the actor remained mum on the details of the film's plot and how the character he plays fits into it, he did describe his role as "fun," not requiring fight training, and, importantly for the actor, "something different" than he's used to.
Here's what else Skarsgård had to say about his involvement in "John Wick 4."
Bill Skarsgard is excited to tackle a different type of project with John Wick 4
According to Skarsgård, he was courted by franchise director Chad Stahelski to lend his talents to the movie. "Chad [Stahelski] reached out to me," the actor revealed, "and I met him a few times and I really liked him." Skarsgård said of the "John Wick" franchise itself, "I think the movies are very entertaining. I've always been a fan of these kinds of over-the-top, exploitive action movies."
Skarsgård, whose father is Stellan Skarsgård and brother is Alexander Skarsgård, has had roles in action films such as "Atomic Blonde" and "Deadpool 2." Still, he referred to his part in "John Wick 4" as "something that I haven't really done before." For him, that was a major draw.
"I want to try to be as versatile as I possibly can, whether it is crossing genres or playing these vastly different characters ..." he said, going on to add, "And I think that's the key to longevity in this business and having a fun career where you can go like, 'I can do a lot of different things,' so you don't end up limited into this box ..."
"John Wick 4" is scheduled to hit theaters on May 27, 2022.