What Is The Song In The Apple 'Your Next Computer' Commercial?
In a new Apple commercial (via YouTube), the company put together a montage of PC users going through the day-to-day struggles of computer ownership contrasted by the use of its various products that allow their users to roam free in the wide world, as opposed to being homebodies or chained to a desk in an office setting. The song is a peppy little number about wanting to be outside, wanting to be among those people enjoying their time in the sun. A chorus of PC users laments that while they might have the best gizmos, it comes at a price: an inability to get out there and see the world, be where the people are, and enjoy actual human contact.
By contrast, the user utilizing Apple devices are living it up: out in the sunshine, spending time with friends, and enjoying the best life has to offer. The song offers a wistful desire to be out there, to be part of that wonderful, wide world. It's a great tune, and one you're probably familiar with.
Part of Your World is an 'I Want' Song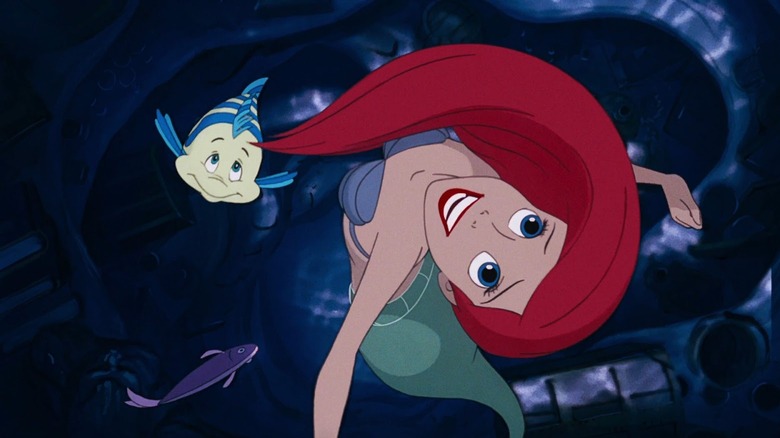 Disney
If the tune sounded familiar, it should: it's "Part of Your World" from Disney's "The Little Mermaid." Released in 1989, "The Little Mermaid" proved to be a critical and financial success, and not only breathed new life into Disney's animation department but also kicked off the period of animated hits known as the Disney Renaissance (via Time). The film won two Academy Awards — one for Best Original Score, and one for Best Song ("Under The Sea"). While it's used as a fun little ditty in the commercial, the song actually has a deeper meaning in the story and serves as a thematic centerpiece to the eponymous heroine's character growth over the course of the film.
Written by lyricist Howard Ashman and composer Alan Menken, "Part of Your World" is sung by Princess Ariel (Jodi Benson), the titular Little Mermaid, as she expresses a desire to see and explore the human world. The song is at once a ballad expressing her intense desire to become human and see all their world has to offer, and also an "I Want" song (via Musical Writers), a type of song utilized in theatre (and later in other Disney films) to express the hero's dissatisfaction with life as it is currently, as well as their desire for something greater.
One of the all-time Disney Hits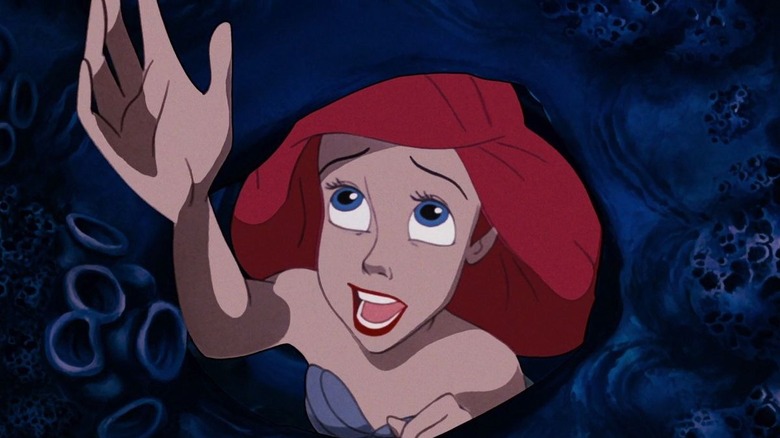 Disney
In the wake of the film, "Part of Your World" became one of Benson's signature songs, and the tune has gone on to be covered by such singers as Faith Hill, Jessica Simpson, Miley Cyrus, Bruno Mars, Carly Rae Jepsen, Jessie J, Olivia Newton-John, and Sara Bareilles. When the film was adapted into a stage musical on Broadway in 2008, actress Sierra Boggess sang the song as she originated the role of Ariel on stage. "Part of Your World" has gone on to be one of Disney's most highly-praised ballads (via Film Tracks), and it has gone on to become "The Little Mermaid's" signature song.
With its themes of longing to join humanity, "Part of Your World" stands as one of the all-time classic ballads in the Disney stable and is a beloved favorite for audiences new and old. It's a legitimately sweet and touching piece of music that tugs at the heartstrings and serves as a source of comfort for when we'd love to be where the people are.