New Little Mermaid Set Photos Have Halle Bailey Fans Buzzing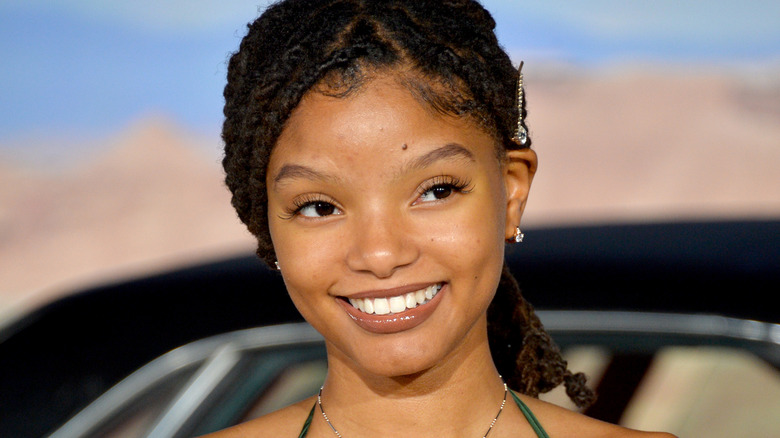 Shutterstock
Disney's move toward live-action films in the last decade has made many classic animated films new again. Emma Watson brought Belle from "Beauty and the Beast" to life, Will Smith became the new genie in the live-action "Aladdin," and that doesn't even start us on live-action takes on Disney villains like Angelina Jolie's version of Maleficent or Emma Stone's Cruella de Vil.
"Cruella" in particular (which already seems to have a sequel in the works) has people thinking about the possibility of a live-action film dedicated to another beloved Disney villain — Ursula from "The Little Mermaid." And while there's always a possibility for more Disney villainess films, here's the thing: We already have a live-action "The Little Mermaid" on the way. In fact, it's in production right now.
We've known for a little while that star of "Grown-ish" and part of the sister duo Chloe x Halle, Halle Bailey, would be our new Ariel, but we haven't really known what she would look like. Sure, we've had the classic animated film to go off of (and the recent live musical rendition), but what in the "Splash" will Bailey actually look like on screen for a big-budget, live-action "The Little Mermaid?" Today, we got our first glimpse of the answer.
A familiar romantic scene for our first Little Mermaid look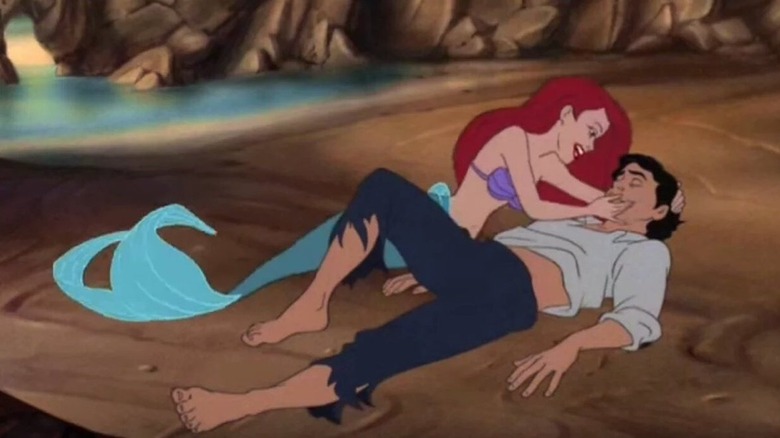 Disney
Photographers were on hand where "The Little Mermaid" is currently filming in Italy after long delays due to COVID-19 quarantines and restrictions (source: The Daily Mail). At long last, we're getting to see not only Halle Bailey's Ariel but also her co-star and Prince Eric for the film, Jonah Hauer-King. The pair were spotted on a beach filming what appears to be a recreation of a scene from the original Disney animated film where Ariel has successfully saved Prince Eric from drowning.
While the photos are blurry, we can clearly see Bailey wearing a wetsuit, and, in some shots, a fish tail — likely just practice for the "real thing," which we'll hopefully see more of very soon. Some shots show Hauer-King on his back passed out, and in others, you can see the two clearly embracing. It will be interesting to see how closely this version will hew to the original concept of Ariel losing her voice and Prince Eric not knowing anything about her circumstances.
Fans of Bailey are excited to see her as Ariel. On Twitter, @fourstorygarden writes, "She's going to be so perfect ... stunning and incredibly talented I can't wait to see it." And user @AMARETTO_BEAUTY responded by saying that "Halle Bailey is more beautiful than the most beautiful woman YOU can think of." And of course, @ki_thatgirl read many fans' minds when she tweeted, "Imma need them to make sure her hair looks firetruck red when it's time."
We'll find out more as production continues. "The Little Mermaid" is currently set for a 2022 release.