What Is The Song In The Apple Music 'Beyond Stereo' Commercial?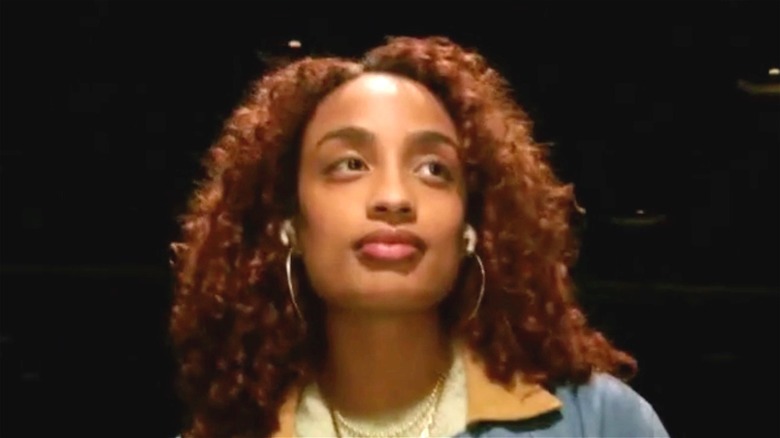 Apple
The ad opens with vocalizations set to a beat, building to lyrics that describe an emotional response to a woman the singer has never met. As we watch, we see that woman strolling through a space filled with duplicate images of a dapper gentleman, singing, dancing, floating, and flying as the woman looks around, taking it all in. When Apple Music's commercial for Spatial Audio concludes with its tag line, "Hear sound all around," we realize that's what we've done. We've visually experienced the product, and the ad makers' choice of song drives home that experience, sticking with us well after the 30-second commercial has ended.
The mystery song in the Apple Music ad is aptly named "Mystery Woman." The musical artists behind its creation are Masego and Don Toliver. When they got together to write "Mystery Woman," they didn't do it for the Apple ad. The song was released in November 2020 on Masego's EP "Studying Abroad." The video dropped the same month.
So who are these artists? And how did they land this gig?
Masego and Don Toliver soundtracked the Apple ad
The man we see in the "Beyond Stereo" Apple ad is singer, songwriter, and producer Masego (also known as Micah Davis and Uncle Sego), a self-described "TrapHouseJazz" artist, whose debut album "Lady Lady" dropped in 2018 (via Vogue). Born in Jamaica and raised in Virginia, he's pursued his musical interests all his life and his dedication to creating music is genuine.
Some of Masego's previous work includes verses about how much he loves iPhones, as heard in his 2016 song "Sego Hotline": "I was doing it for years, man, saying, 'I wanna get an Apple commercial' and just show my love for Apple whenever I could," he told Variety.
On "Mystery Woman," Masego partnered with Don Toliver, a Houston-born singer, rapper, and songwriter, who kicked off his career with a collaborative mixtape, "Playa Familia," in 2017, and has gone on to work with artists including Travis Scott, Eminem, and The Weeknd. Their collaboration was powerful enough to capture attention from fans (garnering close to 100 million combined global streams), The Late Late Show with James Corden, and Apple, bringing both artists more into the mainstream with close to 1 million views on Apple Music. 
We can't help but believe they deserve the attention.