The Type Of Animation Hayao Miyazaki Hates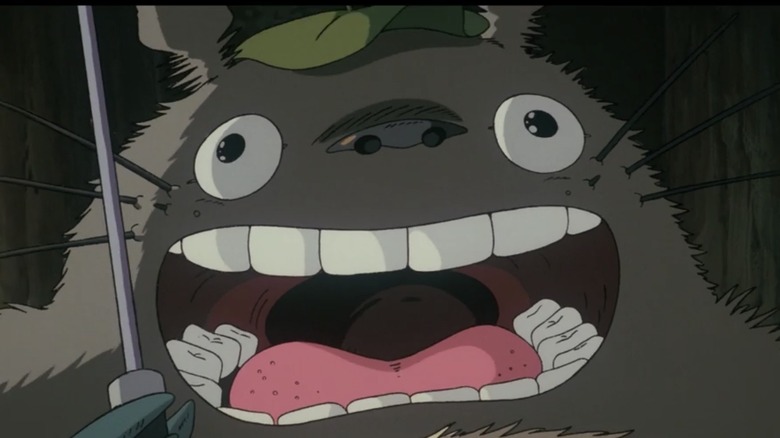 Studio Ghibli
Hayao Miyazaki, the animation master responsible for Studio Ghibli and so many Japanese-animated classics, from "My Neighbor Totoro" to "Princess Mononoke," is well-known for his love of beautiful hand-drawn animation — a love that drives him even today. You can attribute the fact that he can't seem to stay away from his work as part of this passion. Even though he famously retired in 2013 (via Kotaku) to the despair of his fans everywhere, that retirement simply did not take, per The Verge. His son, Goro Miyazaki, told SlashFilm earlier this year, "Hayao Miyazaki's wife, who is my mother, she used to say [to him], 'I wish you would retire and take it easy and enjoy the rest of your life.' But recently, she's come to accept the fact that he cannot stop creating, so she knows that, so she'll be like, 'Okay, if you'd rather create until the end of your life, then go to the studio, go to the office everyday.'"
The elder Miyazaki is currently working on "How Do You Live?" a hand-drawn project said to still be years away from completion, as they are creating one minute of animation per month (via Entertainment Weekly). "I think animation is something that needs the pencil, needs man's drawing hand, and that is why I decided to do this work in this way," he told the press in 2008 (via FirstShowing.net) while premiering "Ponyo." "I will continue to use my pencil as long as I can," he added.
It only makes sense, then, that he considers some of the use of computer graphics for animation "excessive." But what type of animation does this master truly dislike?
it was the passion of young artists that allowed him to eventually embrace CGI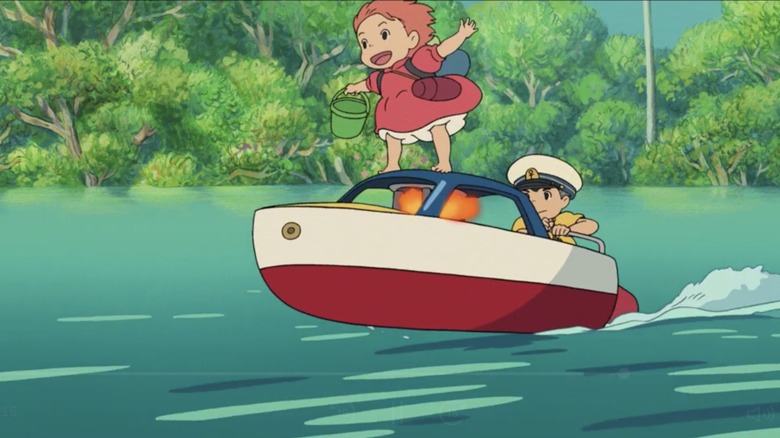 Studio Ghibli
Hayao Miyazaki does allow CGI in his work, although he has expressed in the past that he finds aspects of it problematic. In 2009, media reported that he shot down the CGI animation department at Studio Ghibli, which had been used to embellish hand-drawn images. "I realized that by using computers, what we were doing is that people who could draw by hand, the computer somehow entered in their heads," Miyazaki told the Associated Press (via Today) through a translator. "So they were starting to draw to fit the computer images, and I thought that was the wrong way to go."
"Boro the Caterpillar" director Kaku Arakawa noted that Miyazaki used computer-assisted graphics to blend with his hand-drawn animation in "Princess Mononoke," "Spirited Away," and "Howl's Moving Castle." "In the following films 'Ponyo' and 'The Wind Rises,' he went back to traditional hand-drawn," Arakawa said. "Since he's strongly convinced that [anime] has to be hand drawn, I don't think he was expecting much from the technology when he met these young CG animators. What drew him to the opportunity was that he saw something in their eyes; their strong ambition and desire to accomplish something meaningful in their budding field. He told me, 'They remind me of my old self.'"
Miyazaki has allowed recent Studio Ghibli projects to use computer graphics more extensively. And he has acknowledged that CGI is the future. In this year's "Earwig and the Witch," he also allowed his son Goro to delve more closely into the art form. In the 2016 documentary "Never-Ending Man" from Japanese network NHK, he said (as reported by Ars Technica). "We can't stop CGI from taking over animated films."
But he can't stand AI-generated animation, which he calls 'an insult to life itself'
Studio Ghibli
Miyazaki has saved his worst criticism for a specific type of computer animation — AI-generated animation. There's a widely-circulated clip from Japanese network NHK's documentary series, "NHK Special: Hayao Miyazaki — The One Who Never Ends" (also known as "The Never-Ending Man"), which shadowed the animator at home and in the studio, interviewing him and his co-workers. In the clip, Miyazaki is sitting in a classroom listening to presenters talk about what they're trying to do with a project that features artificial intelligence-driven animation.
The presenters show a video displaying ways in which AI could "present us grotesque movements, which we humans can't imagine," as they put it, for the purposes of perhaps creating innovative new zombie games. Miyazaki responds with a very cutting remark. He talks about a friend of his with a disability, who has trouble even high-fiving people. "Thinking of him," the elder Miyazaki said, "I can't watch this stuff and find it interesting. Whoever creates this stuff has no idea what pain is whatsoever. I am utterly disgusted. If you really want to make creepy stuff, you can go ahead and do it. I would never wish to incorporate this technology into my work at all. I strongly feel that this is an insult to life itself."
The awkward silence in that room was very telling, with young animators afterward trying to justify their work to Miyazaki and explaining that they want to create a computer that can draw like humans do. The clip lets viewers draw their own conclusions, but it's clear that Miyazaki isn't sure that could — or should — ever happen.