The One Star James Gunn Had To Have In The Suicide Squad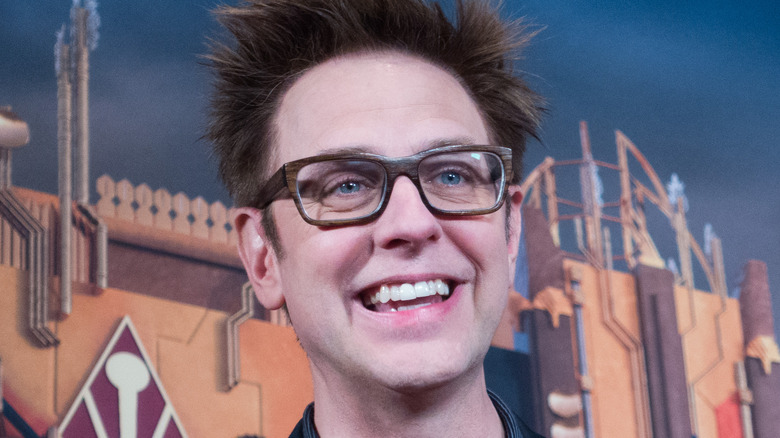 Handout/Getty Images
The world is fixated on the Marvel Cinematic Universe at the moment, thanks primarily to the arrival of the long-overdue "Black Widow" movie and the conclusion of "Loki" Season 1 on Disney+. However, let's not forget that there's another powerhouse superhero brand that's ready for its big-screen comeback: DC. On August 6, 2021, director James Gunn's "The Suicide Squad" will hit cinemas and HBO Max — loosely carrying on the legacy of David Ayer's 2016 "Suicide Squad" and introducing moviegoers to some of DC Comics' most unexplored, odd, and downright cheesy characters.
The cast of "The Suicide Squad" is huge, to say the least, and is jam-packed with D-listers like Javelin (Flula Borg), Polka-Dot Man (David Dastmalchian), Ratcatcher II (Daniela Melchior), and Savant (Michael Rooker), as well as several other obscure villains. They're joined by a few familiar faces from Ayer's "Suicide Squad" — first and foremost being Margot Robbie's beloved take on Harley Quinn. Additionally, Jai Courtney is giving Captain Boomerang another go, Joel Kinnaman is once again our Rick Flag, and Viola Davis is bringing back the mastermind behind it all, Amanda Waller. 
That brief overview barely scratches the surface when it comes to the mammoth roster of "The Suicide Squad." James Gunn and his crew did their best to enlist the most fitting troupe of actors possible, but, according to him, there's one name that stood out from the rest as an extra necessary inclusion.
Idris Elba is integral to James Gunn's The Suicide Squad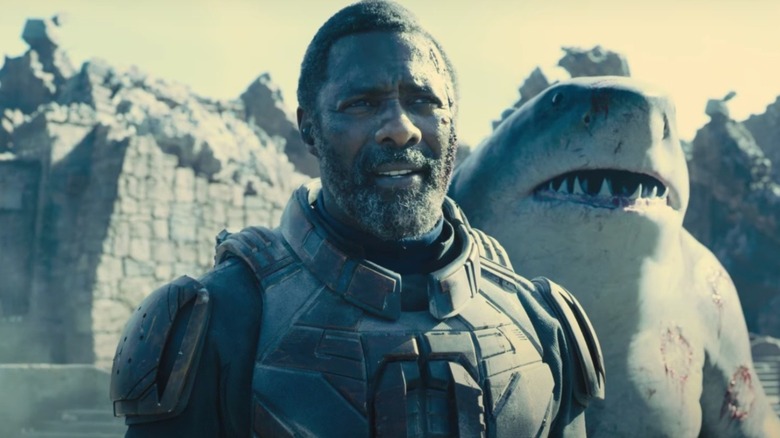 Warner Bros. Pictures
As the premiere of "The Suicide Squad" draws nearer, promotion for the movie is ramping up. Naturally, this led James Gunn to speak with the New York Times about his latest jaunt through the superhero genre and what went into the production. When asked about whether or not he wanted to bring back Jared Leto and Will Smith — who played the Joker and Deadshot in the 2016 "Suicide Squad" — Gunn wound up instead revealing which actor he needed to have on the cast list.
"I really wanted to work with Idris [Elba]. It is a multi-protagonist film. We go off for a while with Margot, and Daniela [Melchior, who plays Ratcatcher 2] is the heart of the film in a lot of ways. But if there's one protagonist, it's Idris," the "Brightburn" director said, citing Elba's "gruff, 'Unforgiven'-type feel about him" as the driving factor behind his desire to include him. 
Gunn also mentions where Idris Elba's character, Bloodsport, is mentally when we meet him in "The Suicide Squad." "This guy who had been reduced from being a bigshot supervillain — he took Superman out of the sky — who is now scraping gum off the floor at the beginning of the movie," he explains, later adding that Bloodsport has accepted his place on the Suicide Squad roster and is just rolling with the punches.
Alongside Margot Robbie's Harley Quinn, Sylvester Stallone's King Shark, and a handful of other prominent folks, Idris Elba's Bloodsport will be a focal point of "The Suicide Squad." If James Gunn's comments are of any indication, he'll undoubtedly be a highlight of the film.