Idris Elba's Accent Game Is Beyond Impressive
This content was paid for by Netflix and created by Looper.
Throughout his career, Idris Elba has become one of the most esteemed actors in the business thanks to his distinguished good looks, his natural air of authenticity and charm, and his commitment to weaving the full fabric of his characters in his performances. One important element of his seamless portrayals of so many screen roles is his knack for mastering the many accents of the people he portrays.
For Elba, developing a solid regional dialect is simply a matter of spending time listening to people, because he considers himself to be a "mimic" who can pick up on talking traits by hearing them. That talent has come in handy yet again with his latest role as Harp the horseman in Concrete Cowboy. The film is based upon the real-life community of city riders in Philadelphia, and Elba spent some quality time in the City of Brotherly Love training on horseback and learning to speak with a local accent. The movie was also shot on location in the city and features some real-life riders from the region, so Elba had everything he needed to put on yet another master class in local linguistics for Concrete Cowboy.
Before the film arrives on Netflix on Friday, April 2, here's a look back at some of the other times Idris Elba showed off his incredible knack for accents.
Adopting an American accent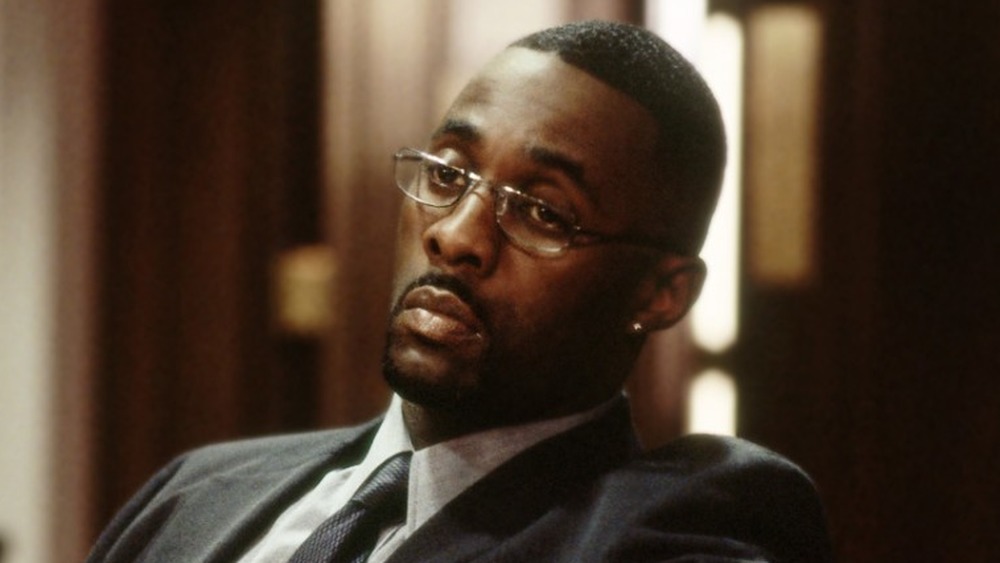 HBO
Idris Elba has often been teased on talk shows about his first example of using an American accent on-screen in one of his earliest roles, which took place on the mid-'90s British series Space Precinct, because it really is pretty hilarious in retrospect. In the show, Elba appeared as an astronaut pizza delivery man with a country western twang, and everything about the scene is funny — especially the fact that it isn't even Idris who speaks in the scene. That's right, according to the actor, his own accent from the shoot was apparently so bad that he was dubbed over with a voice actor from all the way in Germany. Ouch.
Over time, however, Elba worked hard to hone his American accent skills by moving to New York, spending time in a barbershop, and talking basketball with his neighbors. His skills with the dialect soon became so strong that he managed to fool millions of adoring fans into thinking that he was actually from the United States with his career-changing role as the smooth criminal Russell "Stringer" Bell in HBO's celebrated crime-drama series The Wire.
Interestingly enough, Elba almost didn't nab that part because creator David Simon was intent on casting actors who were actually from the inner cities so they could identify with the Baltimore-based issues of the show. Elba decided to hide his natural British affectation during his auditions, but he eventually came clean about his London heritage when one of the producers asked him about his childhood. Even so, Elba's tryout was so convincing that Simon cast him as Stringer, and Elba went on to own the role and make good use of his many years of self-training on the sound.
Elba's impressive American accent has continued to come in handy in many of his other standout screen appearances, including his turn as Tango in American Gangster, his role as Derek in Obsessed, and as lawyer Charlie Jaffey in Molly's Game. According to writer-director Aaron Sorkin, Elba's secret to keeping his adopted accent so on point in his movies is that throughout the production process, even on his breaks from shooting, Elba stays in character — vocally, at least.
Channeling some ancestral roots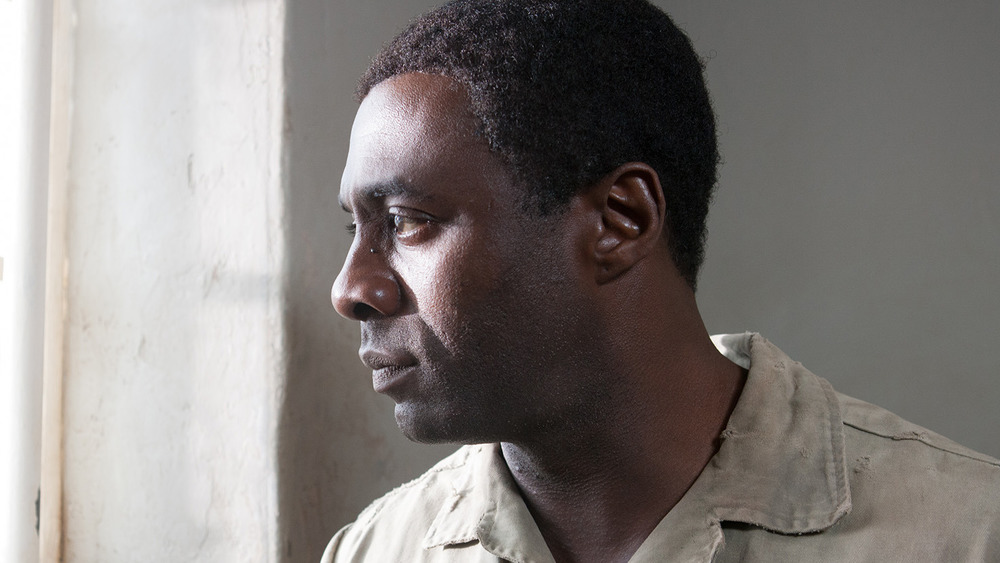 20th Century Fox
Though Idris Elba grew up in the Hackney borough of London, his father Winston was from Sierra Leone and his mother Eve is originally from Ghana. Elba still grew up to have a natural British accent, but his family's African heritage ultimately proved to be quite helpful to the actor in developing some of his most powerful movie performances yet.
In particular, his turn as the South African president Nelson Mandela in Mandela: Long Walk to Freedom was partially inspired by his own dad's countenance. Elba told Oprah Winfrey that he modeled his performance after his dad, who was then reminded of his own father in Africa after seeing it. Another sign Elba nailed it? Mandela reportedly thought he was watching himself while screening a scene from the film because Elba delivered such a powerful portrayal of him.
One aspect of his performance that has been widely praised is how well Elba managed to capture Mandela's unique vocal tones and mannerisms in the film. For the actor, mastering Mandela's Xhosa accent was an intimidating task, but his dialogue coach Fiona Ramsey found some important similarities between Elba's own Cockney accent and Mandela's Xhosa dialect, including the tendency to speak from the back of the mouth. Of course, Elba also told NPR it was helpful to grow up listening to his parents' own West African cadence, which he used as a foundation while studying Mandela's inflections for the role. The real "magic" happened, though, when Elba finally got to stand before the extras in South Africa and see the crowd absorbing the authenticity of his accent as he delivered some of Mandela's most inspiring words to them.
Elba went on to channel his parents' past for his breathtaking portrayal of the sinister Commandant in Beasts of No Nation, which centers on a boy becoming a child soldier in a war-torn West African country. The actor told the New Zealand Herald that the film's setting was particularly important to him, since his parents grew up in similarly distressed countries, and he adopted a Sierra Leonean accent with a hint of Nigerian "just to be fancy." Not only did he nail the intonations, but the sound stuck with him even after the shoot. Per Elba, "One thing that happens to me, a kind of character residue, is that his accent stayed around. I couldn't shake it off." Apparently, Elba's voice was hard for audiences and critics to get out of their heads as well, considering how many awards season nominations he received for his work in the films.
Heading out of this world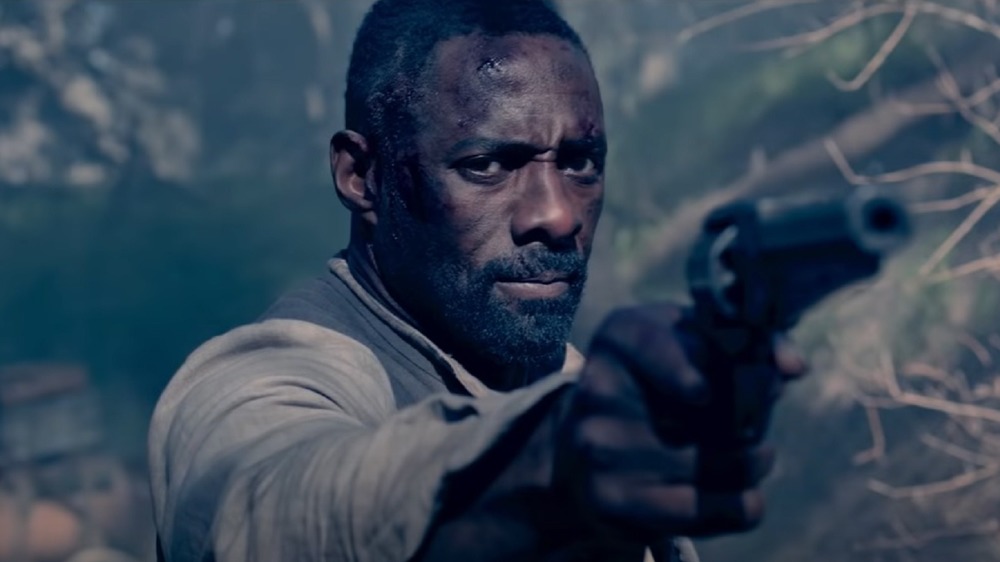 Sony
In addition to locking down accents from around the globe, Elba has also gotten the opportunity to create his own character sounds in recent years, including for his role as Krall in 2016's Star Trek Beyond. With the help of a voice coach, Elba decided to take his timbre of his own voice down low for the prosthetic-heavy role. The actor found the deep tones to be challenging, but the voice was also helpful to him in crafting his villainous presence and making the role something all-new for himself.
Similarly, Elba got to use his imagination while bringing the character Roland Deschain to the silver screen in the 2017 adaptation of The Dark Tower. Though the Gunslinger is one of the most iconic characters in Stephen King's written repertoire, Elba was the first actor to ever portray him on-screen, so he and director Nikolaj Arcel got to craft what the character sounds like. Because the character hails from a different time and place than anything that's ever been captured on-screen before, but still has an old-timey western feel to him, Elba explained to Entertainment Weekly that they settled on an "old-worldly, formal, flat American" dialect for the character.
Bringing it all home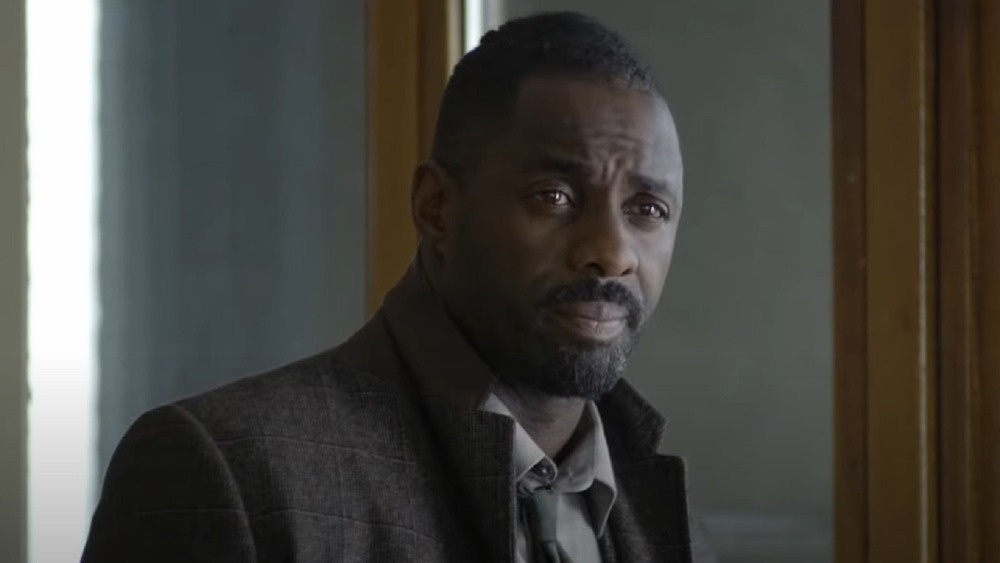 BBC Studios
In addition to his impressive American, African, and even alien dialects, Elba has continued to expand his accent portfolio in films and television. For example, audiences can hear how easily he masters a French-Algerian accent in Ghost Rider: Spirit of Vengeance, and he's even gotten the chance to give his own English vocals a more formal vibe in films like Pacific Rim.
But fans can also find plenty of examples of Elba's natural English sound throughout his filmography. Most memorably, Elba returned to his organic accent for his Golden Globe-winning role as DCI John Luther in Luther. Perhaps surprisingly, Elba said he found it "odd" to finally return to his own tongue for the television role after spending so many years portraying Americans and living among Americans.
However, as with all of his other roles — with the possible exception of his brief run on Space Precinct — he has well proven that no matter where his characters are from, he will not only master the accent, but he will make you forget all about them with the sheer power of his screen presence.