Here's How James Gunn Paid Hilarious Homage To Chris Pratt While Shooting The Suicide Squad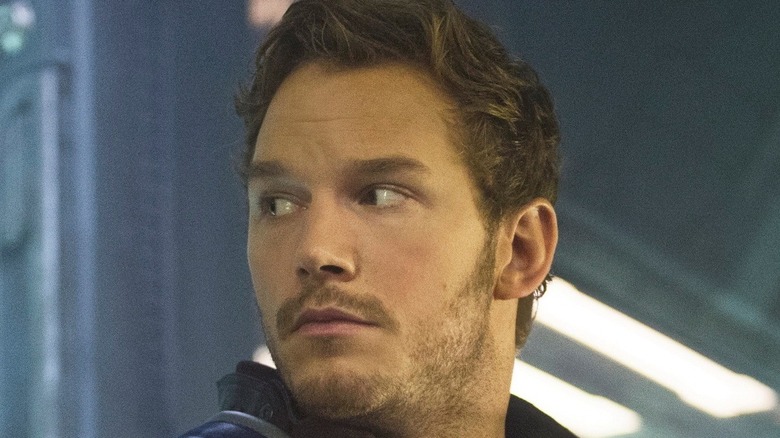 Marvel Studios/Disney
Neither James Gunn nor Chris Pratt were new in the world of television and filmmaking when they began working together on "Guardians of the Galaxy." Gunn found success writing the Zack Snyder-directed remake of "Dawn of the Dead" in 2004, moving on to the live-action "Scooby-Doo" movies before finding directorial success with the horror film "Slither" and the ultra-violent superhero movie "Super." Pratt, meanwhile, built his name in television by playing the likes of Bright Abbott on "Everwood," Ché on "The O.C.," and of course, Andy Dwyer on the seminal sitcom classic "Parks and Recreation".
However, neither Gunn nor Pratt were as high-profile as they were once "Guardians of the Galaxy" entered theaters in 2014. Since then, both men have found enormous success both within the MCU and outside of it.
After a temporary falling out with Disney (the Mouse House fired him in July 2018), Gunn even jumped teams to write and direct "The Suicide Squad" for the DCEU. Gunn brought some of his former "Guardians" cast with him, including Michael Rooker, Sylvester Stallone, Nathan Fillion, and his brother Sean Gunn. Originally, Gunn even wanted Dave Bautista in the role of Suicide Squad member Peacemaker, though Bautista chose to work with Snyder on "Army of the Dead" instead of with Gunn for the new DC movie.
But Chris Pratt isn't a part of "The Suicide Squad" — at least not directly. It turns out that James Gunn found an amusing way to keep the spirit of his "Guardians" star present while filming "The Suicide Squad."
A rat by any other name ...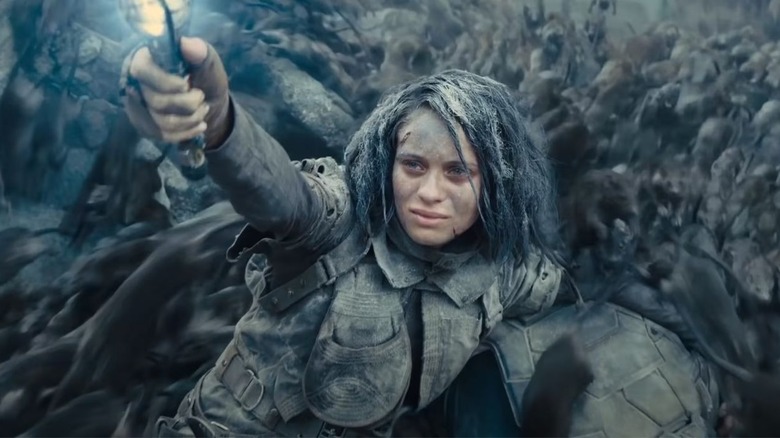 Warner Bros. Pictures
There are a lot of members of the new Suicide Squad, many of whom are even more unusual than you'd expect from the team. One new members is Ratcatcher II (Daniela Melchior), who, true to her name, possesses the ability to control rats. While you might expect some amount of CGI rodents in the film, Gunn actually utilized a few real-life trained rats for "The Suicide Squad." And, as it happens, one of those rats is named something "Guardians of the Galaxy" fans might find familiar.
"We had a lot of rats that we worked with. A couple dozen, I guess. But we had two primary rats. One was named Jaws and one was named Crisp Ratt," Gunn revealed in an interview with Entertainment Weekly. "They were our two main rats, and they were sweethearts, and they played [Ratcatcher's main rat friend] Sebastian for most of the movie. Crisp could do some things and Jaws could do some other things. Jaws was the more mellow one. Whenever you needed a rat to just sit on Daniela's shoulder, or to be held by her, or whatever, that's almost always Jaws. And when you needed a more crazy rat that was drinking water or running across the room, that would be Crisp Ratt."
If you were wondering if Gunn made Chris Pratt aware of his namesake, he did — but supposedly only because the rats appear by name in the end credits of "The Suicide Squad."
"I had to text Chris the other day to be like, 'We're putting the credits together and one of our rats is named Crisp Ratt,'" Gunn told EW. "'This, of course, is meant as a compliment to you. But I just want to make sure that you're cool with that, that I put this rat's name in the credits.'" Fortunately, according to Gunn, Pratt "thought it was hilarious."
"The Suicide Squad" hits theaters and HBO Max on August 6.