The Real Reason Dave Bautista Turned Down James Gunn's The Suicide Squad For A Netflix Movie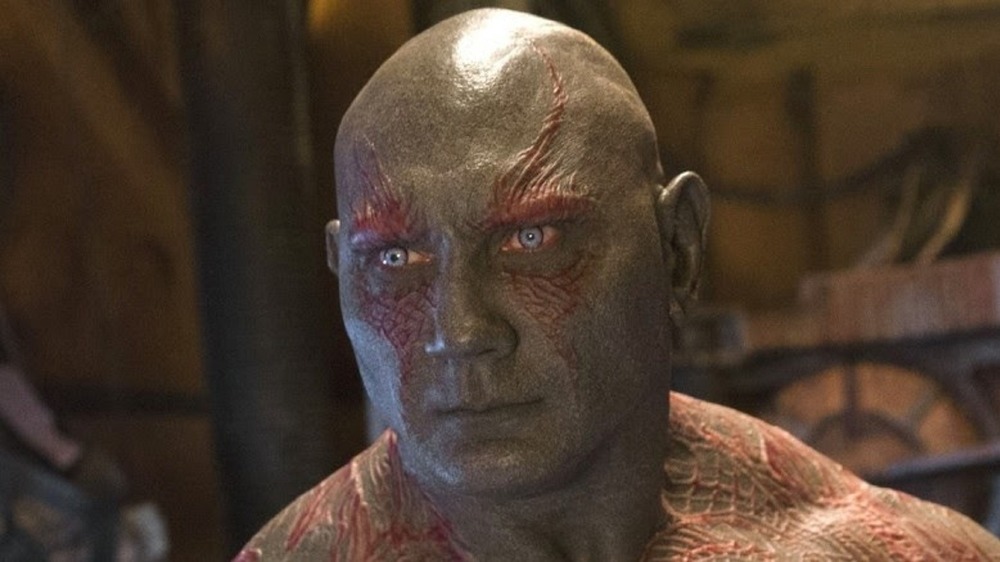 Marvel Studios/Disney
As Marvel Cinematic Universe fans may have noticed, Guardians of the Galaxy helmsman James Gunn and Dave Bautista, who plays Drax the Destroyer, are pretty tight. When a number of the director's unsavory old tweets in 2018 were unearthed and he was fired from Guardians of the Galaxy Vol. 3, Bautista was one of Gunn's staunchest supporters. At one point, he even threatened to quit Guardians of the Galaxy Vol. 3 if Disney and Marvel Studios chose to throw Gunn's script in the bin and proceed with someone else's vision.
Of course, the fans were ultimately spared from a sad, Drax-less future when Gunn returned to write and direct Guardians Vol. 3. As a bonus, he spent his time in MCU wilderness making the upcoming The Suicide Squad for the DC Extended Universe, so fans get two Gunn superhero ensemble movies out of the whole ordeal.    
With the camaraderie Bautista displayed toward his temporarily disgraced director, it would have been easy to assume that The Suicide Squad would've had a role with the hulking wrestler-turned-actor's name on it. However, it turns out that Bautista was offered a role in the movie, but he promptly refused to take it — in order to star in a Netflix movie instead. Sounds pretty weird, right? Let's take a look at the real reason Bautista turned down James Gunn's The Suicide Squad for a Netflix movie.  
Dave Bautista preferred Zack Snyder's Army of the Dead over The Suicide Squad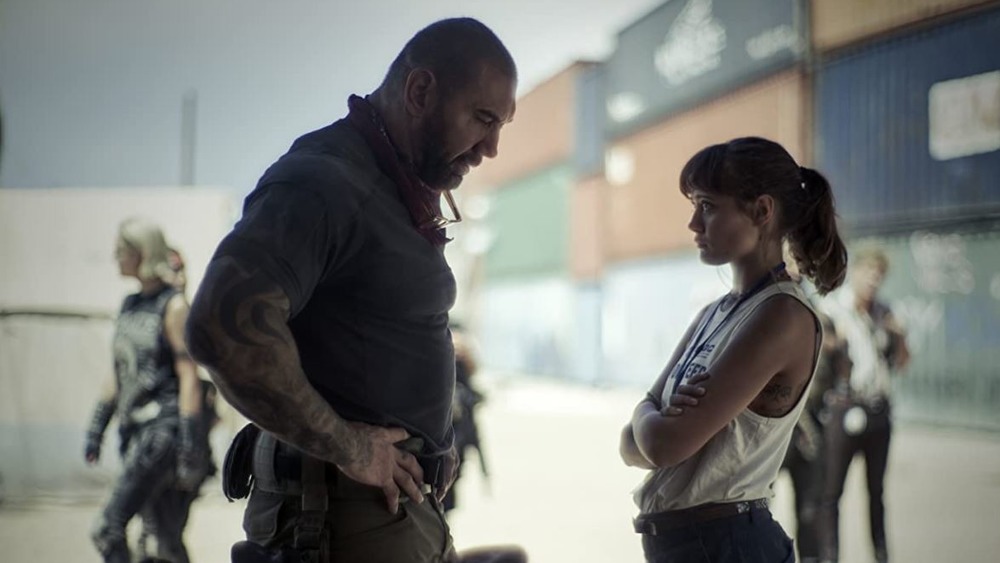 Netflix
As soon as Gunn's involvement in The Suicide Squad was announced in October 2018, Bautista tweeted excitedly, "Where do I sign up!" As such, it may seem counterintuitive to imagine him actually turning down a role in the movie, especially in favor of another high-octane romp. Still, that's exactly what happened. According to Entertainment Weekly, Bautista was unable to join The Suicide Squad for one simple reason: He was completely enamored with Zack Snyder's upcoming Netflix movie Army of the Dead, a peculiar cross between a heist movie and a zombie film. 
Things didn't start out that way, mind you. In addition to his tank-like build and comedic chops, Bautista is also a good dramatic actor — to a point that his turn as Sapper Morton in Blade Runner 2049 has been called one of the best one-scene performances of all time. He was keen on exploring that side of his career when Snyder first contacted him, so he was decidedly not a fan of a starring role in a zombie flick. "I said I wasn't interested," the actor explained to EW. "I had this chip on my shoulder and was looking for juicy [dramatic roles]." 
However, Bautista eventually took a second glance at Army of the Dead and became as interested as Netflix, which jumped at the chance to make the film. "Then I read the script and it was a lot deeper and had more layers than I thought. And also, to be quite frank, I wanted to work with Zack," said Bautista. Then, according to EW's report, Bautista "gave up" his Suicide Squad role and joined Army of the Dead.
Judging by the actor's comments and the fact that he favored Army of the Dead over a Gunn movie, it sure looks like Bautista and Snyder's fans are in for one impressive collaboration.