American Horror Story Fans Agree This Was Leslie Jordan's Best Role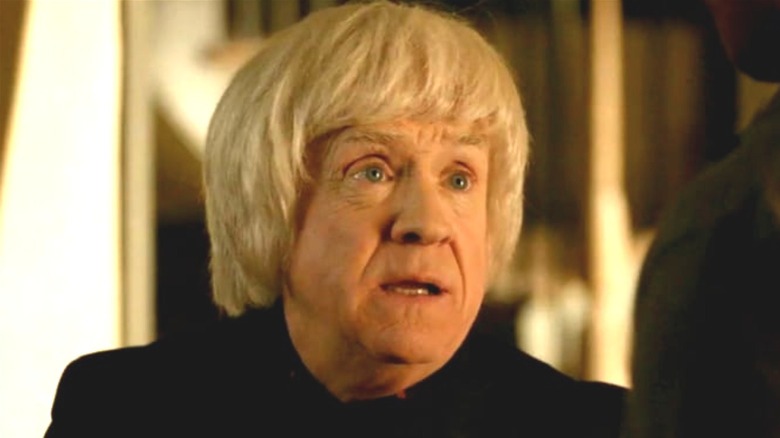 FX
"American Horror Story," the supremely popular anthology series created by Ryan Murphy and Brad Falchuk, has featured plenty of fantastic actors over the years, consistently adding new talents to the list of actors who return to play different characters each season. Some on the most frequent collaborators include Sarah Paulson, Evan Peters, Jessica Lange, Kathy Bates, and Angela Bassett, but there are plenty more. One actor who has only appeared a few times yet has a gift for putting on very memorable performances is comedian Leslie Jordan. 
With a long and illustrious career, there are many places you've likely seen Jordan before. His most well-known role is playing Beverly Leslie in the classic comedy "Will & Grace," which earned him an Emmy for Outstanding Guest Actor in a Comedy Series in 2006. Jordan reprised his role in the recent revival of "Will & Grace" as well. He's also appeared in "The Help," "Sordid Lives," and 2021's new series "Call Me Kat," among many other projects. But for fans of "American Horror Story," the three roles Jordan's played throughout the seasons remain his best work. While he will not be returning for the upcoming tenth season, hopes are high that fans will see him again in the future.
Thanks to a recent poll on Reddit, we now know which of Jordan's characters on the anthology horror series that the fans believes stands above the rest. 
Fans love Jordan's portrayal of Ashley Gilbert as Cricket Marlowe in Roanoke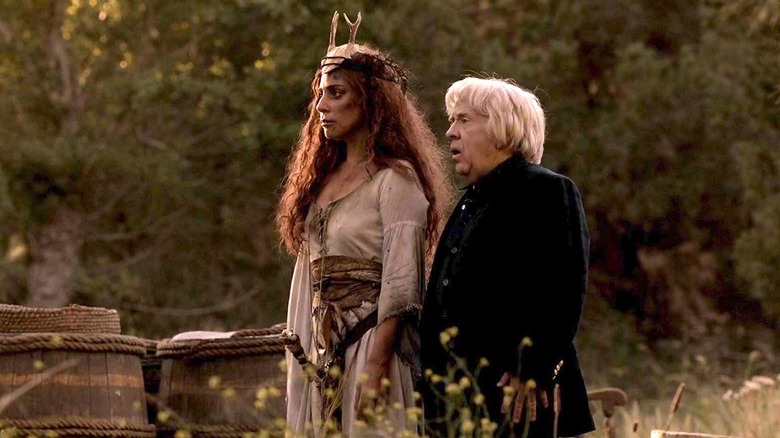 FX
Over the course of the "American Horror Story" seasons, Jordan has played three roles — Quentin Fleming in "Coven," Ashley Gilbert as Cricket Marlowe in "Roanoke," and Courtney in "1984." If you don't remember, Fleming is a warlock and member of the witches' council alongside Cecily Pembroke (Robin Bartlett) and Myrtle Snow (Frances Conroy). In "Roanoke," Gilbert is an actor who portrays the medium Marlowe in the documentary "My Roanoke Nightmare," who later becomes involved with a ghost hunters-style series that illegally returns to the Roanoke house. As for Courtney in "1984," he is the assistant of the director of Camp Redwood, Margaret Booth (Leslie Grossman). 
Based on the poll, the role of Gilbert as Marlowe in "Roanoke" won by a wide margin, getting 137 votes compared to 54 for "Coven" and 37 for "1984." In "Roanoke," Jordan pulls double duty, portraying the actor Gilbert in character as Marlowe, a medium who attempts to help out the Miller family find Flora. He meets Scáthach (Lady Gaga), the evil immortal witch who tricks the Butcher (Kathy Bates) into killing her whole village and haunting the grounds, then killing anyone who dares wander there, like the Millers. While Gilbert acts out Marlowe's death at the hands of the Butcher, the actor then goes to the Roanoke house himself, eager to be involved in the action. Unfortunately, instead of gaining fame, Gilbert becomes victim to the Piggy Man ghost. 
Thanks to Jordan's performance in "Roanoke," Gilbert as Marlowe is easily one of the funniest and quirkiest parts of the season, and fans hope to see the actor appear in "American Horror Story" again soon.