HBO Max Turns Reality Dating Up To 11 With The New FBoy Island Trailer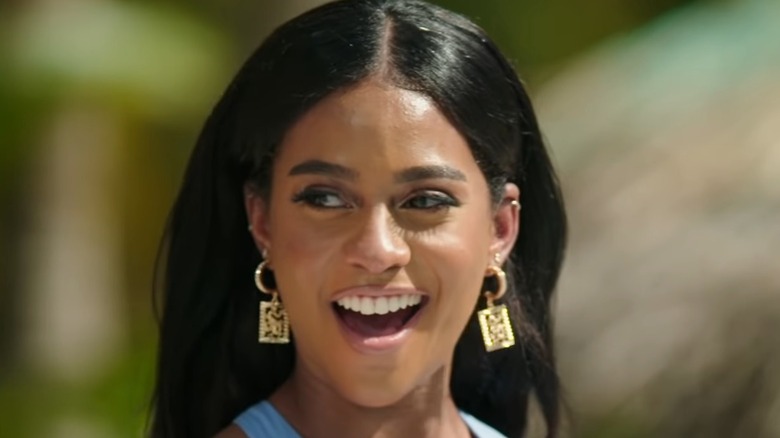 HBO Max
The latest offering from HBO Max comes from an acclaimed indie film director and is adapted from a Booker Prize winning novel that was hailed by critics as "a searing indictment of 21st-century late-capitalist social mores." Just kidding! It's a salacious reality dating show with a title that is almost too lewd to use for official purposes. The streamer released the first trailer for "FBoy Island" (we'll give you three guesses what the "F" stands for) on July 12 and it looks like a perfectly fun and frivolous romp.
The series will feature three single women — Nakia, CJ, and Sarah — on a tropical island looking for love in a "The Bachelor" style competition hosted by comedian Nikki Glaser. The twist? Of the 24 men for them to consider 12 are nice guys who are on the island genuinely trying to make a connection and 12 are self-proclaimed f—boys who are just looking for a bit of fun.
As they wine and dine the guys, our bachelorettes will have to determine which of them are there for the right reasons and which are playing games. Success for any contestants could result in a $100,000 prize. While HBO Max hasn't released the nitty-gritty details of the competition itself, it sounds like the f—boys will be working hard to trick the women in order to walk away with the prize money for themselves.
"FBoy Island" is set to premiere on July 29, with the first three episodes dropping that day, and subsequent episodes being released in batches each week until the finale on August 12. Based on what we've seen in the trailer, we're in for a hefty dose of debauchery and drama.
Travel to reality TV paradise with the trailer for FBoy Island
If the nearly three-minute-long trailer released by HBO Max is to be believed, "FBoy Island" will be delivering everything you could want from a reality dating show. It sets the tone right from the jump. After a series of clips of the male contestants frolicking on the beach, host Nikki Glaser announces, "Women have been forced to tolerate the manipulative douchebaggery of fboys for far too long. And that's why we're here ..."
It's clear that while the men may be providing some flirty fun, it's the journey of the women that we'll really be tuning in for. The trailer is full of clips of the ladies comparing notes and offering observations on the pool of potential bachelors such as, "He looks like a guy who has two phones." While "FBoy Island" may be entertainment-focused, it appears that there will also be an educational aspect, as well.
And speaking of entertainment, "FBoy Island" seems poised to deliver. The trailer moves fast and furiously between clips of arguments among the guys, contentious elimination ceremonies, people being pushed in the pool, and lots of male tears. For the contestants, the stakes couldn't be higher. We see the women telling each other, "This is a game but we are not a game," and Glaser telling one of the male contestants, "Fboy ... Fbye." Powerful words.
You'll have a chance to check it out for yourself when the first three episodes of "FBoy Island" drop on HBO Max on July 29.