The Flash/Supergirl Musical Crossover Will Have An 'Alternate Reality' Plot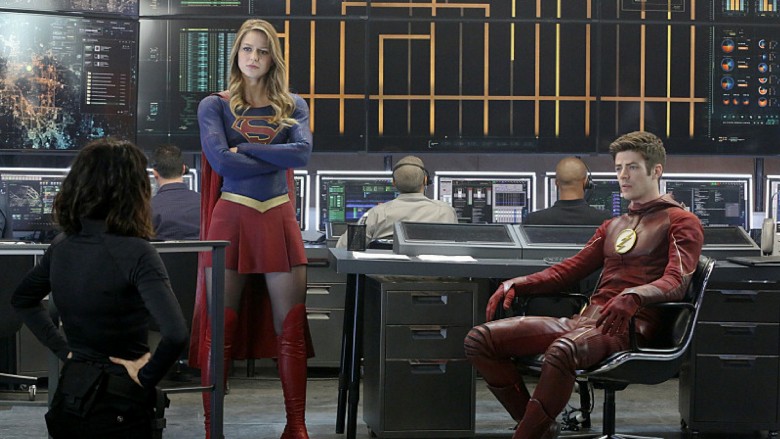 We officially know what will make our heroes sing on the upcoming The Flash/Supergirl musical crossover.
The CW released the synopsis for the episode Thursday, revealing that the singing and dancing will come mostly on the March 21 episode of The Flash, in which Mon-El and Hank Henshaw show up on Earth-1 with a comatose Supergirl who had been attacked by the Music Meister. (via TVLine) As previously announced, Glee star Darren Criss will take on the role of the villain, reuniting with fellow Glee stars Grant Gustin and Melissa Benoist.
According to the synopsis, Music Meister catches The Flash by surprise and also puts him in a coma, causing Kara and Barry to wake up without their powers in an alternate reality where life is a musical. The only way to escape is by singing and dancing their way through.
The synopses also reveal that Teri Hatcher, who signed on to a multi-episode arc as Supergirl's main villain, will first show up in National City on the March 20 episode, with her arrival putting everyone "on high alert." The synopsis didn't give any additional information on her mysterious character, but at least now we know when we can expect to learn more.
The two-part crossover features musically talented Arrow-verse stars Gustin, Benoist, Jeremy Jordan, Jesse L. Martin, Carlos Valdes, Victor Garber, and John Barrowman. Supergirl's David Harewood and Chris Wood will also appear in the Dermott Downs-directed episode, though they won't sing. The show will feature songs written by Crazy Ex-Girlfriend's Rachel Bloom and La La Land's Benj Pasek and Justin Paul, TVLine reports.
While we wait for Supergirl and The Flash to lace up their dancing shoes, see the game-changing DC extended universe theory that could result in the movie and TV universes colliding.