We Now Know The Airdate For The Flash/Supergirl Musical Crossover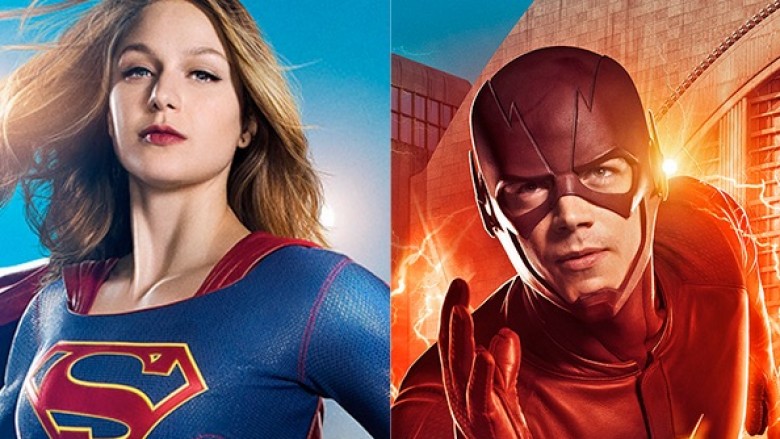 The musical crossover between Supergirl and The Flash will air in March, Variety reports. The crossover will start on the March 20 episode of Supergirl, although the bulk of the singing will take place on the next night's episode of The Flash.
Fans have been clamoring for a musical episode of the two shows since Melissa Benoist, whose most notable previous role was as Rachel Berry successor Marley Rose on the FOX hit Glee, was cast as Supergirl. Benoist is also joined on Supergirl by Jeremy Jordan, who was nominated for a Tony for originating the role of Jack Kelly in Newsies on Broadway.
The Flash is even more stacked with musical talent. Grant Gustin also got his start on Glee after starring in the national revival tour of West Side Story. Jesse L. Martin, who plays Barry's surrogate father Joe West, was a member of the originating cast of Rent on Broadway, while Carlos Valdes, who plays Barry's best friend Cisco Ramon, appeared in Once and was a stand-in on the national tour of Jersey Boys.
According to Variety, the episode will feature performances from all of the aforementioned stars, as well as Arrowverse actors Victor Garber, a four-time Tony nominee who has originated roles in Sweeney Todd and Assassins, and John Barrowman, who, in addition to appearing in a number of shows on the West End and Broadway, has released eight studio albums.
The episode will be directed by Dermott Downs. Supergirl's David Harewood and Chris Wood will also appear, though they won't sing.
While we wait for the song-tastic episode to premiere, check out what the cast of The Flash should really look like based on the comic books.