What Harry Shum Jr. Really Thought Of Magnus And Alec's Shadowhunters Ending - Exclusive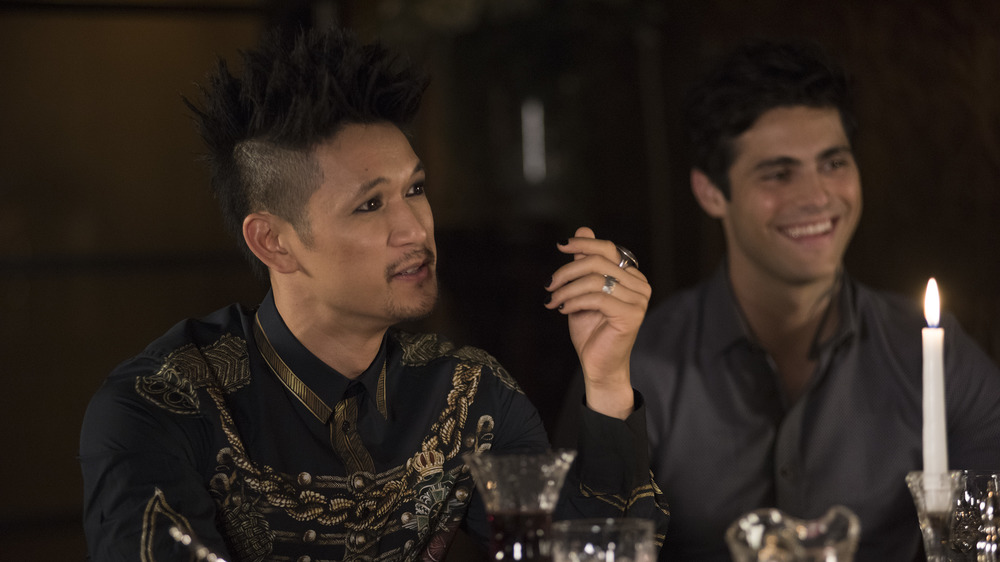 Freeform
It's no secret that LGBTQ+ representation on TV has been sparse and relatively problematic since its inclusion. Oftentimes, if an LGBTQ+ character appears on a show, they either perpetuate outdated tropes and harmful stereotypes, are a one-dimensional character only there for laughs, or are killed off in some tragic way to further the plot of the main character or their partner — particularly in genre TV. When Shadowhunters debuted on Freeform, fans of its source material, The Mortal Instruments book series, waited with bated breath to see how the network would handle fan-favorite couple Magnus Bane (Harry Shum Jr.) and Alec Lightwood (Matthew Daddario). Luckily, Malec (Magnus and Alec) shippers were treated to one of the most dynamic, fleshed-out LGBTQ+ relationships ever shown on TV.
However, the series faced a quick and unexpected cancelation when a deal with Shadowhunters producer Constantin Film and Netflix fell through. As it turns out, a series that hinges on Nephilim (humans born with angel blood) fighting with and against a whole host of supernatural beings called Downworlders isn't exactly a cheap concept to bring to life. Sadly, the cost of production prompted the cancelation. Luckily for fans, though, the network was adamant about giving the characters a proper sendoff, airing a two-hour Shadowhunters finale to say goodbye to the show fans had been watching for three years.
During an exclusive interview with Looper for his new film All My Life, Harry Shum Jr. opened up about what he thinks of Magnus and Alec's Shadowhunters ending, what they're probably doing now, and what needs to change in Hollywood.
Quarantine and chill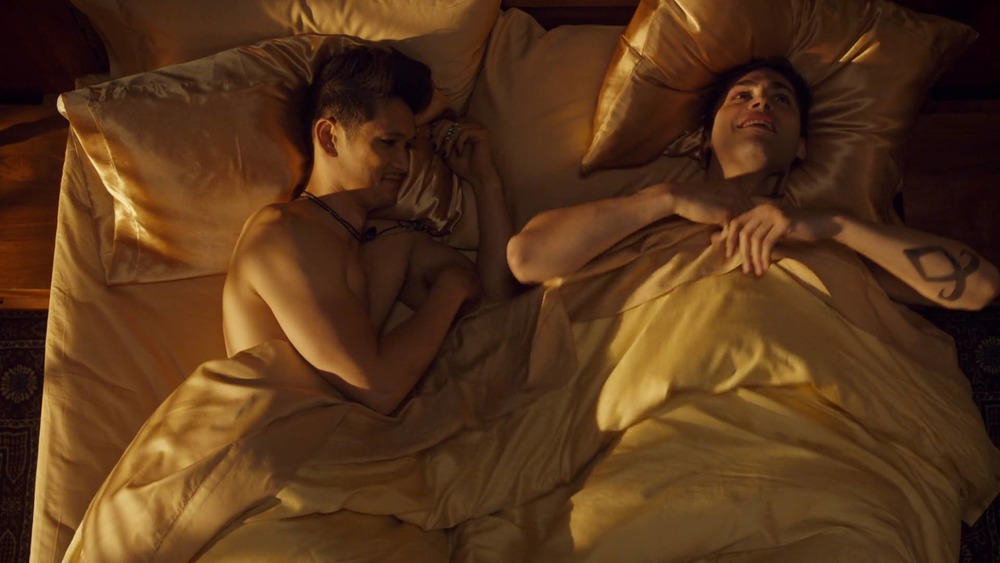 Freeform
Noting how last-minute the cancelation came during season 3, Shum Jr. revealed, "I think that the show was hard. The writers, I think, did a wonderful job with the show ending so quickly and abruptly. The fact that they were able to create a story of an ending for television, and to make it feel like the fans can have the show as a gift to them, [means that fans] can carry on [...] these characters [and decide] what they do next." Shum Jr. referenced Malec's massive fandom presence as well, explaining, "It all kind of started with fan fiction anyways. And to have it kind of continue on, I think, is really neat. I always love these projects when audience participation is a big component of why certain shows or TV shows or even films are special."
On how he feels about Malec's ending and what shenanigans the pair are up to during quarantine, Shum Jr. said, "That's a good question. I think there's a lot of fanfic. I'm sure there's a lot of fanfic on what they're doing right now." As for his character, it's easy to love quarantine when you're a warlock who can portal anywhere in the world — airports be damned. Shum Jr. added, "If we're talking about the real world, quarantine — I'm sure Alec and Magnus are enjoying it. But having a portal and not having to do air travel is definitely a perk. And I would suspect that they are taking advantage of that." They're likely enjoying some well-deserved rare wine, no doubt.
A letter to Hollywood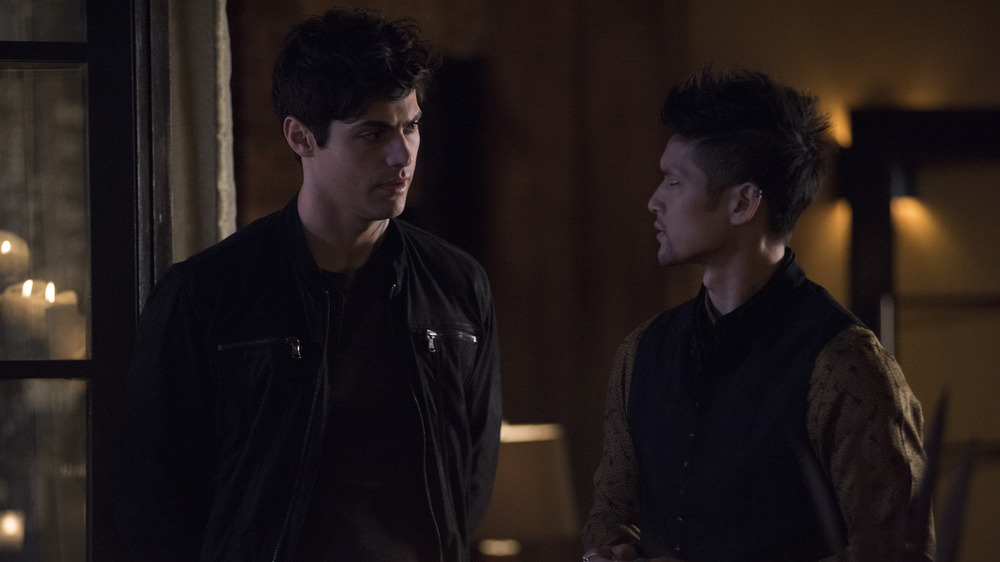 Freeform
While Shadowhunters made great strides in genre TV to create a more accurate picture of what the world actually looks like, Hollywood has a long way to go when it comes to representation and telling the stories of marginalized communities in a way that's not harmful. On what TV and film need to do more of going forward, Shum Jr. simply said, "I think Hollywood just needs to listen more." 
He continued, "There's a lot of damage control and talking and thinking — and I'm just speaking [about] Hollywood, and [there are] thousands of people involved in [making these decisions], but I think listening is [the] most important part. I think once that starts to happen, things can really change." The actor clarified the need for an open dialogue on every level, explaining, "I think on the other side too — not to say that they know what's right, but I think the conversation needs to go both ways. So, we can work together, to be honest with you." 
Finally, these crucial discussions are beginning to happen more frequently, but there's still a lot of work to be done. Shum Jr. noted, "Because I've been having more conversations [and] I've been part of certain projects or places where I felt like a lonely voice and no one was listening to me — or at least just simply saying that there's something not right about this and not being able to voice that in a proper setting — I think is what makes it really frustrating for a lot of people, specifically actors and even directors and writers."
Shum Jr. highlighted that it's not a "one size fits all" kind of endeavor. Every project requires a unique conversation about these issues to move forward in a way that works best for the individual needs of a show or movie, its story, and the cast. "Moving forward, [we need] to be able to have more conversations — in-depth conversations, nuanced conversations — and knowing that it's a lot of times case by case," he revealed. "An overgeneralization of representation all across the board on one community is not the best way to move forward. So I think having these important small conversations are the way to go, in my opinion."
For Shadowhunters fans still missing their weekly dose of Magnus Bane, Harry Shum Jr.'s new film All My Life is playing in theaters now. The heartwarming movie chronicles the real-life love story between Solomon "Sol" Chau (Shum Jr.) and Jennifer Carter (Jessica Rothe) as the couple makes the most of their time together following Sol's cancer diagnosis. For anyone without access to magic portals, make sure to watch safely (and be sure to bring tissues).