Where Is Zsalynn Whitworth From My 600-Lb Life Now?
TLC
On TLC's long-running medical reality series "My 600-lb Life," patients wishing to reclaim their lives from morbid obesity head to Houston, Texas, to enlist the help of Dr. Younan Nowzaradan. During their first consultation with Dr. Now, the patients are weighed, given a high-protein, low-fat, calorie-restricted meal program, and assigned a weight-loss goal to achieve by their next appointment, usually one to two months after the first visit. Also during that initial consultation, Dr. Now gets a sense of his patients' familial and social support systems.
As Dr. Now and loyal viewers know, a patient's success is largely dependent on the strength and consistency of their support systems. Beyond simply providing physical assistance after gastric bypass and excess skin removal surgeries, the support system should, ideally, help the patient make the psychological and lifestyle changes necessary to overcome addiction. Unfortunately, some patients' support systems not only fail to be supportive but actively undermine the patients' success. Sadly, this was the case for Season 2's Zsalynn Whitworth.
Zsalynn's husband tried to derail her journey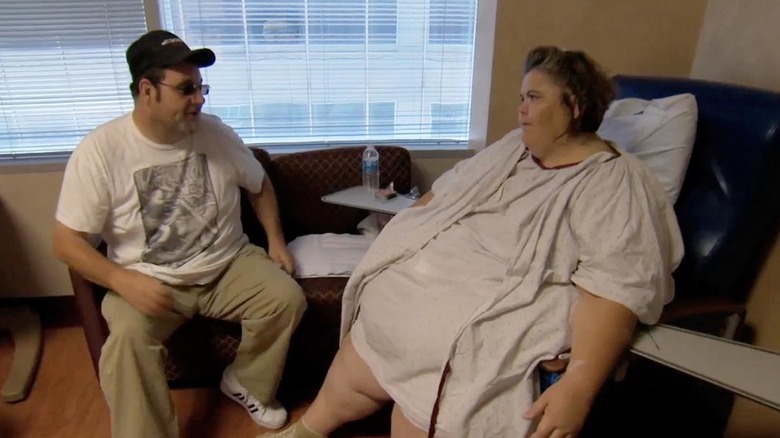 TLC
When Zsalynn Whitworth arrived at Dr. Now's office, the then-42-year-old weighed in at 597 pounds. During the first few minutes of her episode, it became abundantly clear that Zsalynn's husband Gareth, the main member of her support system, was going to be a problem. He was vocally opposed to Zsalynn's desire to seek Dr. Now's help because of his fetish for morbidly obese women. Not only was Gareth against his wife losing weight, he actually wanted her to gain more. In one memorable moment, he refused to order Zsalynn a salad, telling her, "If you want to eat grass, you can go in the garden and graze."
Despite Gareth's negative influence, Zsalynn did manage to lose enough weight to qualify for gastric bypass. Of course, after her surgery, Gareth drove them to a fast food restaurant, where he ordered food Zsalynn could not eat. He also encouraged her to regain the weight she'd lost. Undeterred, Zsalynn ended the first phase of her journey with an impressive loss of 248 pounds.
Zsalynn made many changes toward a happier and healthier life
Zsalynn Whitworth next appeared on the "My 600-lb Life" update show, "Where Are They Now?," first in 2015 and then again in 2016. During the update episodes, Zsalynn reached another milestone: getting below 300 pounds and qualifying for excess skin removal. Dr. Now performed the successful surgery and removed 52 pounds of skin. Viewers also learned that Zsalynn, after finally realizing how detrimental Gareth was to her health, divorced her husband. As with any major life change, the divorce took its toll on Zsalynn, who fell into a depression that triggered her cravings for all the unhealthy comfort foods she'd relied on in the past. But, with the support of therapy, Zsalynn powered on and rebuilt her life.
According to her various social media accounts, Zsalynn is still living in Texas and has a new partner with whom to share her life. On both her Facebook and Twitter accounts, Zsalynn looks incredibly happy with Jack Lapp. And, based on the photos, it looks like Zsalynn has continued to maintain a healthier lifestyle. Given the lack of support at the start of her journey, Zsalynn's accomplishments are nothing short of amazing.