Did Dan Stevens Really Sing In Beauty And The Beast?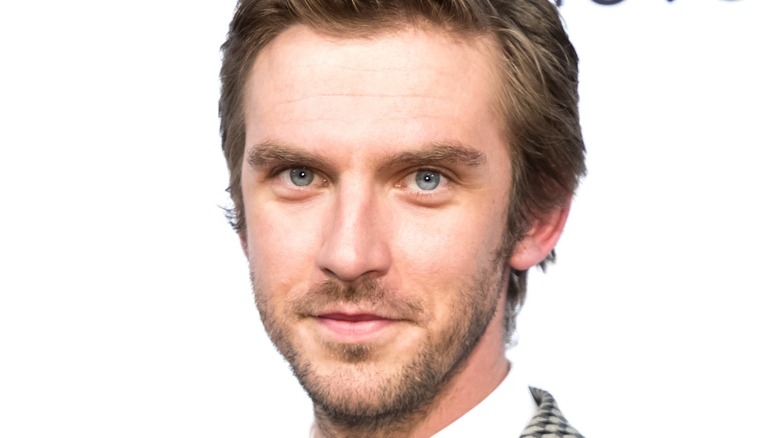 Shutterstock
Dan Stevens' transformation into the Beast in Disney's live-action version of "Beauty and the Beast" was nothing if not thorough. The "Downton Abbey" star donned a 40-lb. muscle suit and learned how to dance while wearing metal stilts for the part, as reported by People. All of his efforts were to ensure the Beast looked as real as possible in the final product, and his work definitely paid off. However, Stevens' commitment to the role needed to go beyond heavy suits, stilts, and channeling his inner grumpy, cursed royal: He also needed to be able to sing.
As fans of the 1991 animated movie will remember, the Beast doesn't have his own musical number in the original. While Belle, Gaston, and even Lumière belt out iconic songs, the Beast mostly growls and grumbles his way through the story. But the Broadway version changed all of that by giving the character a tortured anthem called "If I Can't Love Her." That song didn't fit into the live-action film, but it did inspire the movie's composer Alan Menken and lyricist Tim Rice to collaborate on a new original song, "Evermore."
"Evermore" is an epic love anthem that requires a confident singer with a booming voice. However, Stevens isn't a classically trained singer. But he didn't let that stop him from belting out the Beast's show-stopping ballad in the 2017 film.
How did Dan Stevens prepare to sing "Evermore" in Beauty and the Beast?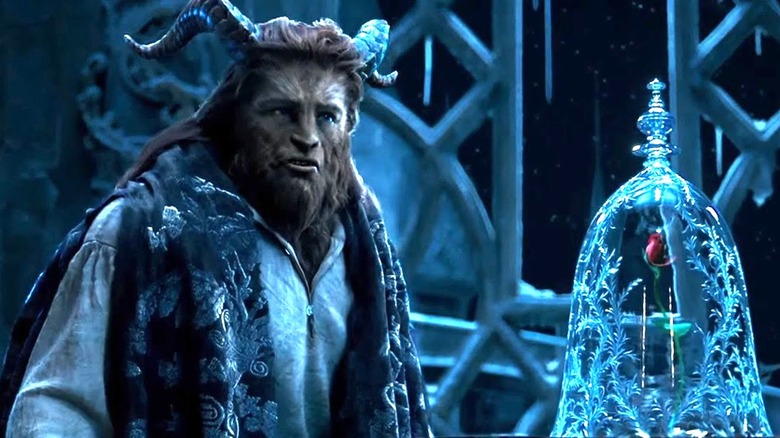 Walt Disney Studios
Even though he's not known for being a singer, Stevens had a bit of on-screen singing experience prior to "Beauty and the Beast." He even performed a moving duet with Mary (Michelle Dockery) in a Season 2 episode of "Downton Abbey." But even he had to admit that "Evermore" was an entirely different challenge that required some serious preparation.
In a 2017 interview with Entertainment Weekly, the actor revealed that he sought out a professional to get his vocal chords ready for his big number. "I've been working quite closely with a brilliant woman from the Royal Academy of Music, [singing coach] Ann-Marie Speed, who's just fantastic," he said. "Like a lot of the things I've been doing over the last few years, [it's about] acquiring new skills, or challenging myself to do something I've never done before — in this case, challenging myself to do several things I've never done before. But it's really good fun. It's certainly interesting!"
Stevens went on to share that he had so much fun challenging himself to sing "Evermore" in the film that he wouldn't be opposed to taking on another singing role in the future. In fact, he almost did break out his vocal stylings once more in 2020, but the pandemic got in the way.
Dan Stevens was ready to sing in Eurovision too, but the COVID-19 pandemic prevented him from singing his big number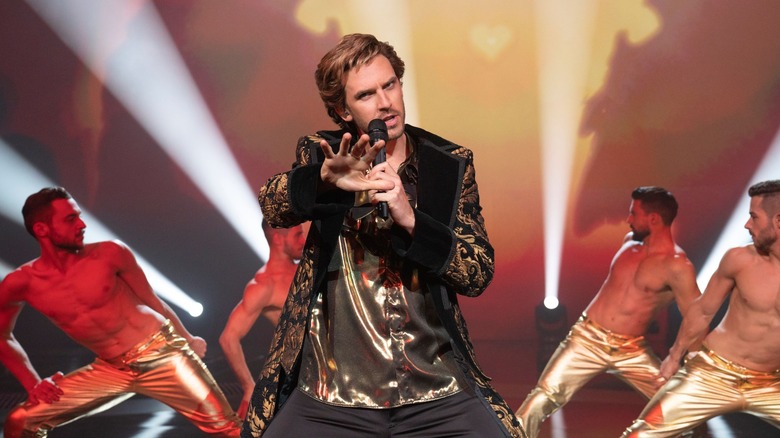 John Wilson/Netflix
Not long after he wrapped filming on "Beauty and the Beast," Stevens joined the cast of the Will Ferrell and Rachel McAdams Netflix film "Eurovision" as Russia's entrant into the competition, Alexander Lemtov. In the film, Alexander's singing voice is provided by the Swedish singer Eric Mjönes. But the original plan was for Stevens' voice to be mixed with Mjönes for the final product.
Unfortunately, COVID-19 hit before the actor had a chance to make it inside the recording booth. "I think the plan was that I would go into the booth," Stevens said to Vulture. "I was singing onstage to Eric's track when we shot it, and I think the plan was for me to go into the booth and sing it, but then the world got turned upside down."
While Stevens' second big screen musical moment didn't quite happen, his "Beauty and the Beast" performance proves the actor has a terrific voice. And it's likely only a matter of time before Hollywood calls on him to sing on-screen again.