The Truth About Dan Stevens' Singing Voice In Eurovision Song Contest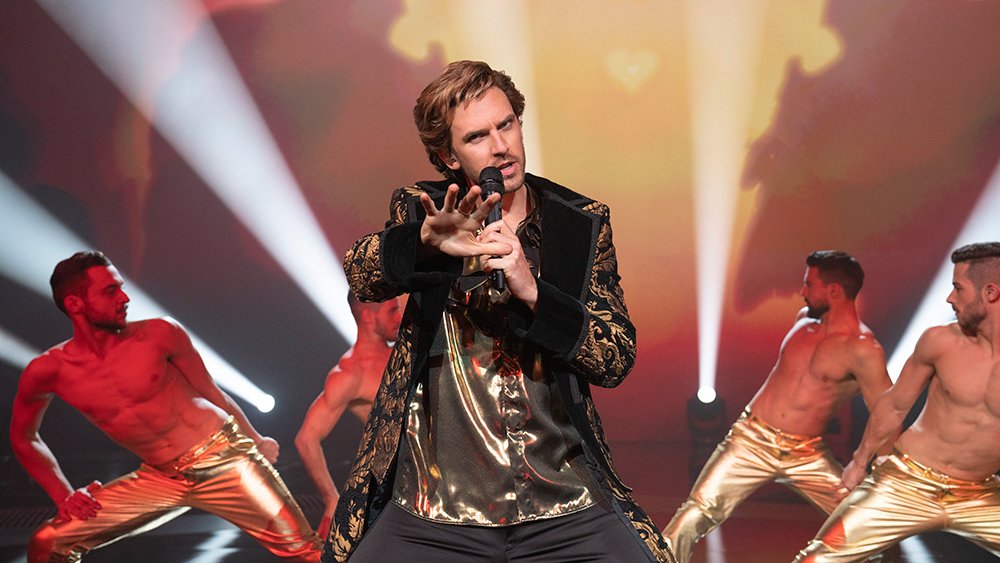 Netflix
In case you hadn't heard, there's a new comedy that's charged its way into Netflix's top 10 list and into viewers' hearts alike: Eurovision Song Contest: The Story of Fire Saga, a laugh-out-loud musical bonanza that finds Will Ferrell and Rachel McAdams portraying Icelandic singing duo Lars Erickssong and Sigrit Ericksdóttir, who unexpectedly get a shot at the big time when they land a spot in the famed music competition Eurovision Song Contest.
Helmed by David Dobkin, who directed Ferrell and McAdams in the classic mid-2000s comedy Wedding Crashers, Eurovision Song Contest: The Story of Fire Saga delivers a deliriously funny look behind the curtain of the Eurovision competition, which has become a sensation in Europe and beyond since debuting in the late '50s. Though the Eurovision phenomenon has mostly been overlooked by U.S. audiences — save for internet memes that youngsters have passed around in recent years — that didn't stop Netflix from bringing Dobkin and Ferrell's (who co-wrote the movie) maniacally over-the-top yet surprisingly heartfelt Eurovision vision to the masses.
Eurovision Song Contest: The Story of Fire Saga made its Netflix premiere on June 26, 2020, and has already helped brighten up the so-far-gloomy summer movie season. While the film itself has proven a touch divisive amongst the critical set (it's currently scoring in the low 60 percent range on RottenTomatoes), those same critics continue to praise Ferrell, McAdams, and co-star Dan Stevens for their work in the film. Stevens in particular appears to be having more fun than most as Russian singer Alexander Lemtov, the odds-on favorite to win the Eurovision competition.
And the actor really is at his scene-stealing best as the smugly self-righteous vocalist, particularly during Lemtov's show-stopping musical performances. So devoted is Stevens to reveling in the character's feverishly self-loving energy that many fans have begun to wonder if the actor didn't go all-in for the role and do his own singing too. Unfortunately, that remarkably smooth baritone you hear in Eurovision Song Contest: The Story of Fire Saga doesn't actually belong to Dan Stevens.
Dan Stevens sadly didn't get the chance to lay down his Eurovision vocals for real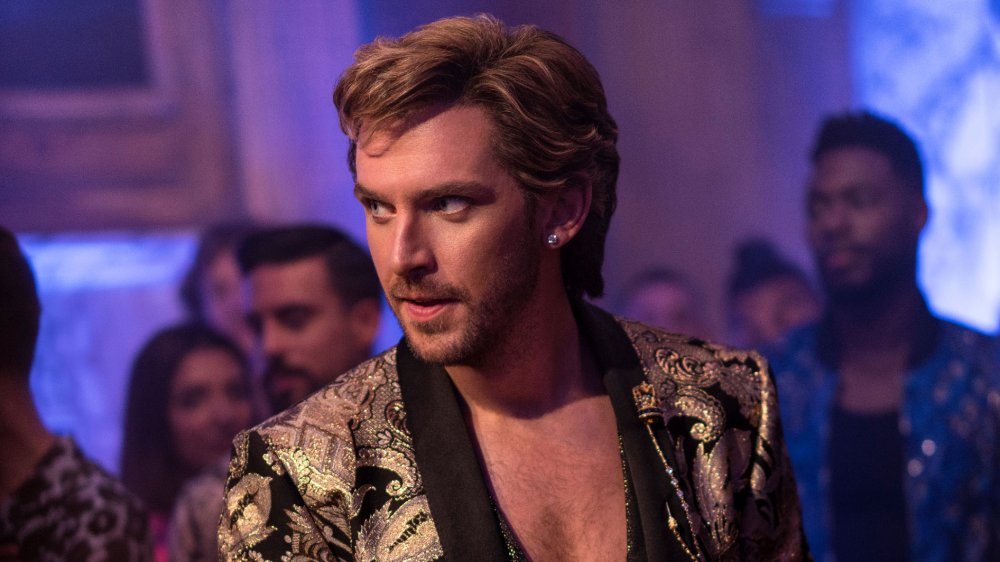 Netflix
That's not the fault of the uber-talented Dan Stevens, though. In fact, if Stevens — who's becoming one of the most compelling and versatile performers working today — had his way, he would've sung every single note in Eurovision Song Contest: The Story of Fire Saga himself. Stevens revealed as much in a recent Uproxx interview, stating he was actually slated to do just that via a planned post-production recording session. Unfortunately, the global pandemic altered those plans ahead of the film's release.
"Sadly, the singing voice, we didn't manage to get into the studio to record because obviously COVID struck. And so we actually went with the temp track, which is a Swedish baritone, who is great," explained Stevens, referencing the singer Erik Mjönes. 
The actor is no stranger to singing: He belted out tunes for 2017's live-action Beauty and the Beast, in which he played the titular prince-turned-cursed-creature, and for the mind-bending FX superhero series Legion, on which he starred as Charles Xavier's mutant son David Haller. It would have been amazing to witness what Stevens could have brought to Lemtov's vocals for Eurovision Song Contest: The Story of Fire Saga, but the buttery baritone voice that Mjönes provided for Lemtov gives Stevens' scenes another layer of silliness. 
As for how Stevens went about crafting the character of Lemtov, the actor told Uproxx that there was indeed some basis in reality for the entertainer's effortless egoism. 
"In terms of his spoken voice, that becomes more from some of the sort of wealthier Europeans that I've met over the years," said Stevens. "He just thinks that he knows the best things. [...] And there's a weird kind of snobbery to that mysterious European wealthy elite that I think is just ridiculous and ripe to be poked fun of."
Stevens doesn't so much poke at that snobbery as he gleefully eviscerates it. In doing so, he delivers yet another in a long string of scene-stealing performances in recent years.
Dan Stevens isn't the only Eurovision cast member who didn't sing their own tunes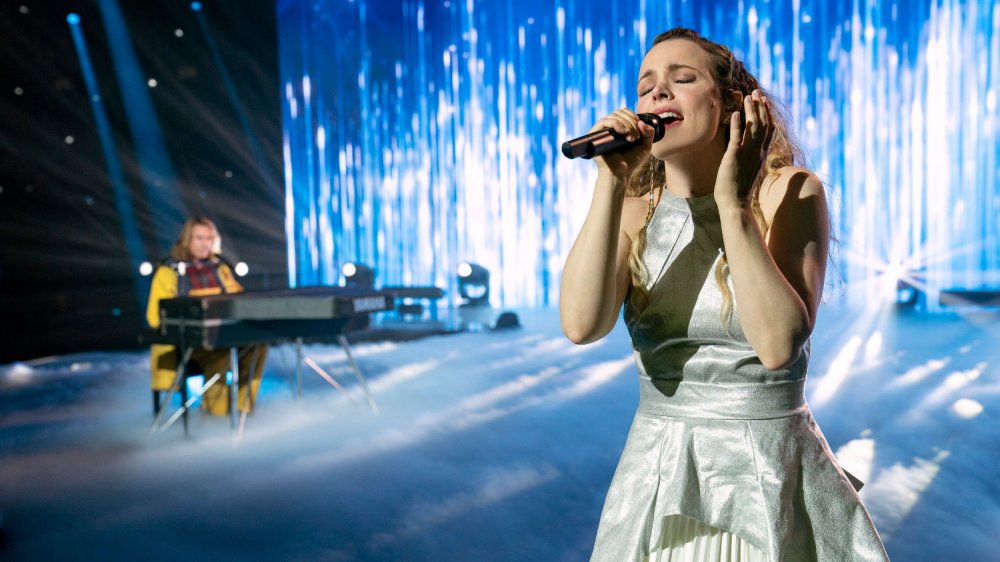 Netflix
Per Eurovision Song Contest: The Story of Fire Saga's music producer Savan Kotecha, Stevens wasn't the only member of the film's cast who didn't do all of their own singing. Kotecha recently told Vulture that Rachel McAdams had a little help hitting the right notes in the film — especially since her character is Icelandic and even sings in that language. The difference here, though, is that McAdams actually laid down vocal tracks for all of Sigrit's singing in Eurovision Song Contest: The Story of Fire Saga; her voice was simply blended with that of Swedish singer Molly Sandén, who was once a contestant on the real Eurovision Song Contest, for on-stage performances. (In a key scene in which Sigrit is quietly composing a song in her hotel room, that's really McAdams' voice.) Stevens, on the other hand, has none of his real voice in his character's singing.
"[They] sent the files to the film mixers and they blended them. So in the movie, unlike on the soundtrack, there may be a hint of McAdams in the mix, blending to make that mythical Speorg note," explained Kotecha.
As for McAdams' boisterous co-star Will Ferrell, there's apparently little the man can't do, as the funnyman did indeed perform his own vocals in the film. McAdams bestowed some serious praise on Ferrell for doing so in an interview with ET Canada, offering, "Will is a great singer, [he] comes from a very musical family." If you've already watched Netflix's Eurovision Song Contest: The Story of Fire Saga, you know that to be the case.
Eurovision Song Contest: The Story of Fire Saga may well prove the cure for your 2020 summer movie season blues, so add it to your queue today.