The Black Widow Spin-Off Movie David Harbour Says There's Enough Cut Footage To Make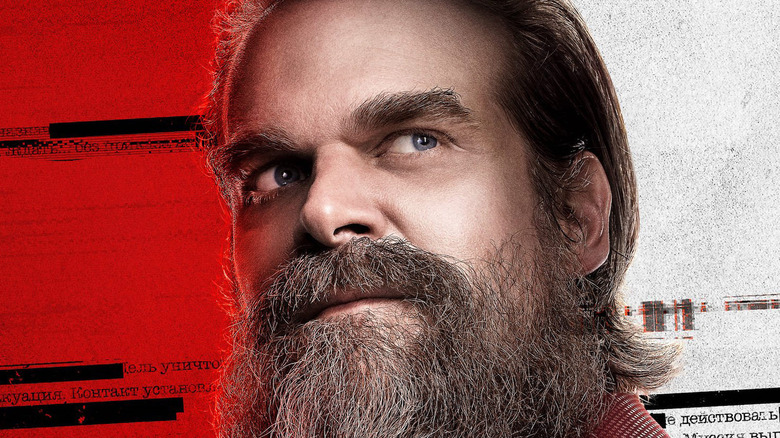 Marvel Studios/Disney
When the first trailers for "Black Widow" revealed "Stranger Things" star David Harbour as the Red Guardian — think, a Russian version of Captain America — many fans were excited to see him tossed into the mix with Natasha Romanoff (Scarlett Johansson) and Yelena Belova (Florence Pugh). As it turns out, however, he seems to have an even more interesting dynamic with Melina Vostokoff (Rachel Weisz), another member of the Black Widow program — at least, judging by the promo materials.
While "Black Widow" is clearly teeing up Pugh's Yelena Belova for a bigger role in the MCU going forward (it's already known that she'll appear opposite Jeremy Renner and Hailee Steinfeld in the "Hawkeye" series heading to Disney+), it's actually a different character whom Harbour jokes might already have a dedicated spin-off movie in the can.
According to Red Guardian himself, there's enough cut footage to make an entirely separate spin-off movie from "Black Widow" just using leftover parts.
Melina Vostokoff may have already filmed her spin-off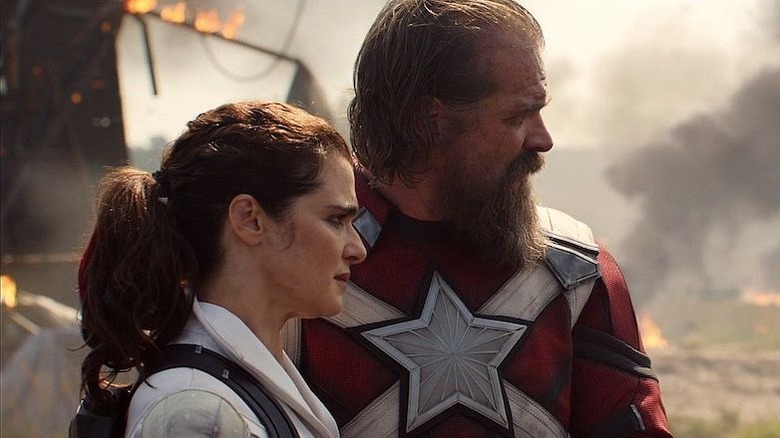 Marvel Studios/Disney
David Harbour recently spoke to Jessica Shaw on SiriusXM's Pop Culture Spotlight to discuss his role as Red Guardian in "Black Widow," revealing that director Cate Shortland shot plenty of footage of the character's reunion with his old flame, Melina Vostokoff. "There's an entire movie on the cutting room floor of me and Rachel Weisz flirting that, like, they can't [use], because it's a Black Widow movie."
"You can't do Red Guardian and Melina reconnecting after 20 years of not seeing each other, him having been in prison for a long time, finally seeing a woman that he loved, you know, and just the machinations of that," he elaborated.
Clearly all four stars had fun shooting their scenes together, something that Harbour attributes to Johansson, Weisz, and Pugh saying, "They were just so game. And when I want to be, I mean, sometimes I can be an introvert, but when I want to be, I can be very loud and silly and stupid, and they just embraced that about me ... It all did have a chemistry that I thought was really special myself. I'm glad it resonates." 
Maybe if "Black Widow" is a hit we'll get to see a team-up movie or a Disney+ series for the Iron Maiden and the Red Guardian.