The Real Reason Cate Shortland Was Picked To Direct Black Widow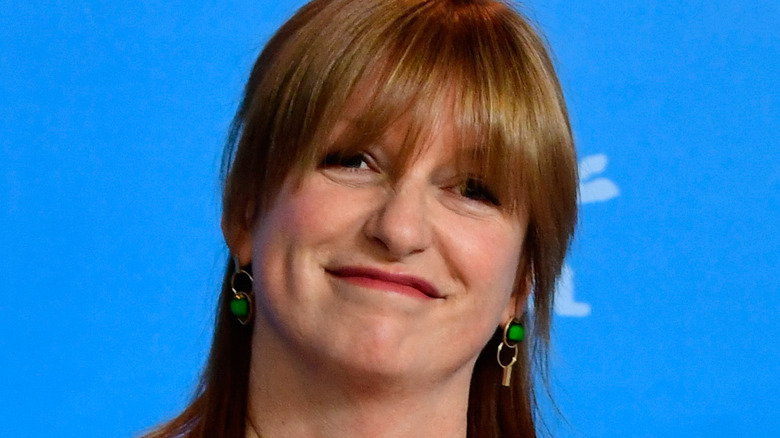 Alexander Koerner/Getty Images
After being delayed due to the ongoing pandemic, the first Marvel Cinematic Universe film centered around Scarlett Johansson's titular Black Widow is a little over a week away from its July 9 debut. Though the Marvel-loving masses will have to wait to see the film, critics have seen it early (via Rotten Tomatoes). Though reviewers have been critical of certain aspects of "Black Widow," the film has been met with a warm reception on the whole. In particular, critics praised the characterization of Black Widow's mother-figure Melina, father-figure Alexei, and sister-figure Yelena, portrayed by Rachel Weisz, David Harbour, and Florence Pugh, respectively.
One of the influences behind the on-screen family dynamic in "Black Widow" is a movie disconnected from the superhero genre. According to Marvel Studios president Kevin Feige, "The Kids Are All Right" was one of a few of the film's primary influences. "The Kids Are All Right" stars Annette Bening and Julianne Moore as a same-sex couple raising teenage kids, and chronicles the sudden involvement of one of their children's biological father in their family dynamic.
While a sincere family drama may seem like an unexpected source of inspiration for a superhero movie, the director of "Black Widow," Cate Shortland, is something of an unlikely choice herself. Shortland's past work include films like the coming-of-age story "Somersault" and the WWII drama "Lore." None of her previous films particularly resemble "Black Widow," so the fact that some reviews have described its domestic scenes as among its strongest is, perhaps, unsurprising.
A new piece published by Variety documents the process that led Shortland to her "Black Widow" hiring, and sheds new light on why she was picked to helm the film.
Cate Shortland wasn't sold at first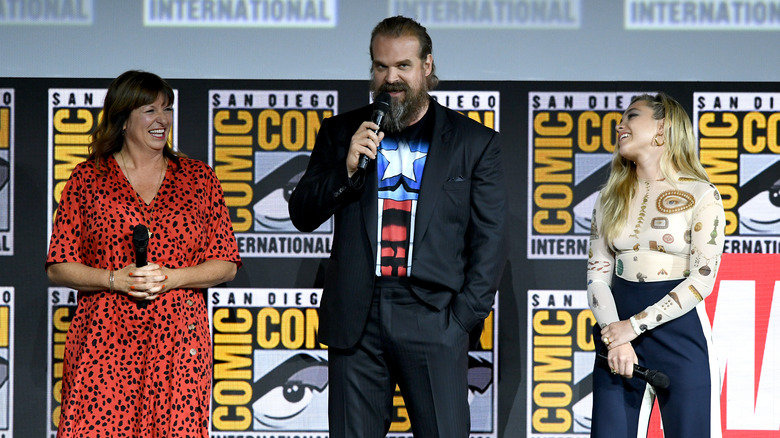 Kevin Winter/Getty Images
Cate Shortland explained to Variety that when Marvel first offered her the "Black Widow" directing job, she turned it down, not fully realizing how her indie film sensibilities might fit into the plans of one of the biggest film franchises in history. As it turns out, Shortland was Marvel's top pick to direct "Black Widow," with none other than Scarlett Johansson herself requesting she be the filmmaker to bring the movie to life.
When Shortland was at first unwilling to accept the "Black Widow" gig, Johansson intervened, contacting Shortland under other pretenses before working up to discussing the film. "She told me how much she had liked some of my movies, and then I told her how much I have liked some of her performances. It was like a courtship," Shortland said.
Johansson cited Shortland's film "Lore," which she described to Variety as "a perfect film," as the primary reason for her interest in working with Shortland. "It was very important to me that the person that directed ['Black Widow'] had to have made a masterpiece and then some other good movies," Johansson said. "And I really think 'Lore' is really so close to [a masterpiece]."
Shortland explained that after speaking with Johansson, and after Johansson met Shortland's daughter over Zoom while they were on a call, she dove into the world of Marvel movies. The complexity of the MCU nearly put her off — "It didn't get less crazy. It got more crazy," she told Variety — but she couldn't resist the creative freedom that "Black Widow" would afford her. "I got hooked on the idea of trying to tell a really personal, intimate story in amongst so much beauty and spectacle," Shortland said. "When I really decided that I wanted to do it, I decided 150% — like, I never wanted to do anything as much as this, in a way." 
She then put together an inspiration reel to screen for Marvel's top executives to give an idea of what she wanted "Black Widow" to be, and the rest is history. 
"Black Widow" will arrive in theaters and on Disney+ via Premier Access on Friday, July 9.