Scarlett Johansson Gets Real About Black Widow's Depiction In Iron Man 2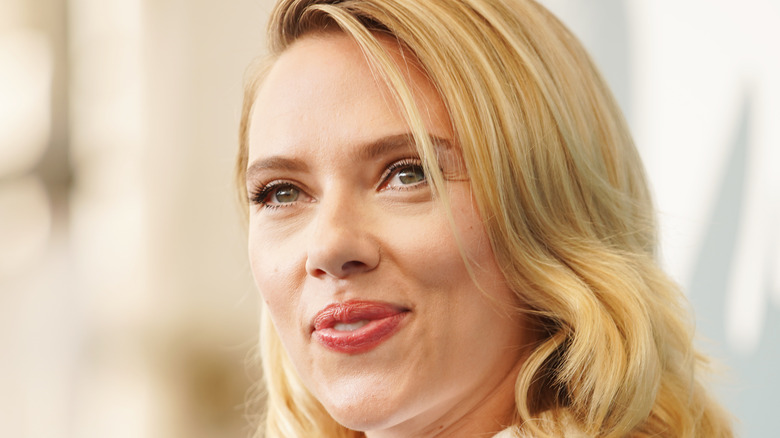 Shutterstock
After over a decade in the Marvel Cinematic Universe, Scarlett Johansson is finally leading her own film. Johansson's character, Natasha Romanoff aka Black Widow, was first introduced in 2010's "Iron Man 2" and has since become an integral part of the MCU. The character's solo film, "Black Widow" is slated to premiere on July 9 in theaters and on Disney+ with Premier Access. Directed by Cate Shortland and written by Eric Pearson, "Black Widow" will follow the events of "Captain America: Civil War," as Natasha finds herself facing a perilous conspiracy tied to her past and history as a spy.
While doing press for "Black Widow," Johansson has reflected back upon her time in the MCU, including how the depiction of her character has changed over time, especially considering how few prominent female characters there were at the start of her MCU run. As Hollywood is slowly growing in terms of how it portrays women on film — and as women get more and more opportunities behind the camera — the MCU has evolved with it. Here's what Johansson has to say about past depictions of her character.
Johansson addressed the "hyper-sexualization" of Natasha
While speaking with Collider to promote "Black Widow," Scarlett Johansson discussed how the depiction of her character has changed over time — namely, it's become less sexualized and, generally, sexist. She began by admitting how much she herself has grown as a person and developed a "more evolved understanding of [herself]." This understanding helped shape the ways she views her character — and past versions of that character. "All of that is related to that move away from the kind of hyper-sexualization of this character and, I mean, you look back at 'Iron Man 2' and while it was really fun and had a lot of great moments in it, the character is so sexualized, you know?" Johansson said. "Really talked about like she's a piece of something, like a possession or a thing or whatever — like a piece of a**, really."
Further, Johansson is grateful and excited to be a part of how films are becoming more geared toward women and girls in a positive way. "It's changing now," she said. "Now people, young girls, are getting a much more positive message, but it's been incredible to be a part of that shift and be able to come out the other side and be a part of that old story, but also progress."
She also credited director Cate Shortland for bringing out more depth from the character. "With Cate it's just been so liberating because she's not afraid of any of the ugliness ... So you see [Natasha] in her real, true strength in this film more than ever before," Johansson said.