Ian Somerhalder And Paul Wesley Talk About A Possible Vampire Diaries Revival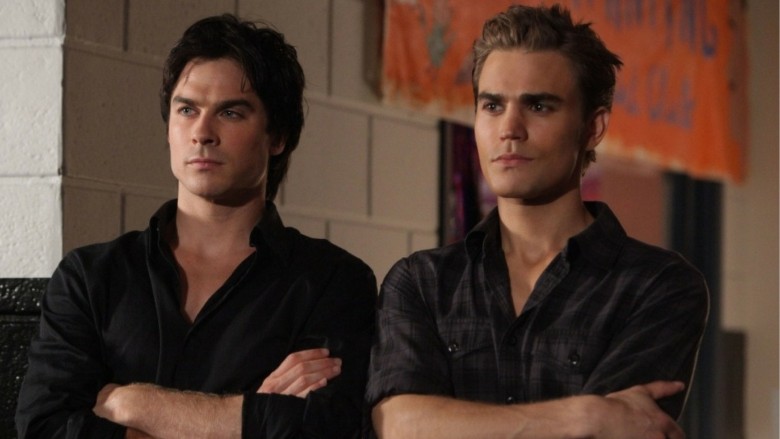 In today's media landscape, no entertainment property is ever truly gone. Reboots, sequels, spin-offs, and more keep the possibilities alive for canceled shows and long-forgotten movies to return to screens, giving fans a dream to cling to even after their favorite story comes to an end. Some fans have been holding onto a glimmer of hope surrounding the possibility of an eventual revival of The CW's beloved The Vampire Diaries, which will air its series finale this month after eight seasons, but the stars don't see that happening any time soon.
"I think I'm closing the chapter," said Paul Wesley, who plays Stefan Salvatore, after a press screening of the finale (via Entertainment Weekly).
"In 10 years I'm going to be living probably on a ranch in Wyoming and you'll never hear from me again," joked Ian Somerhalder, who plays Damon, before adding, "I think it's good to close this chapter. There's something beautiful about closure."
Somerhalder cited Netflix, which has been responsible for many a reboot and revival in the past few years, as one of the reasons why he believes the show will live on even if it doesn't get any more episodes past the finale. "It's never going to die," he said. "We're going to continue to be able to watch it and I think that's a really interesting new thing about this modern digital world."
However, fans unwilling to give up hope will be happy to hear that Wesley did offer at least one, tiny, remote possibility for a reboot, joking, "It'd be funny if we did a reboot [where] we're all old as s—."
Nina Dobrev is set to return as Elena (and possibly Katherine as well) for the finale, which will see a major character death. The finale will air on March 10 at 8 p.m. on The CW. As we try to hold back tears over The Vampire Diaries coming to a (probably) permanent end, see these other future remakes and reboots that will blow everyone away.