These Vampire Diaries Photos Of Stefan And Caroline's Wedding Will Make You Cry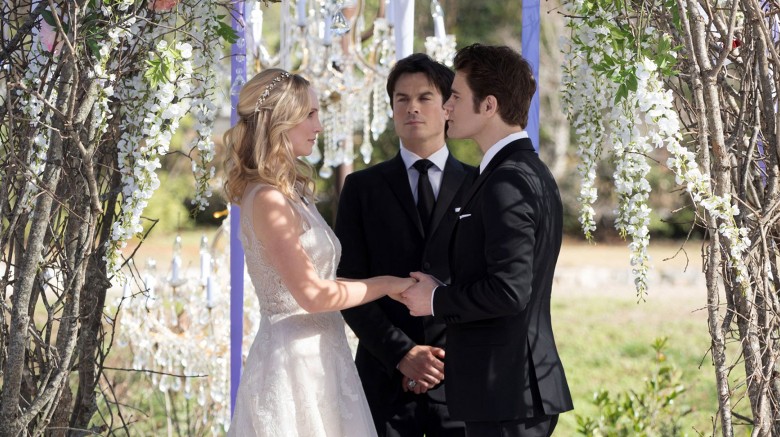 Bob Mahoney/The CW
Just because your wedding is being used to draw the Queen of Hell out of hiding doesn't mean that it can't be really, really adorable.
New photos from the penultimate episode of The CW's The Vampire Diaries, set to air March 3, give a glimpse at Stefan and Caroline's potentially real, potentially a sham wedding, which it appears Damon is set to officiate. The trailer for the episode, released earlier this week, showed Damon hatching a plan to lure in Katherine by throwing the one party that she can't miss– the wedding of her obsession, Stefan, to someone else. The preview makes it pretty clear that his plan doesn't go off without a hitch, with bodies, explosions, and more likely for Steroline's big day.
Here is the synopsis for the episode (via TVLine): "A wedding is quickly planned in order for Damon and Stefan to lure a dangerous enemy out into the open. This looming threat puts the fate of Mystic Falls in eminent danger and must be destroyed."
Nina Dobrev, who played Katherine (and, more notably, her doppelgänger Elena) is set to return for the series finale, which airs at 8 p.m. on March 10. Entertainment Weekly's Samantha Highfill, who was on set for the filming of the finale, has teased that a major character won't make it through the last episode.
As we wait for the big wedding, read up on some interesting tidbits on how The Vampire Diaries came to be.