Twitter Is Melting Down Over The Succession Season 3 Teaser
As fans of of "Succession" know too well, it's been nearly two years since the HBO dark comedy went off the air following an explosive Season 2 finale. The October 2019 finale saw Kendall Roy (Jeremy Strong) go rogue and publicly blame his father, Logan Roy (Brian Cox), and Waystar Royco for a variety of misdeeds, including a major cover-up involving a scandal with the company's cruise line. 
Kendall's betrayal was a bombshell for the Roy family, especially considering he had promised to take the fall for his megalomaniacal papa earlier in the Season 2 finale. As the credits rolled, Logan's proverbial knives came out for Kendall as he prepared to make a play for the top Waystar Royco seat. With a killer season finale like that, it's no wonder fans of "Succession" have been champing at the bit for the show's Season 3 return. That excitement has only grown following news that Adrien Brody and Alexander Skarsgård would be joining Season 3.
On Tuesday, HBO finally rewarded fans with a Season 3 teaser trailer (via Variety). In less than two minutes, the teaser helps set up the Kendall vs. Logan blood feud that will take center stage in Season 3 — and leave the Roy clan divided. Kendall seems to have gotten his confidence back as he psychs himself up in the bathroom mirror, clumsily reassures Waystar Royco employees all is well, and tries to trade insults with his father over the phone. He also seems to find an ally in Shiv (Sarah Snook), who is still smarting from Logan's betrayal via a retraction of his offer to have her take over the company in Season 2. The teaser also alludes to increased tension between Tom (Matthew Macfadyen) and Greg (Nicholas Braun), and shows Logan spewing threats at anyone who tries to approach him.
All in all, it's a pretty meaty sneak peek, and Twitter has a thing or two to say about it.
Fans are beyond ready for Succession Season 3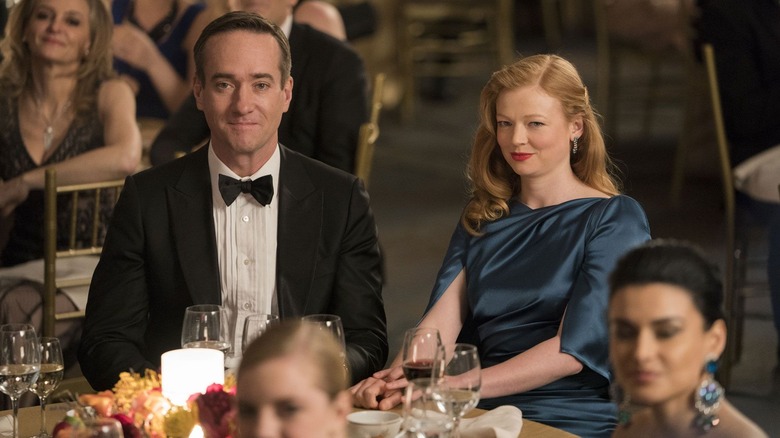 HBO
It didn't take long for the "Succession" Season 3 trailer to absolutely blow up on Twitter following its premiere on Tuesday afternoon. Within the first two hours, the Season 3 teaser trailer posted to the "Succession" Twitter account racked up thousands of likes and more than 3,000 comments, all of which were from fans who were beyond excited for the new season to arrive. A majority of fans reacted to the teaser trailer as if they were a member of the Roy family, peppering comments with the occasional curse word to emphasize their strong emotions and using GIFs from the show to help illustrate their excitement. 
Twitter user @edckbar showed their enthusiasm for the teaser by commenting, "LETS GOOOO," and incorporating a meme of Roman Roy smiling. 
Similarly stoked "Succession" fan @Ki_Ki92 also opted for all caps excitement, writing, "HOOK IT TO MY VEINS!!!!!!!" 
As for @Cheetara1986, they focused on Kendall's role in the Season 3 teaser, reacting with, "Kendall Roy is back, baby." 
Finally, it feels like Twitter user @goodwillfiction spoke for all of us with this anatomical response: "The goosebumps are literally all over my body."
No matter where you look in the Twitter comments, fans are beyond thrilled to see "Succession" is coming back with a vengeance in Season 3. It's been far too long since we've had some proper Roy family drama. The desire to know if Kendall will finally triumph over Logan and, even better, if he can convince his siblings to help him is going to be even stronger thanks to this teaser. Luckily, we don't have to wait long for Season 3, because "Succession" premieres this fall on HBO Max.