See The New Pirates Of The Caribbean: Dead Men Tell No Tales Poster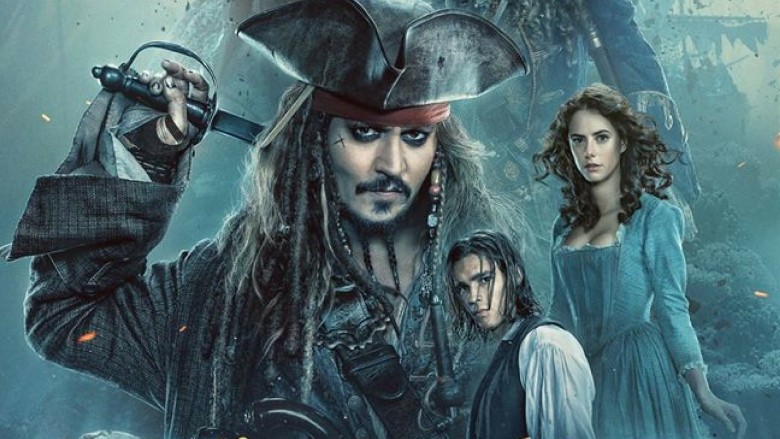 Everyone, hold on to your hats: the full trailer for Pirates of the Caribbean: Dead Men Tell No Tales will be released on Thursday.
The fifth film in the Johnny Depp seafaring adventure series is set to hit theaters on May 26. While the only footage thus far comes from the Super Bowl teaser, the official Pirates Facebook page released a new poster for the movie on Wednesday and teased that the trailer is coming tomorrow.
According to the official synopsis (via ComingSoon), Captain Jack will find himself the target of a group of deadly ghost sailors led by Javier Bardem's Captain Salazer, who escaped from the Devil's Triangle with the goal of killing every pirate at sea.
"Jack's only hope of survival lies in the legendary Trident of Poseidon, but to find it he must forge an uneasy alliance with Carina Smyth (Kaya Scodelario), a brilliant and beautiful astronomer, and Henry (Brenton Thwaites), a headstrong young sailor in the Royal Navy," the synopsis reads. "At the helm of the Dying Gull, his pitifull small and shabby ship, Captain Jack seeks not only to reverse his recent spate of ill fortune, but to save his very life from the most formidable and malicious foe he has never faced."
The movie is directed by Espen Sandberg and Joachim Rønning based off a screenplay by Jeff Nathanson. Geoffrey Rush is set to return as Captain Barbossa, while Orlando Bloom will reprise his role as Will Turner after sitting out the franchise's fourth installment, On Stranger Tides. The movie also stars Kevin R. McNally, Golshifteh Farahani, David Wenham, Stephen Graham, and, according to some new concept art released Tuesday to AMC Theatres, ghost sharks. Check Looper tomorrow for the full trailer, and, in the meantime, see all of the other movie releases that you won't want to miss this year.