It Looks Like Spidey Will Be Learning Magic In Spider-Man: No Way Home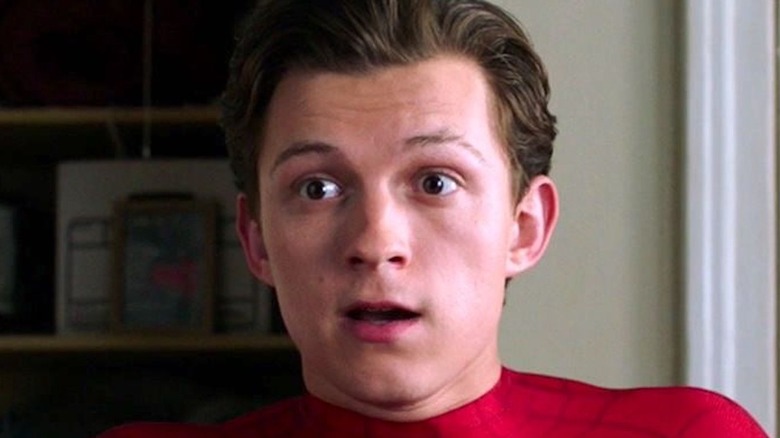 Sony Pictures/Marvel Studios
There's only a few months to go until "Spider-Man: No Way Home" finally swings into theaters after months of waiting and speculation about the plot. Obviously, one of the biggest rumors surrounding Tom Holland's third solo movie is the idea that Tobey Maguire and Andrew Garfield are both returning to play their respective versions of Peter Parker/Spider-Man. Obviously, that has yet to be officially confirmed, and Garfield later strenuously denied the reports. But the Multiverse is something the Marvel Cinematic Universe has been setting up for quite some time, with both "WandaVision" and "Loki" paving the way for things to really get weird on the big screen.
Back in October 2020, it was confirmed that Doctor Strange (Benedict Cumberbatch) will have a starring role in "Spider-Man: No Way Home" — because clearly, Peter Parker needs another hero with facial hair to replace Tony Stark (Robert Downey Jr.) as his mentor. It seems like the film might be setting the stage for the Sorcerer Supreme's upcoming 2022 sequel, "Doctor Strange in the Multiverse of Madness," which is just a brilliantly bonkers title, isn't it?
What does Stephen Strange's appearance in "No Way Home" mean for the iconic Web-Slinger? Well, if a line of newly announced toys are to be believed, Spidey will be adding some new abilities to his skillset.
Magic web, go!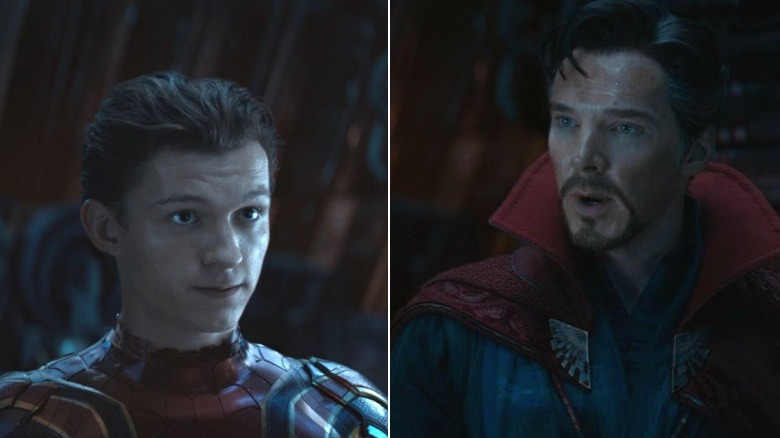 Marvel Studios
As revealed on Marvel's website (before taking Twitter by storm), a handful of merchandise has already been revealed for "Spider-Man: No Way Home" — showing off a few new suits for the Web-Slinger as well as some interesting Funko figures. Yes, the two new suits are cool, one of which looks like the Iron Spider design mixed with the upgraded Stark costume in "Far From Home," while the other is an all-black look with gold webbing. It's the small designs on one particular Funko figure which has sent fans spiraling into more theories.
The red, black, and gold suit, apparently called the Integrated Suit, has two small spell designs on its chest and wrist, not unlike the spells Doctor Strange wields in the MCU. The white spell on Spidey's chest has a web emblem in the center, while the blue one on his wrist has a pentagram around a strange ball. It seems likely that the Sorcerer Supreme has taught Spidey a magical trick or two after presumably taking him under his wing/cloak.
Here's just a little speculation: Could the wrist spell be a way of leaping through universes? That ball looks like it could easily signify a specific planet. It's not quite clear what these new magical upgrades mean for Pete and the MCU, but it'll be great to see Tom Holland banter with Benedict Cumberbatch when "Spider-Man: No Way Home" arrives in theaters on December 17, 2021.