How David Dastmalchian Really Feels About Playing Polka-Dot Man
Rich Polk/Getty Images for IMDb
David Dastmalchian is no stranger to the wackier side of superheroics, having portrayed Scott Lang's (Paul Rudd) crew member Kurt in both "Ant-Man" and "Ant-Man and the Wasp." He can also deliver on the villainy front, as his turn as Angus MacGyver's (Lucas Till) arguably most dangerous enemy, Murdoc, proved in the 2016 "MacGyver" reboot. As such, the actor is the perfect choice to portray one of the strangest supervillains in "The Suicide Squad" — the eccentric Polka-Dot Man.  
The comic book version of the Polka-Dot Man is by no means a weakling. In fact, his dots contain some pretty cool weapons and gadgets. Still, at the end of the day, he's a guy called Polka-Dot Man, wearing a garishly dotted carnival costume and facing off against the incredibly cool and efficient Batman. It's ... not a great look, to put it mildly. 
Likewise, the movie version of the villain seems destined to be one of the more embarrassing new characters in the titular squad. But how does David Dastmalchian really feel about playing the less than fearsome Polka-Dot Man?
David Dastmalchian likes the surprising complexity of Polka-Dot Man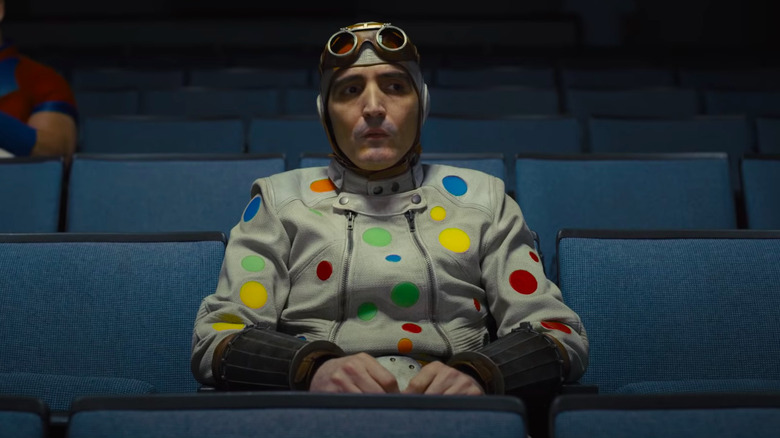 Warner Bros. Pictures
Polka-Dot Man, aka Abner Krill, might seem ridiculous, but that's how David Dastmalchian likes it. In an interview with Games Radar, the actor enthused about the seemingly pathetic supervillain — because it turns out there's more than meets the eye when it comes to the character. 
"I can tell you that my character Abner is someone who has lived a lifetime with a lot of pain, a lot of shame, a lot of solitude because of a condition that he has," Dastmalchian said. "That condition was something that he decided at a certain point in time would be best suited to hurt other people or at least perform acts of crime, so that he could get some vengeance against a cruel and unfair world. Things haven't gone great in Abner's life basically since day one, so as we find him entering this story, he's somebody that has never been a part of anything, so even in a bunch of really broken misfits and criminals, he's maybe found one of the first moments in his life where he's a part of something."
That's a lot of surprisingly heart-breaking backstory for a seemingly goofy one-note villain, and as director James Gunn noted, it's entirely by design. "We've turned that character who's a sad, pathetic character into a character who's depressed because people think he's stupid," he revealed. "He has a very tragic story that you learn about throughout the film –- to be able to add depth to characters who are thought of as the silliest is a fun thing for me to do."
Suddenly, Polka-Dot Man doesn't seem all that ridiculous any more, does he? 
Polka-Dot Man and the rest of "The Suicide Squad" arrive in theaters on August 6, 2021.