This Is How Much Bruce Campbell Actually Made For Army Of Darkness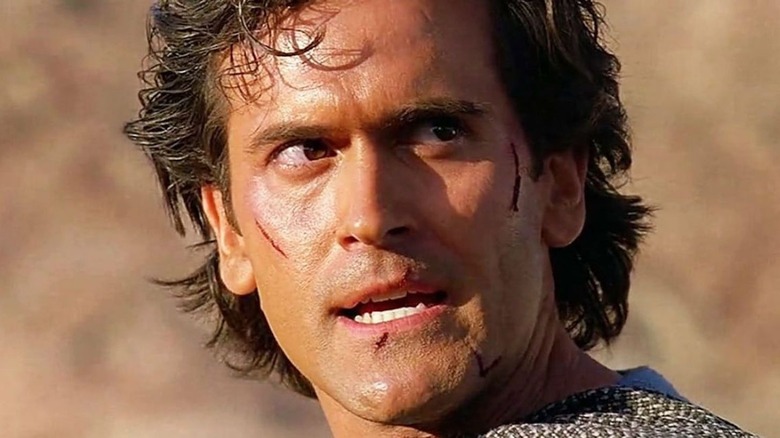 Universal Pictures
Sam Raimi's "Evil Dead" films arguably propelled actor Bruce Campbell to stardom thanks to his role as Ash Williams in the unhinged horror franchise. Although the original trilogy weren't the biggest blockbusters in the world, they quickly found a loving fanbase, with all three movies becoming cult classics in their own right. Yes, "Army of Darkness" goes to some absurd lengths in the fight against Deadites, but it leaned hard into its bizarre nature so it worked pretty well. In recent years, the franchise has explored new avenues, with Fede Álvarez's 2013 "Evil Dead" remake terrifying new audiences with its bloody, unrelenting approach to the typical cabin-in-the-woods format used by "The Evil Dead" back in 1981.
Bruce Campbell himself later returned to play an older version of his iconic hero in the 2015 Starz series "Ash vs Evil Dead," which saw him face the Deadites alongside his plucky new sidekicks Pablo (Ray Santiago) and Kelly (Dana DeLorenzo). The franchise isn't quite done yet either, as "Don't Breathe" director Lee Cronin recently started production on "Evil Dead Rise" for HBO Max, which will follow two city girls who try to defend their family from the Deadites. Sounds like the undead are in good hands.
Although the franchise isn't afraid to head in a new direction, Bruce Campbell will likely always be the face of "Evil Dead" and he previously opened up about how much he made for his role in the last part of the original trilogy.
Bruce Campbell earned a meager paycheck for Army of Darkness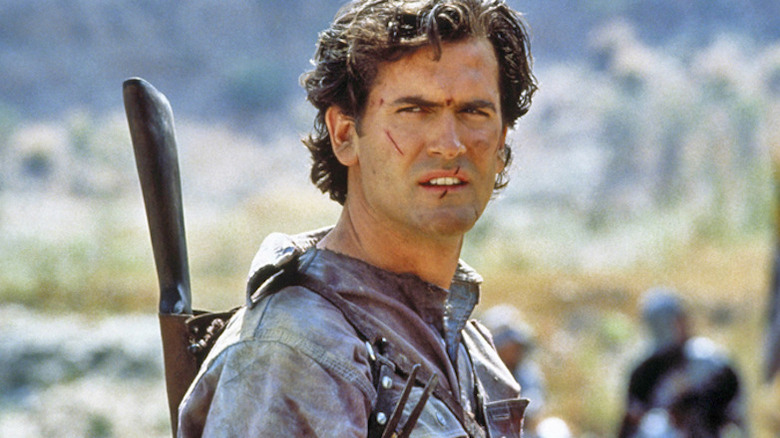 Universal Pictures
Given Bruce Campbell's iconic status as Ash Williams, it'd be easy to assume that he was given a hefty sum for the third outing in the franchise, "Army of Darkness." Unfortunately, his paycheck was whittled down over the course of the two-year production for the film. As noted by Mental Floss and Goliath, the star received broke down his $500,000 payment for the sequel as a way of illustrating the grind working actors face. That sum didn't all go straight to Campbell's bank account: income tax took a slice of the Deadite paycheck, as did payments to his ex-wife, agents and managers. 
With all those deductions, Campbell reckoned only took home $93,000. So, he only made $46,500 per year for the two years that he was filming "Army of Darkness" — given the long legacy and popularity of the franchise, that's a surprisingly low amount. Although he's not set to appear in "Evil Dead Rise" in HBO Max — unless he cameos again as he did in the 2013 film — he is signed on as an executive producer, so hopefully he'll receive a better salary this time around.