Starz Cancels Ash Vs. Evil Dead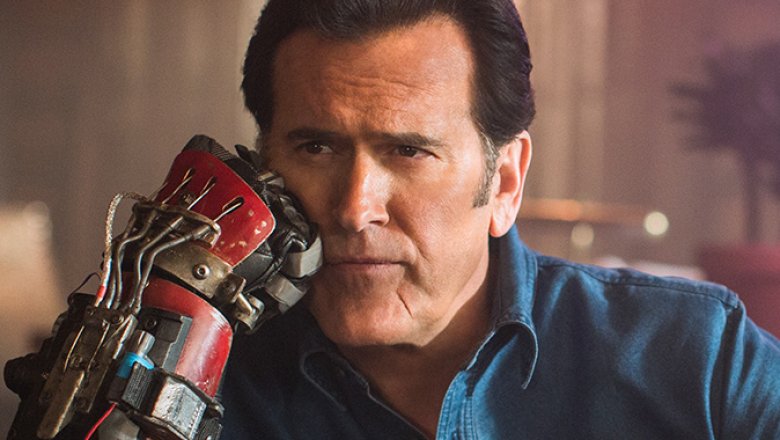 Starz
Ash vs. Evil Dead is dead. 
Per The Hollywood Reporter, Starz has canceled Sam Raimi, Ivan Raimi, and Tom Spezialy's comedy series Ash vs. Evil Dead after just three seasons. The show's season 3 finale, which will premiere on April 29, will serve as its series finale as well. 
An offshoot of the Evil Dead film franchise, Ash vs. Evil Dead launched in 2015. Since then, ratings have dwindled from an initial same-day viewer pull of 437,000 in its debut episode to just 175,000 viewers in its April 15 installment. It's unclear whether a drop in viewership was the reason Starz swung the ax on the series, but it is a solid bit of speculation.
Actor Bruce Campbell, who reprised his Evil Dead role as Ash Williams on the series, took to Facebook to confirm the disappointing news and to express his gratitude to the creatives who brought Evil Dead and Ash vs. Evil Dead to life.
"Ash vs. Evil Dead has been the ride of a lifetime," Campbell wrote in a post, which was accompanied by a photo of himself with overlaid text that reads, "Ash has left the building." The actor continued, "Ash Williams was the role of a lifetime. It was an honor to reunite with Evil Dead partners Rob Tapert and Sam Raimi to give our tireless fans another taste of the outrageous horror-comedy they demanded. I will always be grateful to Starz for the opportunity to revisit the franchise that launched our careers. Thank you!"
Carmi Zlotnik, president of programming at Starz, said in a statement in light of the cancelation, "Ash vs. Evil Dead has taken audiences on a wild ride for three seasons thanks to the fantastic performances and creative efforts of Sam, Bruce, Rob, and the entire cast and crew. We are proud to send the show out with a bang ... and a splat."
Ash vs. Evil Dead also starred Lucy Lawless as Ruby, Ray Santiago as Pablo Simon Bolivar, and Dana DeLorenzo as Kelly Maxwell.
Starz's decision to end the series comes as the network has been reworking its scripted slate, filling it with the newly debuted Counterpart as well as the upcoming shows Sweetbitter and Vida to sit alongside American Gods, Outlander, Howard's End, and Power. Ash vs. Evil Dead joins another recently scrapped Starz show, Survivor's Remorse. 
Ash vs. Evil Dead will air its series finale on April 29 at 9 PM on Starz.