How David Harbour Really Felt About Suiting Up As Red Guardian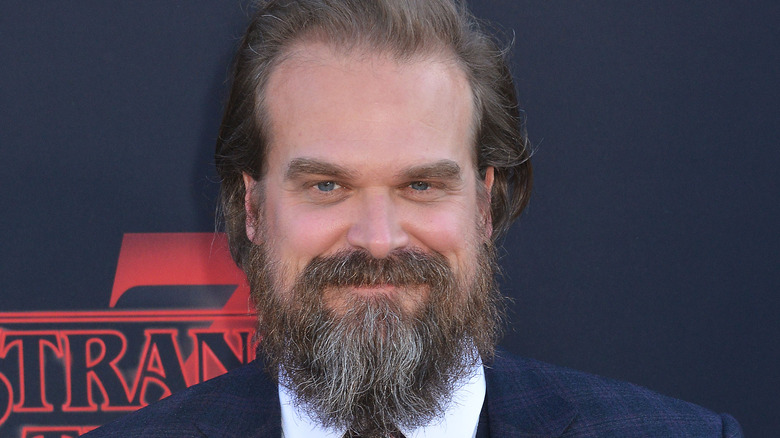 Shutterstock
Marvel fans are eagerly counting downs the days until "Black Widow" hits Disney+ and theaters. Not only are audiences psyched to finally get Natasha Romanoff's long-awaited back story, but they also want to see some new characters make their way into the MCU. In particular, comic lovers are quite excited for arrival of Yelena Belova, the next to take up the Black Widow mantle. Played by the talented Florence Pugh, Yelena is Natasha's pseudo-sister who, like Natasha, suffered the horrors of the Red Room. Yelena will also be appearing in the Disney+ series "Hawkeye," indicating that the character will definitely be playing a significant role throughout Marvel Phase Four.
However, there's another character fans are certainly also excited to see: Alexi Shostakov, aka Red Guardian. Created to be the Soviet Union's Captain America counterpart, he'll be joining the MCU as Natasha and Yelena's adoptive father. David Harbour, known best to audiences as Jim Hopper from "Stranger Things," is portraying the Russian super soldier, and the actor is certainly excited about the role.
Harbour has tried to play it cool but can't help himself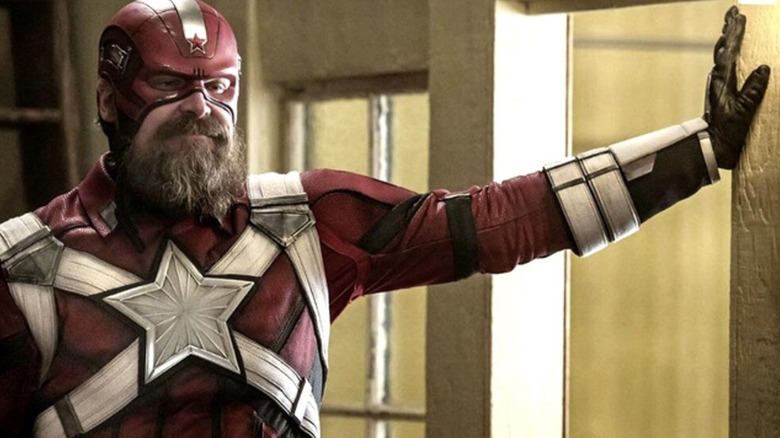 Marvel Studios/Disney+
In an interview with Cinema Blend, David Harbor opened up about how special it was to suit up as Red Guardian, revealing that even with all his professionalism and maturity, he had a complete fanboy moment. "I try to be cool and cynical about a lot of this stuff, and then you show up and you actually put it on," he said. He compared the feeling of becoming Red Guardian to childhood, "like you're a five-year-old with the best Halloween costume on the block ... I was giggling, I was so excited."
The actor remarked, too, that his own personal enthusiasm for the costume carried over into his performance: "You know, all this stuff you see in the movie where [Red Guardian] comes out [in the suit] and he's like, 'Still fits.'  ... There's no acting involved. It's just me thinking I look great and them all laughing at me."
Knowing Harbour's talents, especially after watching him for years on "Stranger Things," we can't wait to see Harbour's take on the iconic Soviet character. While we'll have to wait and see "Black Widow" to know the fate of Red Guardian in the MCU, we're sure his time in the universe, even if it's short, is guaranteed to entertain.