Here's What Critics Are Saying About Black Widow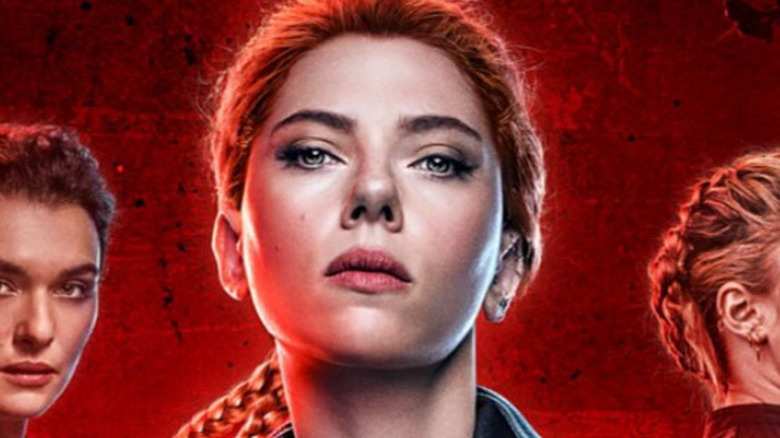 Disney/Marvel Studios
To say it has been a long wait for Natasha Romanoff aka Black Widow (Scarlett Johansson in her final performance as the character) to finally get her own standalone film would be an understatement of Marvel Cinematic Universe sized proportions. But, no matter how many delays, COVID-19 related or otherwise, the movie faced, its release is now imminent and critic's reviews have finally started to pour in.
At the time of writing, "Black Widow" has an 84% approval rating on Rotten Tomatoes with 76 reviews counted. The general consensus seems to be, as Richard Lawson wrote in his review for Vanity Fair, "'Black Widow' is simply a fun, occasionally poignant globe-trotting adventure, one that puts a reliable character to good use and introduces—somehow rather organically—her replacement."
The film's smaller scope and grittier action set pieces are being cited as highlights by many. Lawson wrote, "The film is as exciting when it's two people fighting in a dingy Budapest apartment as it is when it's gone grand and fiery and skyborn." Caryn James of the BBC praised director Cate Shortland's handling of the material, saying, "she quickly demonstrates that she can create exhilarating action."
Beyond the fist-fights and explosive car chases, many are also hailing Johansson's deft ability to step into a headlining MCU role. But she's not the only cast member receiving strong notices. The trio of MCU rookies who play Natasha's unconventional "family" — Rachel Weisz, David Harbour, and especially Florence Pugh — are being lauded for their committed performances and believable chemistry.
Critics are giving the cast of Black Widow high marks
In his review for The Hollywood Reporter, David Rooney singled out Florence Pugh, who plays Natasha's "sister" Yelena, for praise. "The remarkable Pugh, who just keeps getting better and better, brings warmth and complexity ..." he wrote, continuing on to declare, "Her sparky chemistry with Johansson yields many lovely moments of resilient sisterhood."
Writing for The Arizona Republic, Bill Goodykoontz said of the sister duo, "Johansson once again embodies a character driven by her pain; now we know where it comes from. Pugh is outstanding, tapping into some of that same pain but making it her own." Similarly, Alonso Duralde of The Wrap wrote of the film's newcomers, "Rachel Weisz, as a brilliant scientist, commits to this material as though Terence Davies had written it, and she, Harbour, and Pugh immediately feel essential to this ever-expanding film and TV franchise."
Although the film's reviews have been roundly positive, not everyone felt that "Black Widow" was worth the wait. "Boiled down to its essence, this narrative isn't terribly hard to follow, but in execution the film moves so haphazardly as to be bewildering," Jake Cole wrote in Slant. "Almost every single clue about the Red Room that Natasha uncovers leads to a bloated action sequence ... with its combination of sloppy editing and garish CGI ..."
Mara Reinstein of US Magazine was also critical of the film in a mixed review, calling the CGI "messy," the stakes "nonexistent," and the reveals "anticlimactic."
Still, despite some detractors, it looks like the general consensus is that "Black Widow" succeeds by making smart tweaks to the MCU formula and bringing winning new characters into the fold. The film premieres July 9, 2021.