Scarlett Johansson Confirms What We Suspected All Along About Black Widow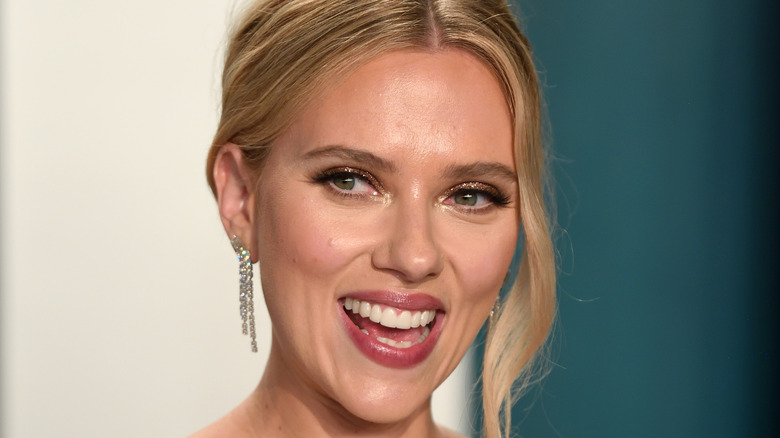 Karwai Tang/Getty Images
The release of Marvel's "Black Widow" is just around the corner — on July 9, 2021, MCU fans will finally get to see a solo film for Natasha Romanoff, played by Scarlett Johansson. Set after the events of "Captain America: Civil War," with a dangerous conspiracy looming, Natasha must come to terms with her history as a spy and the relationships she left behind.
Johansson leading her own Marvel film is a long time coming, as the actress has been playing Black Widow for a full decade, having made her first appearance in 2010's "Iron Man 2." From there, she went on to co-star in six more MCU films (with "Black Widow" marking her eighth appearance as the character). Natasha met a heartbreaking end in 2019's "Avengers: Endgame," sacrificing herself to save her friends and teammates. With the devastating loss of Natasha fresh in fans' minds, "Black Widow" couldn't come at a better time.
With the film's release coming up, Johansson has been doing tons of press interviews for "Black Widow," and in a recent discussion with Comicbook.com, she confirmed what some fans have been suspecting for a while.
Johansson confirms Black Widow will be her last film as Natasha
While "Black Widow" gives fans a chance to see Natasha onscreen again despite her "Endgame" death, the thought that it might be Natasha's final bow has likely been on moviegoers' minds. During her interview with Comicbook.com, Johansson was asked if "Black Widow" would be her final appearance as Natasha.
Johansson responded, "Honestly, I feel like it's always, it feels great to leave a party when it's still raging and I think that [Black Widow] feels very much like it's alive and fresh and powerful and I feel really pleased with it. I feel really happy with the work that we've done for this decade of time and, you know, it's bittersweet to say, 'Goodbye,' but if you love something, you need to set it free!"
Johansson had previously spoken to Comicbook.com about how she feels about her character's death in "Endgame," declaring that she's happy with it and found it not only fitting but powerful. She said, "Her sacrifice was a truly altruistic offering. ... I think that just being in that kind of head space and being able to make that decision, that selfless decision, that selfless act, is so incredibly powerful. It's amazing that she could be in that head space to do that."