David Harbour Just Revealed A Surprising Connection Between Black Widow And Stranger Things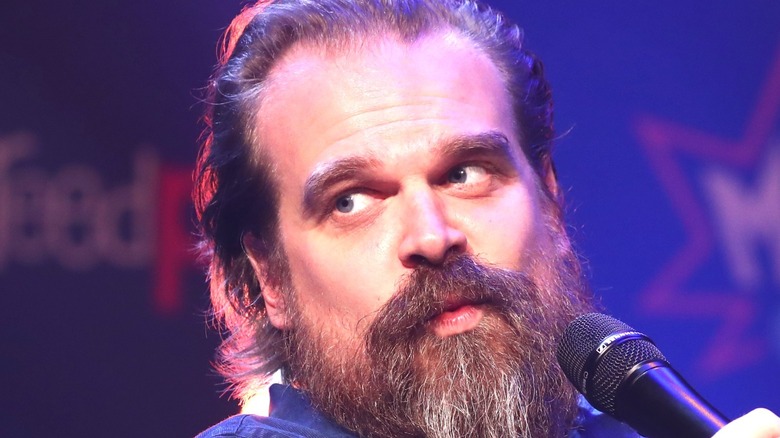 Shutterstock
There are some movie and TV versions of characters in popular media that are so iconic that it's difficult to imagine them by anyone else. David Harbour's Jim Hopper from "Stranger Things" has definitely become one of them, with the actor's distinct voice and face making it difficult to separate the character from any other role he takes on.
Unfortunately for those hoping to not have their minds on Hawkins while watching the first Marvel Cinematic Universe film in over two years, the similarities between Jim Hopper and Alexei Shostakov from "Black Widow" (also known as Red Guardian) go beyond the shared actor. In an interview with Jimmy Kimmel, who joked that he would be making his debut in the Marvel Cinematic Universe in "Spider-Man: No Way Home" as the villainous Kraven the Hunter, Harbour spoke about a conspiracy-level coincidence between "Black Widow" and the fourth season of "Stranger Things," and the painstaking efforts he took to prevent them from being too similar.
Jim Hopper and Red Guardian both spend time in a Russian prison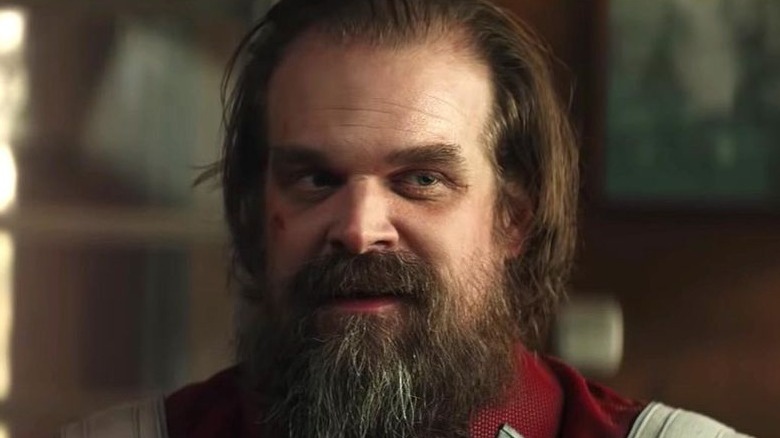 Disney/Marvel Studios
Initially created in 1967 as a Soviet counterpart to Captain America, Red Guardian has survived well past the fall of the Soviet Union, appearing in "Black Widow" in a modern Russian prison — not too surprisingly, as it's his country of origin. However, what makes this a bizarre coincidence is that Jim Hopper is also set to appear in a Russian prison, with promotional teasers for the fourth season of "Stranger Things" confirming that the character is still alive ... somehow.
As "Black Widow" was set to release in May 2020 before the pandemic hit, Harbour had already filmed all his scenes in the movie before production began on "Stranger Things" Season 4. He told Kimmel that he took pictures of the prison's set to send to the series' creators Matt and Ross Duffer, in order to make sure the other prison wouldn't look too similar. He also confirmed that Hopper was supposed to have grown a long beard while in prison, but because Red Guardian also sports a beard, Harbour convinced the Duffer brothers to have his character not just have no facial hair, but a shaved head as well, in order to make the two characters look more different.
As Kimmel noted, some fans have made fun theories connecting the two characters and universes, theorizing that Hopper transformed into the Red Guardian himself while in prison and taking on a new identity. Although this is certainly not canon, after "WandaVision" literally anything seems possible.
"Black Widow" releases at long last on July 9 in theaters and through Premiere Access on Disney+.