The Real Reason Whoopi Goldberg Is Missing From The View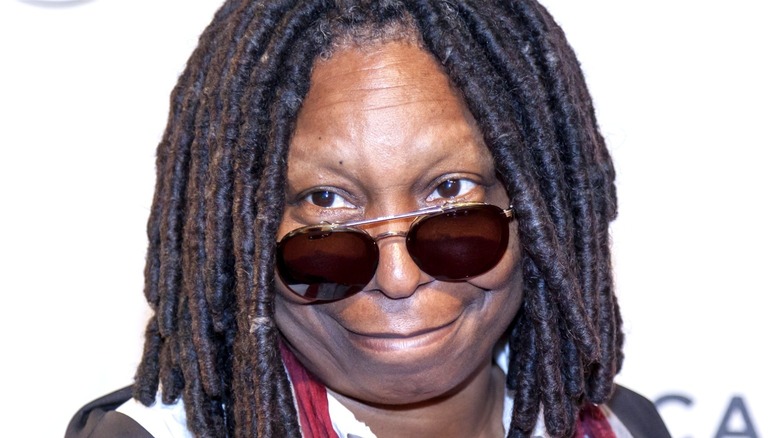 Shutterstock
The public has found fewer and fewer means by which to sate their seemingly endless appetite for Whoopi Goldberg over the last 20 years. A desperate community of fans cries out, but the beloved actress refuses to give viewers that long-awaited "Rat Race" sequel they've been pining for or return to the thrill-a-minute hijinks of the "Theodore Rex" cinematic universe.
But at least we have "The View," the daytime talk show where Goldberg and a revolving door of celebrities who don't mind sitting down for a living sit down. Since 2007, the Academy Award winner has co-hosted the program alongside a laundry list of familiar names. In an uncertain world, fans could count on Whoopi and her associates to tackle the news of the moment with roughly the same social dynamic as a book club full of neighborhood moms who secretly hate each other.
So it was jarring in the final week of June, 2021, when Goldberg failed to appear on the program that's been her home for over a decade. Where did she go? Was she safe? Most importantly, did she take time off to make "Theodore Rex 2: Rex Vs. Sever?"
Whoopi was benched by health issues, but she's back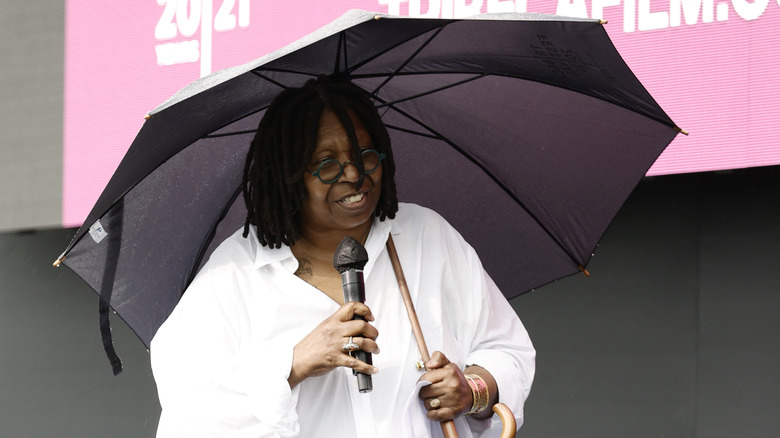 Jamie Mccarthy/Getty Images
According to Whoopi Goldberg, the answer is somehow less fun than a "Theodore Rex" sequel: She's going through some problems with sciatica, and needed some time off to recuperate.
On Tuesday, June 29, Goldberg returned to "The View" after a short absence. "Yes, it's me, I'm back," she told viewers, per ET. "I was out because I was dealing with something called sciatica, which is basically a bulging disc in your back and it impacts the sciatic nerve, which sends pain down your leg."
She continued, "There I was, trying to move my leg — impossible to do...It was really horrible. But I'm glad to be here."
Goldberg is now getting around with assistance from a walker. "I didn't know that I needed it," she revealed on the show. "And you know what? My first step with the walker, this is my new best friend. I'm just gliding along. So, that's what happened to me. I'm told that it comes out of nowhere."
Sciatica is a relatively common condition caused by aggravation of the sciatic nerve, often thanks to a herniated disc or a bone spur. What's not common is a decades-spanning career in which a performer wins an Emmy, an Oscar, a Tony, and a Grammy, while also appearing in a film where they solve mysteries with the help of their partner, a T-Rex wearing specially-made high top sneakers. We have every faith that Whoopi will persevere. 
"Theodore Rex" is currently available to stream nowhere.