Why Lumiere From Beauty And The Beast Looks So Familiar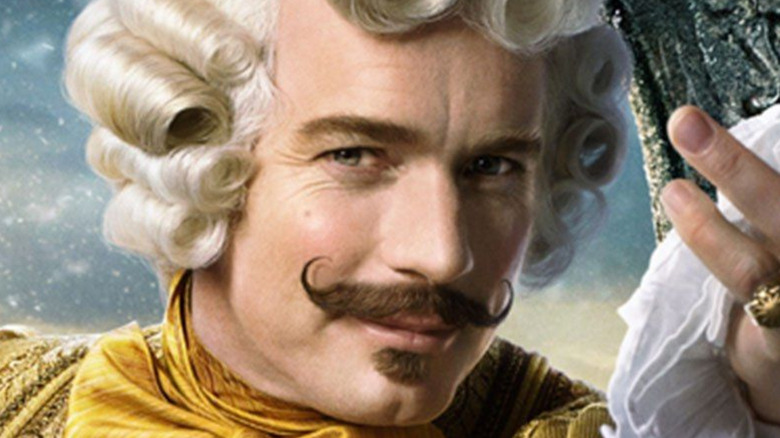 Walt Disney Studios
Love them or hate them, there's no denying that some of Walt Disney Studios' live-action remakes of the company's animated classics have been massively successful. According to The Numbers, 1996's "101 Dalmatians" remake brought in $300 million, not adjusting for inflation. Of course, the studio spent nearly two thirds that amount just to make Tim Burton's 2010 live-action "Alice in Wonderland"; that proved to be a sound investment, as the film became the first Disney remake to gross more than $1 billion worldwide (via The Numbers). In flipping "Sleeping Beauty" on its head, "Maleficent" managed a respectable $750 million in 2014 (via The Numbers) before "Alice Through the Looking Glass" flopped, though it's hard to believe grossing more than $275 million could be considered a commercial failure.
Before being later eclipsed by the live-action "Lion King" remake's massive $1.6 billion take (via The Numbers), 2017's live-action "Beauty and the Beast" set the pace for Disney remakes by raking in $1.2 billion. Of course, Walt Disney Studios absolutely needed a massive haul after shelling out a reported $255 million for the film's production budget, according to Forbes, but we'd say a return greater than four-to-one was worth the risk.
Of course, how much risk could there have really been when the retelling of the tale as old as time featured "Harry Potter" franchise superstar Emma Watson in the role of titular beauty Belle? And she's by no means the only big name gracing the cast, with Luke Evans appearing as Gaston and Kevin Kline aboard as Belle's father, Maurice. Of course, some members might not be so easily recognized, given their transformation into domestic goods and decor. There's Sir Ian McKellen as Cogsworth the clock, Stanley Tucci as Cadenza the harpsichord, and Emma Thompson as teapot Mrs. Potts. The film also features well known actor Ewan McGregor, who's around to help shed some light on things. Here's why Lumière from "Beauty and the Beast" looks so familiar.
McGregor made a big splash as Renton in Trainspotting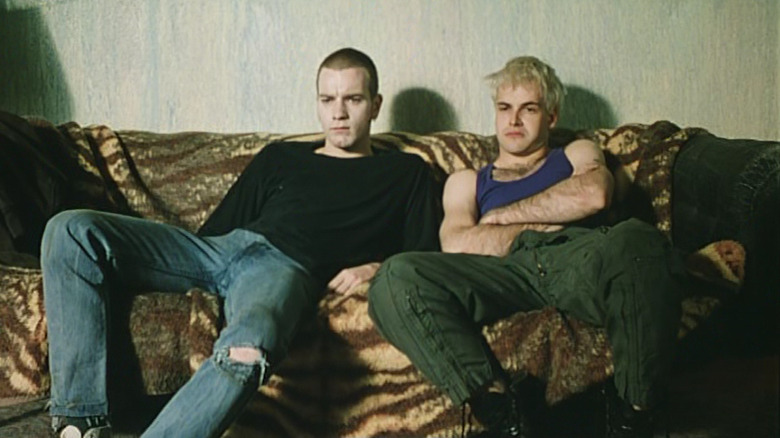 PolyGram Filmed Entertainment
"Choose life. Choose a job. Choose a career ... But why would I want to do a thing like that? I chose not to choose life. I chose something else. And the reasons? There are no reasons. Who need reasons when you've got heroin?" Few movies have as powerful an opening sequence than that of 1996's seminal, drug-fueled black dramedy "Trainspotting." The above monologue — trimmed for content and time — was delivered to the jaunty beat of Iggy Pop's "Lust for Lust" and laid overtop a montage of various sequences depicting the scummy goings-on of the Edinburgh, Scotland, drug scene. "Trainspotting" was the sophomore offering from British filmmaker Danny Boyle — who would later go on to make "28 Days Later," "Sunshine," and "Slumdog Millionaire" — and was the film that established Ewan McGregor as an international star.
The opening monologue from "Trainspotting" is delivered by McGregor's Mark Renton; he's a jobless heroin addict holed up in Edinburgh and the film chronicles his efforts to become a productive member of society. Renton is trying to get off the junk, but has found it difficult. And it's no wonder, considering the company keeps: Sick Boy (Jonny Lee Miller) is a jittery 007-obsessed addict and Spud (Ewen Bremner) is an unassuming but devious conman and fellow heroin user. Mind you, he's got friends who don't do drugs as well; Begbie (Robert Carlyle) substitutes violence to fill the hole inside him the others fill with drugs. Not even the tragic death of Sick Boy's infant daughter Dawn, through his negligence and that of girlfriend Allison, isn't enough to scare them off their seedy path. 
After getting in legal trouble, Renton is forced to go cold turkey and gets clean but finds existence without drugs meaningless and empty. He eventually chooses life, though at the expense of friendship, when he makes off with thousands of dollars the crew nabbed from selling drugs.
He plays the young Obi-Wan Kenobi in the Star Wars prequels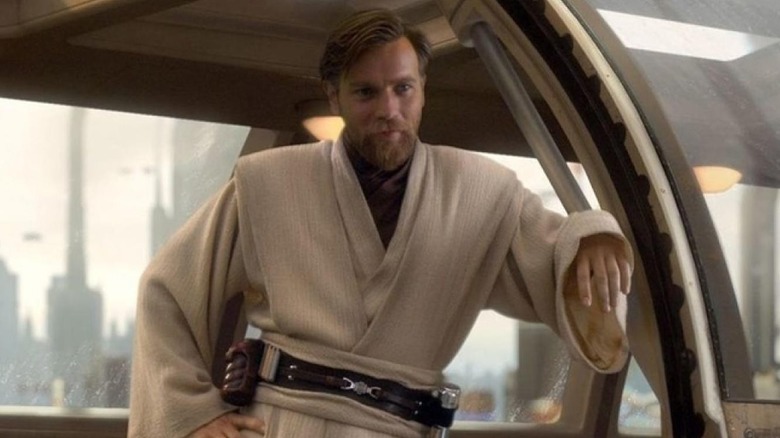 Lucasfilm/Disney
In only three short years, Ewan McGregor went from slinging dope to using the force, trading in his ragged clothes and hypodermic needle for the robes of a Jedi and a lightsaber in the canonically first "Star Wars" film, the "Episode I — The Phantom Menace" prequel. He took on the role of the young Obi-Wan Kenobi for the three "Star Wars" prequels, first appearing as a Padawan apprentice to Liam Neeson's Qui-Gon Jinn. In the course of the first film, they discover a young Anakin Skywalker (Jake Lloyd), in whom Qui-Gon senses a powerful connection to The Force when they seek out a part to repair their ship's damaged hyperdrive after rescuing Queen Padme Amidala (Natalia Portman).
"Episode II — The Clone Wars" sees Obi-Wan a full-fledged Jedi 10 years later, with an older Anakin (Hayden Christensen) now serving as his Padawan  — the student has become the master — and the two of them still tethered to Padme; Obi-Wan is looking into the attempt on her life and Anakin is serving as her protector while also falling in love with her. He's grown powerful but arrogant, perhaps letting that whole "Chosen One" prophecy go to his head a bit. The two are married on Padme's home planet of Naboo but Anakin begins to have visions of her dying in childbirth in "Episode III — Revenge fo the Sith." Seeking to prevent that at any cost, he goes to the Dark Side and Ob-Wan leaves his former student to die — or so he thinks — near a lava flow on Mustafar.
McGregor is reprising his role as the Jedi Master for the upcoming "Obi-Wan Kenobi" series on Disney+. According to the official "Star Wars" website, the show is set 10 years after the climactic third prequel and Hayden Christensen will return as Darth Vader.
Ewan McGregor fell in love with a courtesan in Moulin Rouge!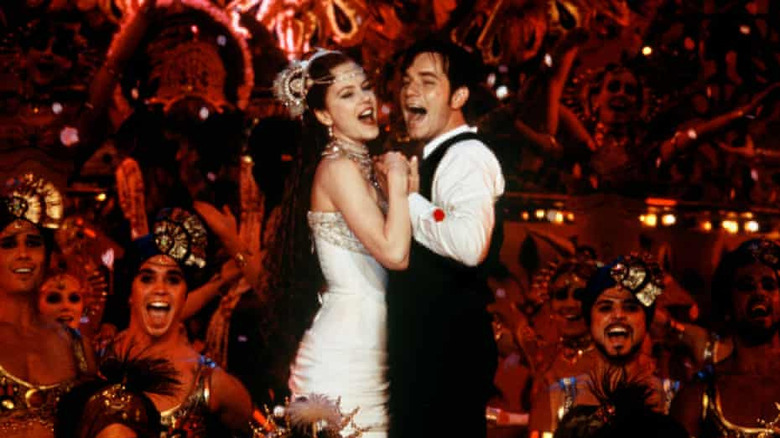 20th Century Fox
Two years after his first turn as future Jedi Master Obi-Wan Kenobi, Ewan McGregor put his vocal talents to work 15 years before being transformed into mood lighting when he appeared in "Moulin Rouge!" McGregor plays the love-sick young playwright Christian, opposite Nicole Kidman as the object of his affection, the courtesan Satine. The film, a popular jukebox musical from visionary filmmaker Baz Luhrmann ("Romeo + Juliet," "The Great Gatsby"), tells the tale of Christian and his experiences as part of the free-spirited Bohemian movement at the turn of the 20th Century in Paris, France. He falls in with a motley crew of creatives — including a fictionalized version of artist Henri de Toulouse-Lautrec (John Leguizamo) and a narcoleptic Argentinian — who aim to sell their production, "Spectacular Spectacular," to the owner of the Moulin Rouge theater, Harold Zidler (Jim Broadbent). 
In a classic mixup we've seen a million times before, Satine mistakes Christian — who is meant to pitch their show to Zidler's star courtesan — for Zidler's potential investor, the contemptible Duke of Monroth (Richard Roxburgh), to whom she's been offered for the evening. The Duke interrupts when Christian and Satine are in her chambers and they convince him they're simply rehearsing; he agrees to back the show on the condition that no one else is allowed to spend ... personal time with Satine. The writer and the star fall in love but the menacing Duke and her terminal case of tuberculosis will keep them apart in the end. 
According to Variety, McGregor knew "Moulin Rouge!" was going to be a success all along. He reunited with Kidman for the outlet's "Actors on Actors" series, saying "I don't think you do work unless you think it's going to be great. I've never approached anything thinking, 'Well, this might be a bit crap but ...'"
McGregor was part of the ensemble cast of Black Hawk Down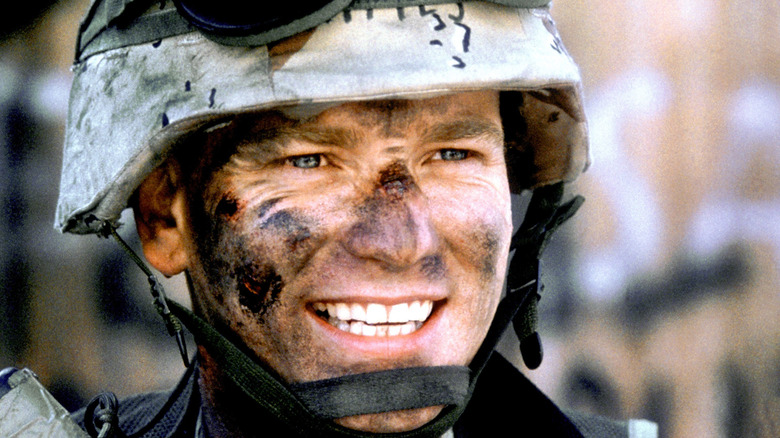 Sony Pictures Releasing
The same year, Ewan McGregor played another meek typist in director Ridley Scott's massive war movie "Black Hawk Down." McGregor joined a small cast of relative unknowns who would never go onto to do much else in the world of cinema, which is of course the opposite of truth. The ensemble cast of "Black Hawk Down" — which was based on the United States Army's disastrous 1993 Operation Gothic Serpent in Mogadishu, Somalia — features the likes of Orlando Bloom, Ewen Bremner, Ty Burrell, Kim Coates, Nikolaj Coster-Waldau, Huch Dancy, William Fichtner, Ioan Gruffudd, Tom Guiry, Tom Hardy, Josh Hartnett, Jason Isaacs ... and that's just the first half of the alphabet!
Like Liam Neeson's Bryan Mills in the "Taken" franchise, McGregor's SPC John Grimes of the 75th Ranger Regiment has a particular set of skills, though his include typing and making coffee, not kicking bad-guy butt. He's been stuck behind a desk and hasn't seen a bit of action during his time in country. Viewers are first introduced to Grimes when Private First Class Todd Blackburn (Bloom) transfers in to Mogadishu, which Grimes clarifies is simply called "The Mog." Of course, when a Black Hawk helicopter goes down, all bets are off and Grimes is sent out into the field.
John Grimes is a composite character, not the name of a real-life soldier depicted in "Black Hawk Down" like Jason Isaacs' Michael Steele. SPC John Stebbins most closely resembled a real-life version of Grimes, according to the New York Post. The outlet reports that the Army requested a name change as a result of Stebbins' conviction for sex crimes against his own daughter. Per the Post, a Revolution Studios spokesperson claimed the name change was to account for the sheer volume of characters with speaking roles.
He told tall tales in Big Fish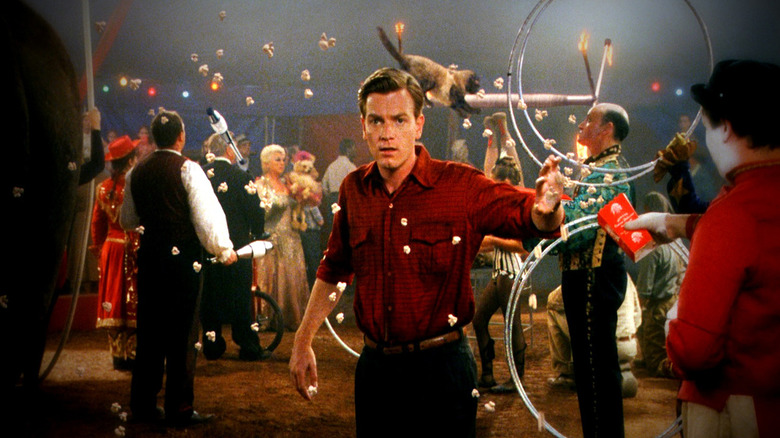 Sony Pictures Releasing
Ewan McGregor washed off the grit and grime of war for a trip to the incredible world inside the head of director Tim Burton for 2003's "Big Fish." The stunning visual tale tells the story of young Edward Bloom (McGregor) — rather, the stories of Edward Bloom, as initially relayed by his son Will (Billy Crudup) to his pregnant wife Joséphine (Marion Cotillard) as they travel back to his hometown of Ashton, Alabama, to visit his dying father. Will is estranged from his dad, finally growing tired of his tall tales when — at the younger Bloom's wedding — Edward tells of catching a giant catfish using his own wedding band on the day Will was born. When they arrive at the hospital to visit Edward (Albert Finney), who's developed cancer, he continues on telling the charming, seemingly fictitious account of his incredible life as a younger man. 
McGregor's younger Edward goes from local sports hero to town savior when he leads a giant named Karl, who's been eating the town's livestock, away with him on his quest for greatness. He travels to the secret town of Spectre, joins the Calloway Circus and befriends a werewolf before traveling via cannon to Auburn University to seek the heart of a beautiful young woman who'd been at the circus. That young woman was Sandra (Alison Lohman), who would become Edward's wife — and later Will's mother (played by Jessica Lange in present time) — before he was drafted to serve in the Korean War. 
Despite his disbelief, Will looks into his father's stories and finds some of them are tied together and grounded in reality, albeit exaggerated. Upon Edward's death, many of the characters from his stories show up to pay their respects, revealing the true nature of his seeming tall tales and deepening Will's love and admiration for his father.