Musicals You Need To Watch Right Now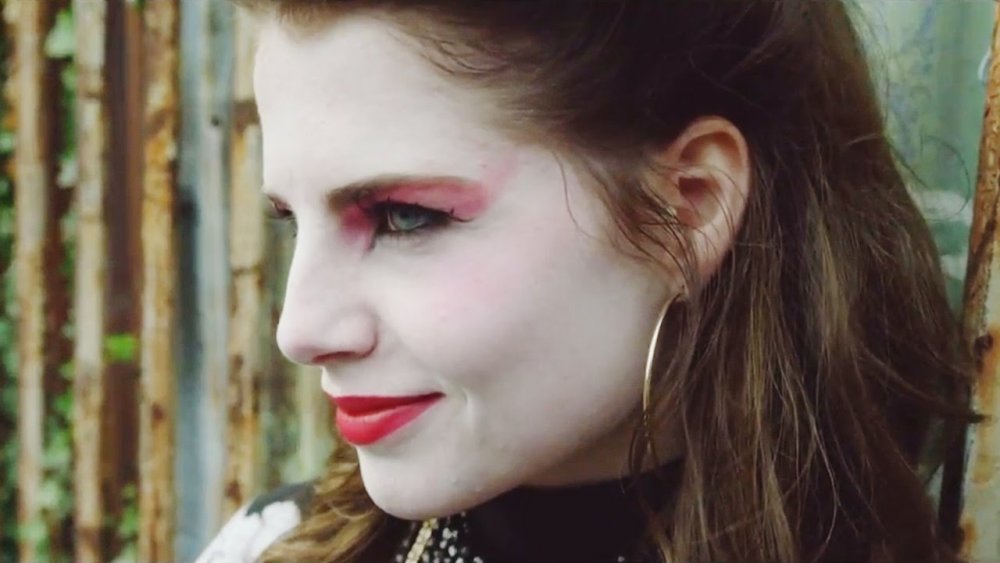 Onstage, the musical genre never went anywhere, and Tony Award competitors still frequently dazzle Broadway audiences and even become household names outside of New York City. In the world of the cinema, however, musicals are less common now, and that's led some moviegoers to feel like they're an outdated form that's just not fresh anymore.
The truth is that, while we have a tendency to think of a certain kind of film — bright, Technicolor, and packed with dozens of dancers — when we think of movie musicals, the subgenre is actually a vibrant and diverse field of many different kinds of stories. Musicals can be everything from staged extravaganzas to moving indie dramas to sci-fi comedies, and if you give them a chance, you'll probably one find that fits your particular toe-tapping tastes. So, if you haven't seen a musical in a while, now's the time to change that. Here are our picks for the musicals you need to be watching right now, from old classics to new favorites.
Top Hat is a showcase for two musical greats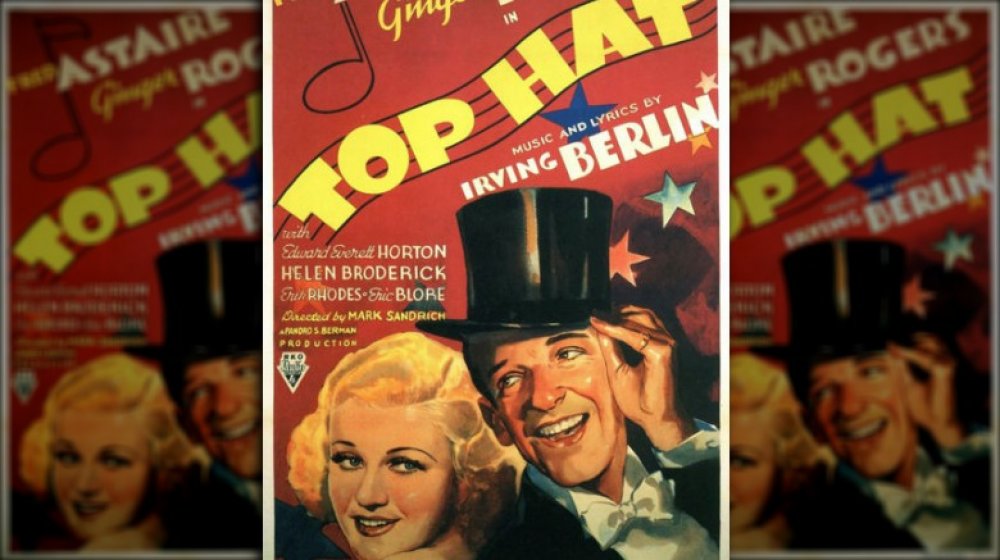 We remember many of the best musicals ever made because the songs are the kinds of instant classics that get stuck in our heads, but the songs aren't the only reason to watch. Movie musicals are home to some of the greatest physical performances of all time thanks to the work of many, many great dancers. In that arena, it arguably doesn't get any better than the partnership of Fred Astaire and Ginger Rogers. 
In the 1930s, Astaire and Rogers made nine revolutionary musical films together at RKO, showcasing their extraordinary talents as dancers both separately and together. Among those films, it arguably never got any better than Top Hat. The setup for the film is pretty simple. A hotshot dancer (Astaire) goes to London to do a show, meets a bewitching woman (Rogers), and falls in love with her. The rest is just setting Astaire and Rogers up to do what they did better than anyone else in the musical game, and the result is a truly astonishing piece of work.
Singin' in the Rain is one of the most iconic musicals ever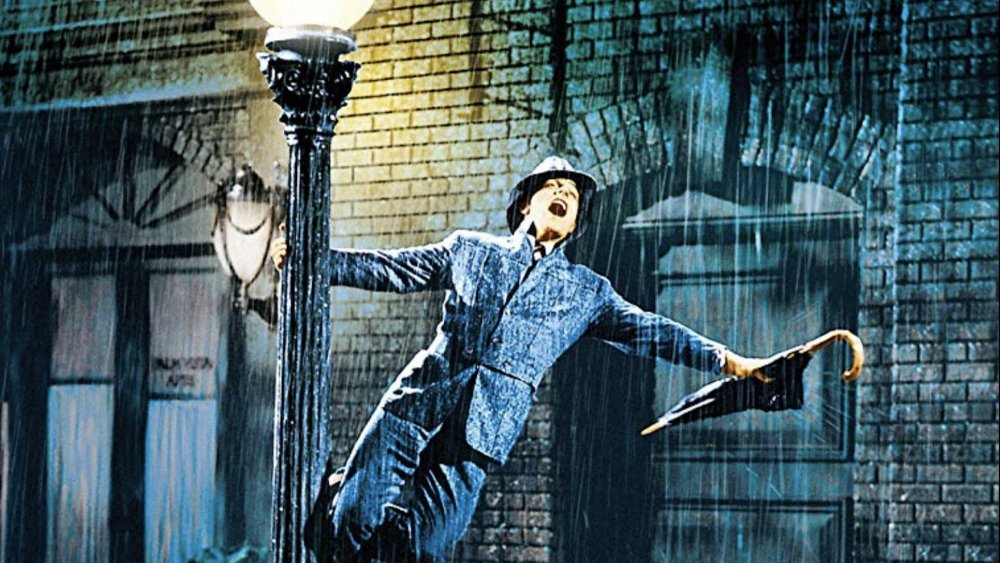 Make a list of the most famous movie musicals of all time, even if you're not an expert in the genre, and Singin' in the Rain will almost certainly be there sitting at the very top. It remains, for many, the Platonic ideal of what a great movie musical should be — bright and joyous and laden with catchy songs and unforgettable dance numbers. In the decades since it was released, Singin' in the Rain's reputation has only grown, and it's become one of those films that's not just considered one of the best in its genre but one of the best films ever made, period.
The film follows Don Lockwood (Gene Kelly), a movie star in the 1920s who's trying to make the difficult transition to talking pictures with the help of his pal Cosmo (Donald O'Connor) and his new love interest Kathy (Debbie Reynolds in arguably her most famous role). Their journey to making a questionable picture into a musical hit is the backbone of the film, but the driving force might be the incredible dance numbers brought to life by Kelly and co-director Stanley Donen. 
Mary Poppins is the Disney musical at its best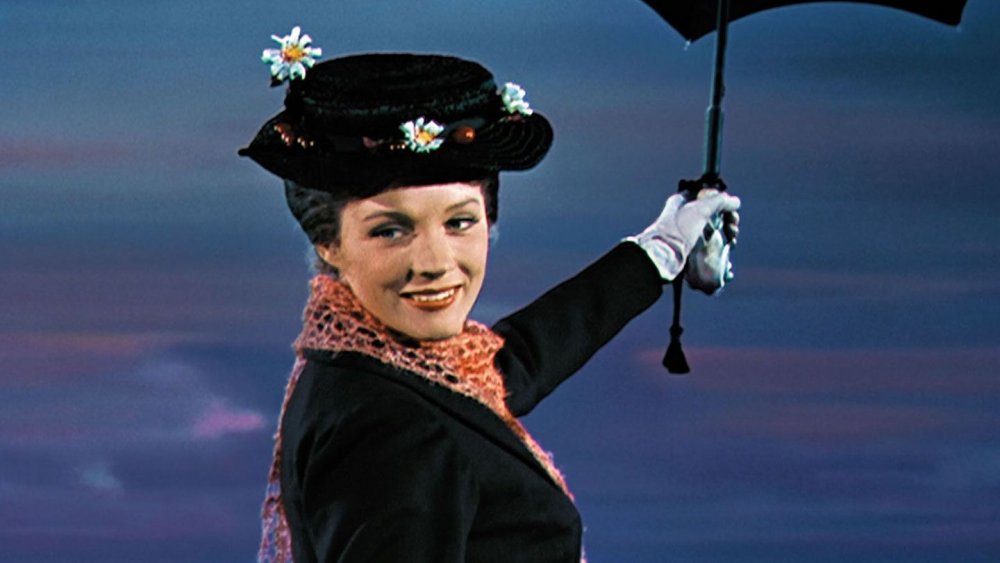 The Walt Disney Company is famous for its whimsical movies filled with incredible songs. The studio's first feature film, Snow White and the Seven Dwarfs, set Disney on the path toward a tradition of animated musicals, and soon, the company was producing many live-action classics in the genre. Over the course of decades, Disney has released some of the most memorable musical sequences, songs, and vocal performances in film history. But what if you could only pick one Disney musical to represent the entire pack? What if you had to narrow it down to the most musical Disney musical? What do you pick?
For our money, the title goes to Mary Poppins, Disney's adaptation of P.L. Travers' novels about a magical nanny who heads to a London house and quickly whips the children and their entire family into shape through a combination of music, magic, and hope. The film is unforgettable for its visual effects, including a still-gorgeous blend of animation and live-action, but the real standout remains Julie Andrews, who won an Oscar for playing the title role.
The Rocky Horror Picture Show is half movie, half wild party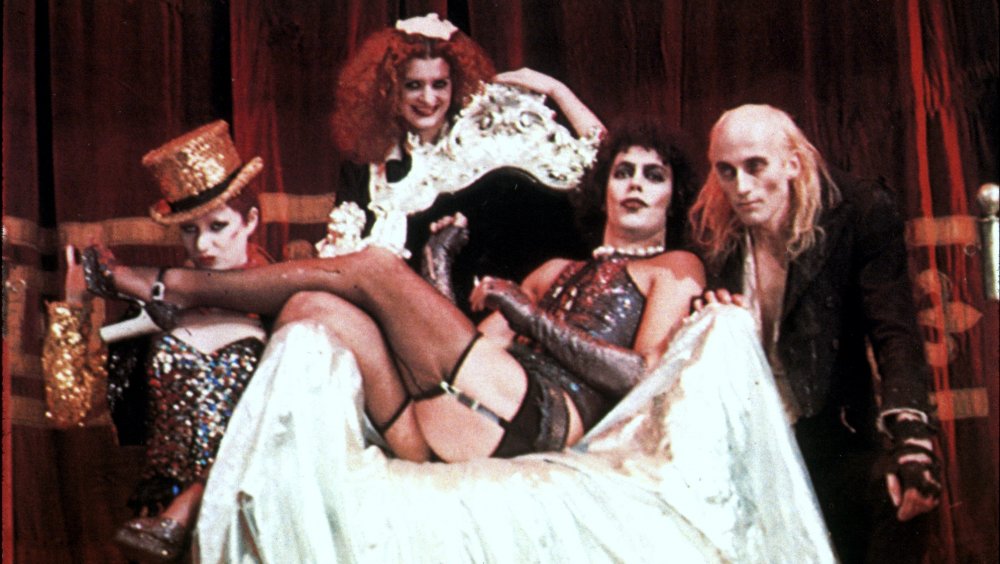 The ultimate midnight movie is also one of the ultimate rock musicals. Conceived by frustrated actor Richard O'Brien as a tribute to the science fiction movies he grew up loving, Rocky Horror began life as a stage show before making its way to the screen in 1975. It wasn't an immediate hit, but its success as a cult film soon grew, and now it's the most famous example of a film that you go to as much to have a party in the theater as to actually see the movie.
The film follows Brad and Janet, a square couple who find themselves stranded at a mysterious mansion where a strange cross-dressing scientist is preparing to unveil his greatest creation. Wild, sexy, and packed with unforgettable performances led by Tim Curry, The Rocky Horror Picture Show remains the kind of musical that even people who don't necessarily like musicals just have to see. It's a legendary film that works on multiple levels, and after you've seen it once, you can go back again and get in on the audience participation.
Purple Rain is more emotional than you'd expect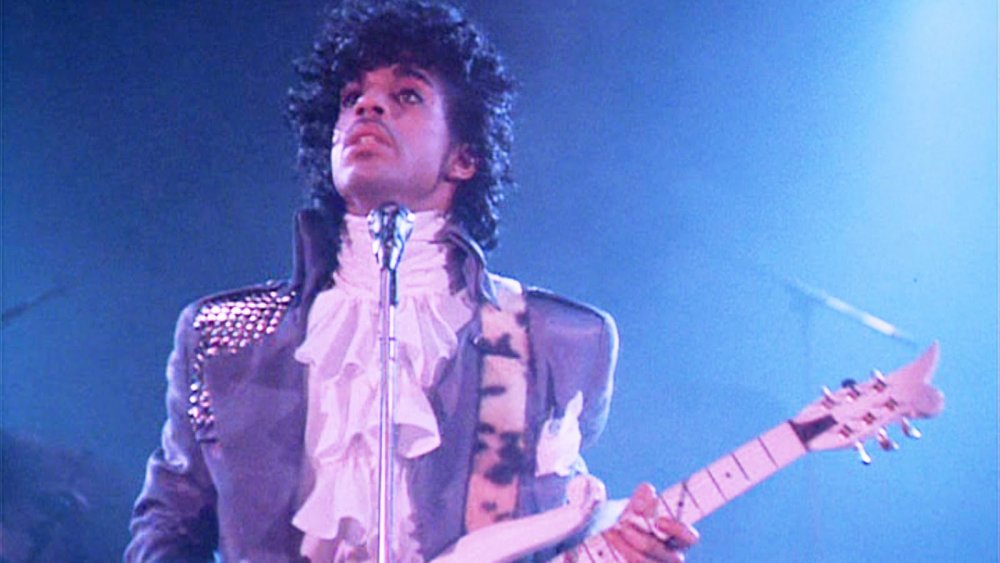 Purple Rain is often viewed by people who haven't seen it as a kind of intriguing curiosity from the 1980s, a film that exists solely to promote the work and look of one of the biggest music stars of the time. While it may be true that the film was built around Prince and his musical stylings, there's more to Purple Rain than cashing in on Prince's success. Take some time to watch the film for the first time or even revisit it for the first time in a long time, and you'll find some surprising resonance that makes it work as a movie musical.
Prince stars as "the Kid," an up-and-coming musician who must navigate a troubled home life, a budding romance, and the drama of the Minneapolis club scene all at the same time. Through it all, a narrative is building centered around vulnerability, forgiveness, and the power of the title song. By the time the Kid plays "Purple Rain" at the end of the film, in a crowded club with all of his troubles in the background for the moment, it's an emotional high that even the greatest conventional musicals often struggle to achieve.
Little Shop of Horrors is a macabre little musical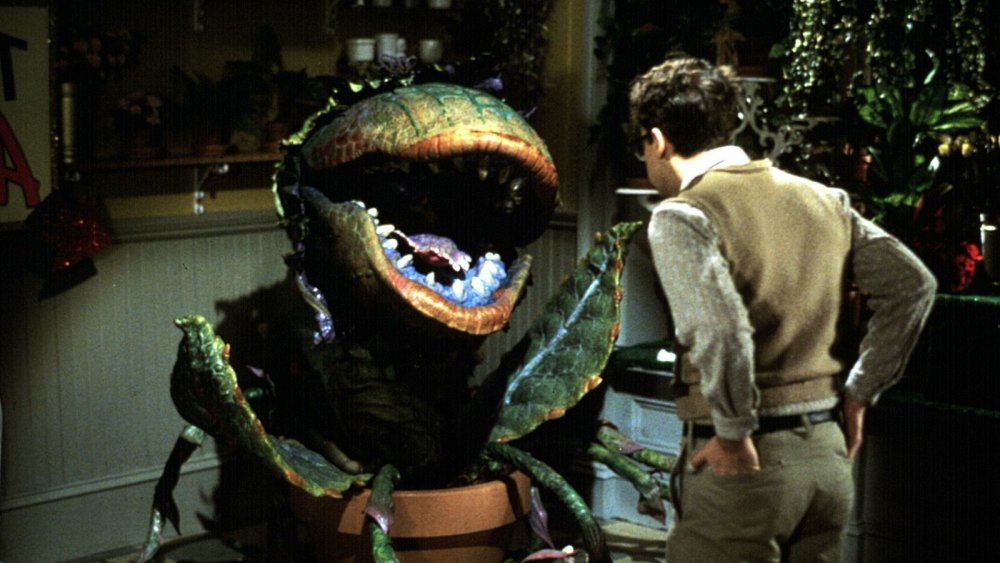 In 1960, legendary genre filmmaker Roger Corman made a low-budget dark comedy about a florist who develops a relationship with a plant that drinks human blood. In 1982, a few years before they became Disney song stylists, Alan Menken and Howard Ashman adapted Corman's film into an off-Broadway musical complete with a singing Venus flytrap. Then, in 1986, legendary director and puppeteer Frank Oz adapted the musical into a film that, for certain sci-fi and comedy nerds, still ranks among the best movie musicals ever made.
Set in the 1960s, the film follows a geeky florist who becomes a local celebrity when his new Venus flytrap grows to incredible proportions. Of course, his budding (pun intended) relationship with the plant might cause trouble with his crush on his coworker, especially since the talking, singing plant demands our hero find him his next meal. Funny, dark, and packed with personality, Little Shop is a showcase for Rick Moranis in a way that films like Ghostbusters and Spaceballs never could be.
Hedwig and the Angry Inch is one of the all-time rock musicals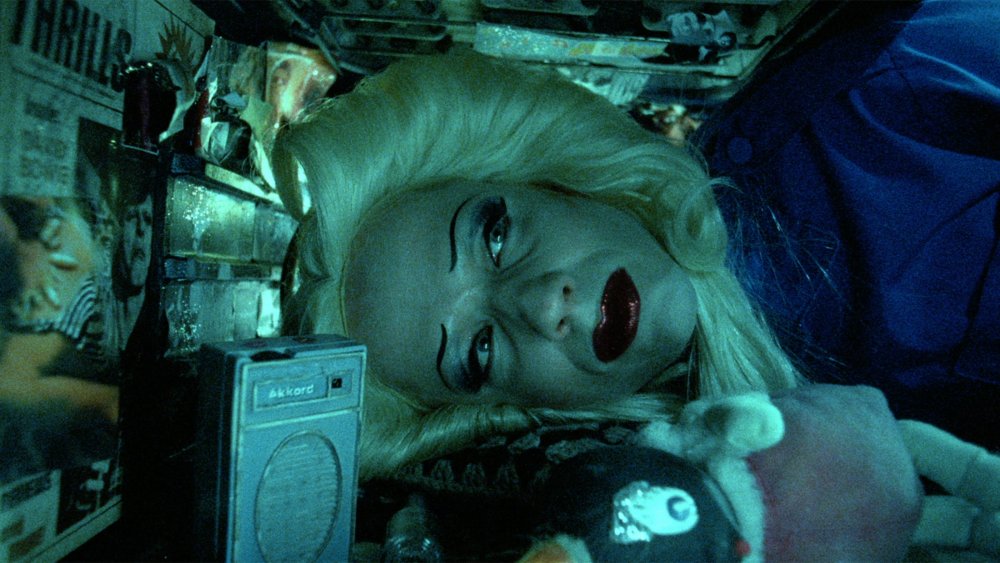 If rock musicals are your thing, and you also have a soft spot for a certain era of independent cinema, the film adaptation of Hedwig and the Angry Inch is for you. Directed by John Cameron Mitchell (who also stars in the title role) from the show he co-wrote with Stephen Trask (who also co-stars), Hedwig is the story of a "slip of a girly boy" from East Berlin who fell in love with an American soldier, got a sex change operation so she could be his wife, and moved to the United States, only to then have her life fall apart. Fortunately for her, and for all of us, Hedwig never lost her ability to dream up beautiful music.
The film version of Hedwig takes what's essentially an extended monologue and breaks it up with the addition of new dialogue scenes, but the real standout moments come in the musical numbers, which transform into elaborate and innovative fantasy sequences as the film moves on. "Wig in a Box" will get you singing along, but by the time you get to "Midnight Radio," you'll be crying.
Moulin Rouge! is big, bold, and doing its own thing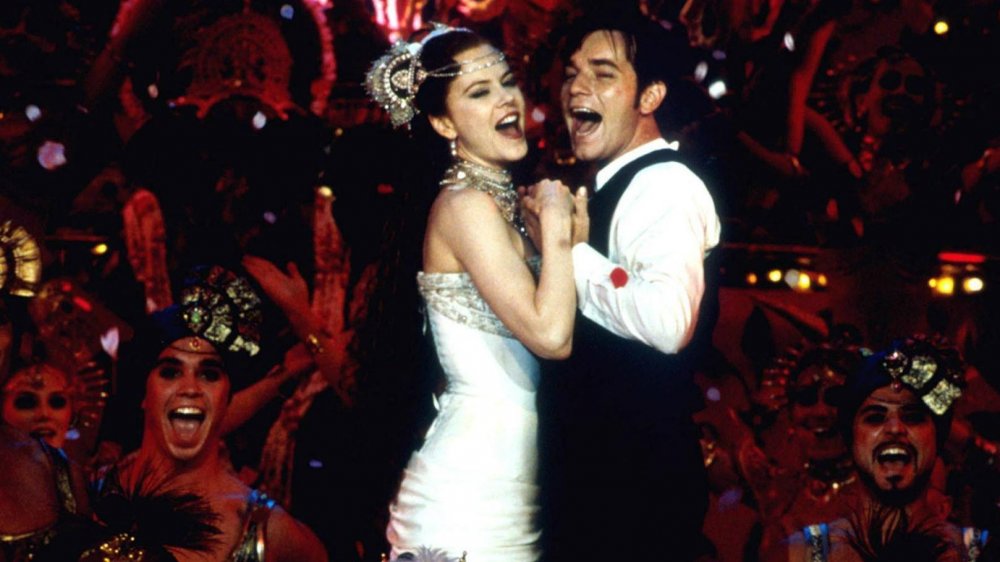 When we think of musicals, particularly when it comes to the classics, we tend to think of a certain rigid format. The story is there to provide a framework for the songs, the musical numbers are very coordinated and obviously staged, and the visuals are often somewhat flat because the camera is just trying to keep up with the dance numbers. Then there are films like Moulin Rouge! that seem completely uninterested in playing by the usual musical rules.
The film is the story of a young writer (Ewan McGregor) who meets and falls passionately in love with the star of the nearby cabaret (Nicole Kidman), even as she's been promised to someone else while also suffering from a mysterious illness. Under the guidance of director Baz Luhrmann, this rather straightforward story becomes the centerpiece of a jukebox musical extravaganza that remixes, revitalizes, and reframes everything we think we know about movie musicals. There's a delirious "try anything" quality to Moulin Rouge! that makes it like nothing else in the genre, and it still holds up because of that element of boldness.
Chicago won big at the Oscars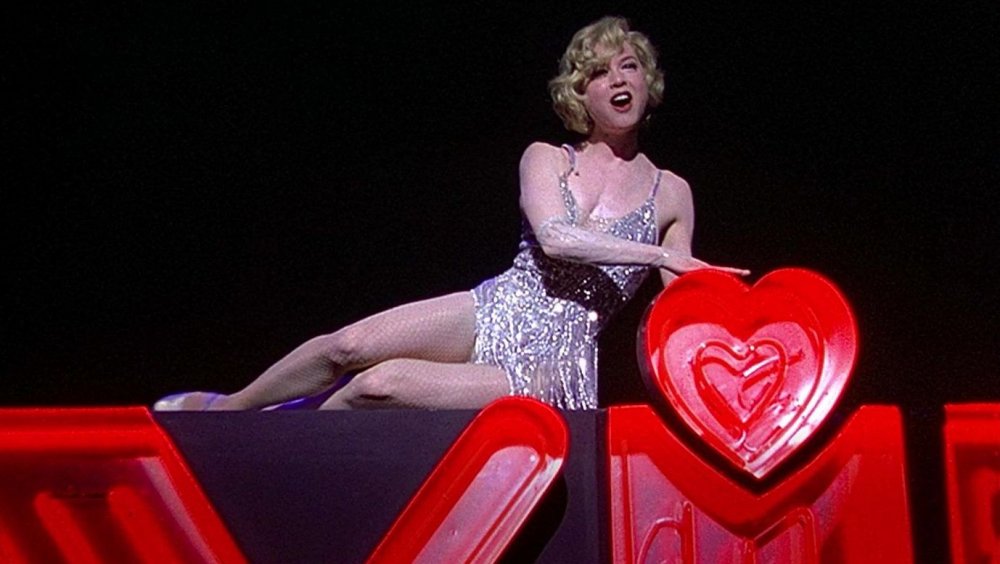 The last musical to win the Academy Award for Best Picture, Chicago is a film that arrived at a time when movie musicals were a particularly limited subgenre. They didn't happen with the same frequency or scope that they used to, and making something big and bold and sexy was perhaps a bit of a risk. Still, director Rob Marshall took a killer cast, the incredible songs from the stage musical, and some amazing performances, and he turned them all into a massive hit.
The film follows Velma (Catherine Zeta-Jones) and Roxie (Renee Zellweger), two women from 1920s Chicago living in very different worlds. When the two find themselves in prison for the death of their respective husbands, though, both think they see a way to freedom. What follows is a musically driven rivalry that meditates on fame, infamy, hype, the media, and so much more. Led by incredible performances from Zeta-Jones, Zellweger, and Richard Gere as hotshot lawyer Billy Flynn, Chicago still has the capacity to dazzle nearly two decades after it was first released.
Mamma Mia! has a blast with ABBA songs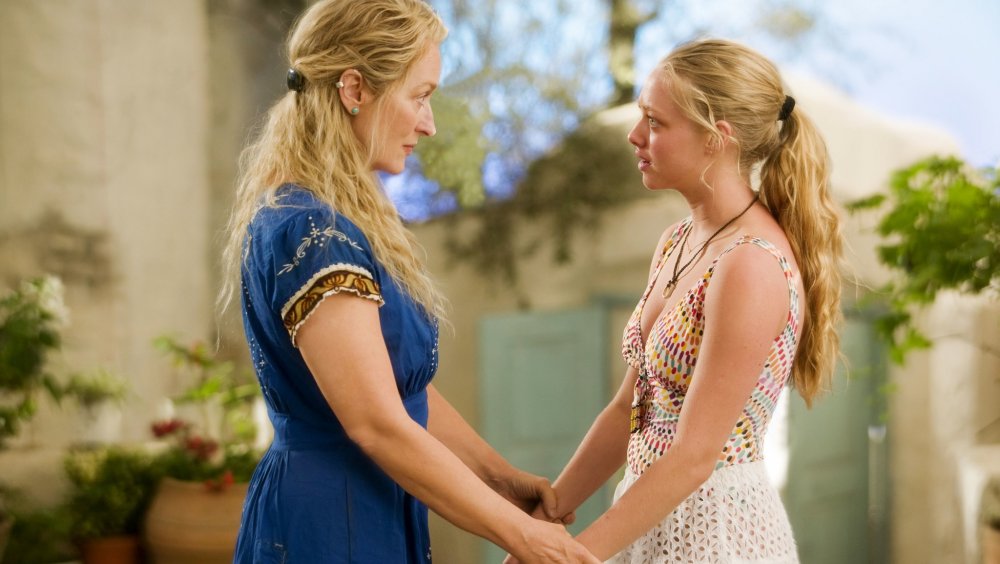 Jukebox musicals are a somewhat iffy proposition because rather than writing the songs to suit the story, you're writing the story to suit the songs. Still, if you pick the right music, come up with a clever enough plot to wrap everything around, and have a blast while you're doing it, you can create a real winner. Mamma Mia!, the musical based on the music of ABBA, is one of those winners.
Set on an idyllic island in Greece, the film follows Sophie (Amanda Seyfried) as she uses the occasion of her upcoming wedding as a springboard for a search to find her real father. To do this, she invites each of the three men who could perhaps be her dad to the island, which brings up all sorts of memories for her mother Donna, (Meryl Streep).
Though it's anchored by ABBA's incredibly catchy songs like the title track, "Dancing Queen," "Take a Chance on Me," and many more, the true joy of Mamma Mia! is watching the incredible ensemble cast having the time of their lives as they put on a show. It's a movie with an infectious sense of fun.
Sing Street has a whole lot of heart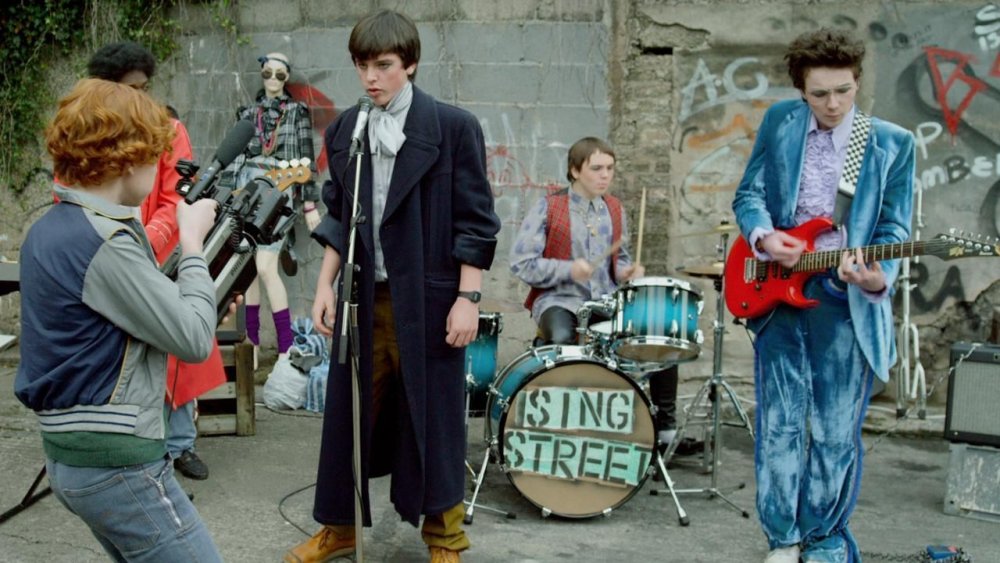 On the surface, Sing Street might not feel like a musical right away. It might instead feel more like a musical biopic depicting the rise of a band that never actually existed. The more you settle into the emotional beats of its story, though, the more you realize that writer/director John Carney is using biopic structure to tell a movie musical story, with all that entails.
The film follows a group of young men in Ireland in the mid-1980s as they try to start a band in their working class Dublin neighborhood, facing scorn and ignorance and outright hatred along the way. As their musical styles evolves, so too does the look and sound of the film, and eventually the songs themselves take on a narrative quality that changes hearts and minds standing in the way of the group's success. The result is an inspiring, warm, cross-genre success that boasts some seriously catchy tunes that any '80s pop fan will love to hear again and again.
Hamilton is the most beloved musical of the 21st century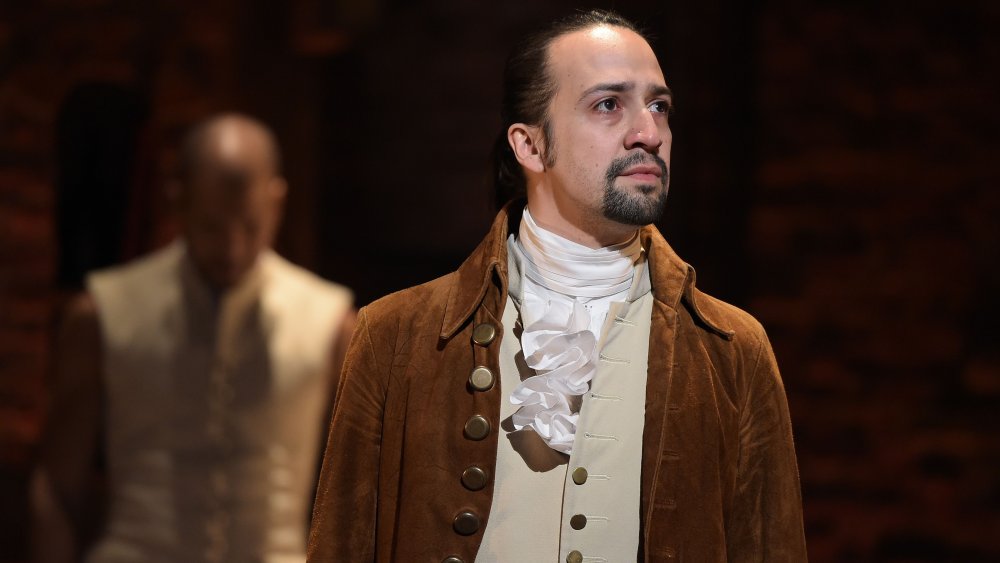 In 2015, Tony Winning-songwriter and playwright Lin-Manuel Miranda launched his second Broadway musical, a hip hop remix of the life story of the first treasury secretary of the United States, Alexander Hamilton. In the course of just a few months, the world completely lost its mind over Hamilton. The show went on to win 11 Tony Awards and a Pulitzer Prize for Drama, became the hottest ticket in any town its touring company went to, and turned Miranda into a household name.
Now, you can experience Hamilton in your very own home thanks to the Walt Disney Company's purchase of a filmed version of the show from 2016. Directed by original Hamilton director Thomas Kail and starring the original Broadway cast before they all departed for other gigs, the version of Hamilton that hit streaming on Disney+ isn't a movie musical in the traditional sense. It's not an adaptation of a work for the stage as much as it's a reproduction of the theatrical experience, complete with a few close-ups of the performers to really drive home the emotion. The result is a powerful, unforgettable musical experience.