The Ending Of Elite Season 4 Explained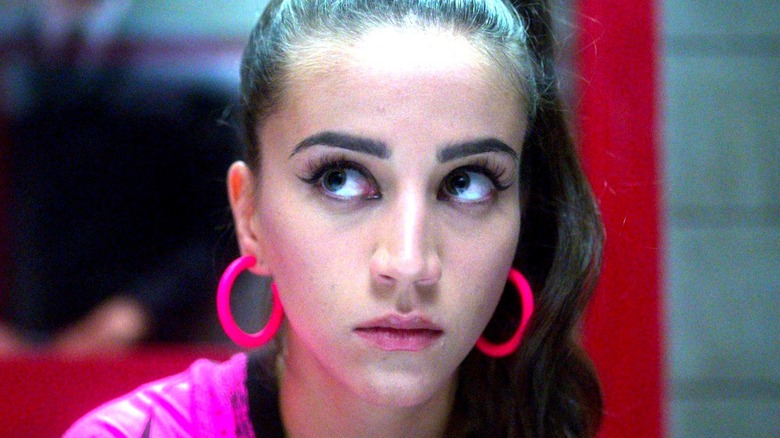 Netflix
Premiering with Season 1 in 2018, Netflix created another international hit with the Spanish-language drama "Elite." The show features an ensemble cast of talented actors from Spain and Latin America, with four seasons so far and a fifth on the way. Each season of "Elite" focuses on a central mystery, a crime that occurs in the future and is slowly revealed through two storylines, present and future, that converge throughout the season's eight episodes. In Season 1, this was the death of Marina (María Pedraza), in Season 2, the disappearance of Samuel (Itzan Escamilla), and in Season 3, the death of Polo (Álvaro Rico). A newer Spanish-language Netflix Original series, "Who Killed Sara?", has drawn a lot of comparisons to "Elite" as another entertaining mystery drama told through parallel timelines. 
Season 4 of "Elite" premiered on Netflix on June 18, 2021, and the structure is the same. But this time, there are a handful of new characters in play, and the mystery revolves around one of them. Season 4 is the first season without Ester Expósito as Carla, Danna Paola as Lucrecia, and a diminished role for Mina El Hammani as Nadia. The rest of the cast is filled out by Arón Piper as Ander, Miguel Bernardeau as Guzmán, Omar Ayuso as Omar, Claudia Salas as Rebeka, and Georgina Amorós as Cayetana, while Carla Díaz, Martina Cariddi, Manu Ríos, Pol Granch, Andrés Velencoso, and Diego Martín join as new characters in Season 4.
"Elite" is already renewed for Season 5, expected to hit the streaming platform sometime in 2022, and despite only premiering recently, many fans have already binged Season 4 and are begging for new episodes. But what exactly happens at the end of "Elite" Season 4?
Here's the ending of "Elite" Season 4 — explained.
The person who attacks Ari is finally revealed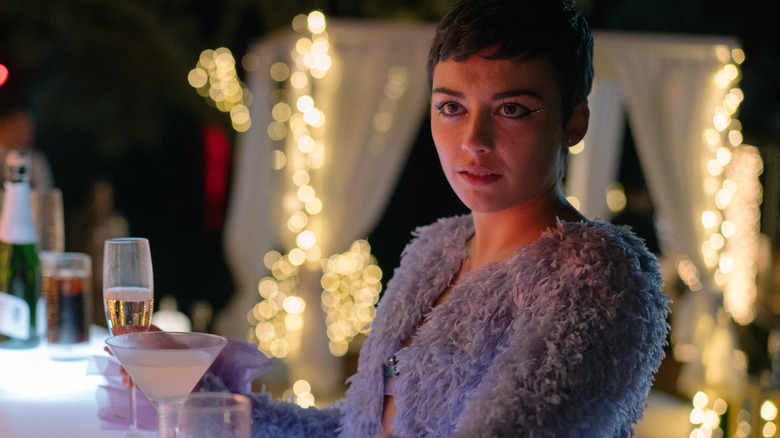 Netflix
Following the structure of Seasons 1 through 3, "Elite" Season 4 revolves around a mystery revealed in the first episode in a flash forward. This time around, it stars a new character, Ari, played by Díaz. Ari is a new student at the prestigious high school, Las Encinas, and she's the daughter of the new principal (Martín). In the new season, Ari is found floating in the lake, seemingly dead. Thankfully, they are able to resuscitate her, but the police have no idea who hurt her or why.
In the Season 4 finale, the answer is finally revealed. The night of a New Year's Eve party, everyone is together when all the drama from the season implodes. Ari has been playing with both Samuel and Guzmán's hearts, but in the end, they aren't guilty. Instead, it's Armando (Velencoso), the older, manipulative client of Ari's younger sister, Mencía (Cariddi), who assumes she's a sex worker despite being underage and pushes her to keep having sex with him. By the finale, Ari finds out about this and confronts Armando on the dock of the lake. Bad idea.
After Ari threatens Armando, he attacks her, only stopping and running off when Guzmán appears. Ari sends Guzmán after Armando, and in her injured and inebriated state, Ari falls into the lake, where they find her floating later. As for Guzmán and Armando, well, it turns out that this season isn't quite free of death. Guzmán fights and fires a flare gun at the man, killing him instantly, and Samuel helps him hide the body. Even though these two teenage boys have an unreasonable amount of experience with murder and covering up crimes, Armando's death is likely to be a problem in Season 5.
Guzmán and Ander might be saying goodbye for good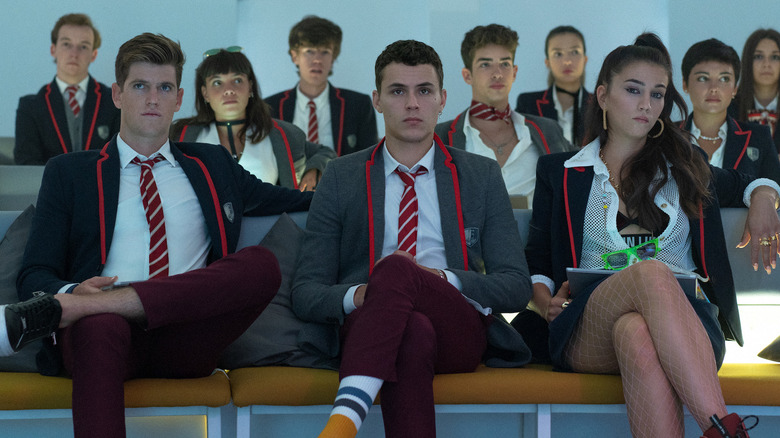 Netflix
Shortly after accidentally killing Armando, Guzmán decides that it's the perfect time for a vacation. Ander, who breaks up with Omar amicably, is going traveling around the world, and he invites Guzmán to join him. This choice has fans wondering if this might be the last we see of Guzmán and Ander in "Elite." There has been no word on whether or not the actors will be returning for Season 5, but considering Season 4 lost about half of the main cast (aside from the characters who died), it wouldn't be surprising if a couple more original "Elite" actors decided to move on from the drama series as well.
Hopefully Guzmán and Ander are just going for a quick vacation before being pulled back home to join the rest of their friends in more misadventures. The two young men are luckily able to graduate high school early, so at least they don't have to worry too much about Las Encinas. But at the same time, Nadia, Lucrecia, and Carla are all supposedly off studying in college in other parts of the world, so this would be the perfect time for Bernardeau and Piper to take their leave as well.
Some major relationship statuses have changed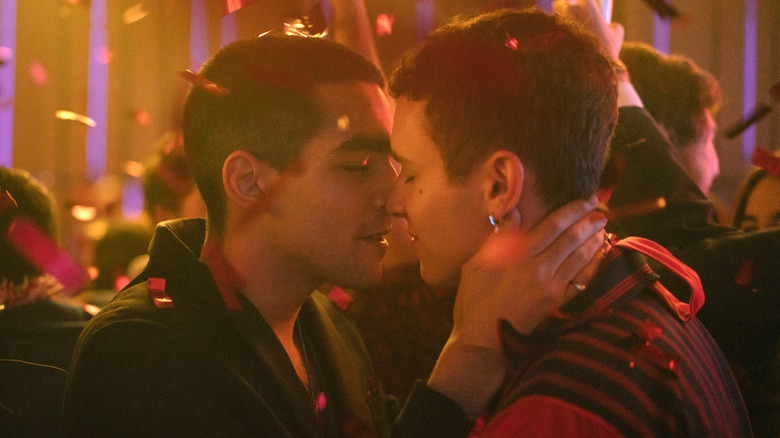 Netflix
The biggest shift in relationships at the end of "Elite" Season 4 is definitely fan-favorite couple Omar and Ander. In Season 4, Omar and Ander welcome Patrick (Ríos), a new student and Ari's twin brother, into their romance for a sexual tryst, which creates a love triangle as he tries to steal Ander's heart. Don't worry though, because it doesn't work. In the finale, Omar and Ander still only have eyes for each other, but they decide to make a very mature choice and break up so that Ander can follow his dreams and travel.
Meanwhile, the other happy and in love couple who gets a happy ending is Rebeka and Mencía. The two young women meet at school and fall in love. Of course, nothing's easy here at Las Encinas, and soon Rebeka finds out about Mencía's trouble with Armando. Mencía warns Rebeka that if she tells her family, Mencía will never talk to her again, but Rebeka understands what's at stake. Thankfully, Mencía eventually understands, and the two remain in love at the end of Season 4.
As for the other romances on the show, there's Ari's relationships with both Samuel and Guzmán, which remain up in the air. It appears that Ari really wants to be with Samuel, but after everything with Armando, who knows. The other major relationship in the show is Cayetana and the privileged new student Phillippe (Granch). Unfortunately, Phillippe is not a good guy, and after he sexually assaults Caye, both him and his conceited mother try to excuse his actions through promises of riches and influence. Caye stands up for herself and calls Phillippe out, and at the end of the season, it seems like Phillippe might've learned something from the experience. Maybe, or maybe not. 
Many questions remain going into Season 5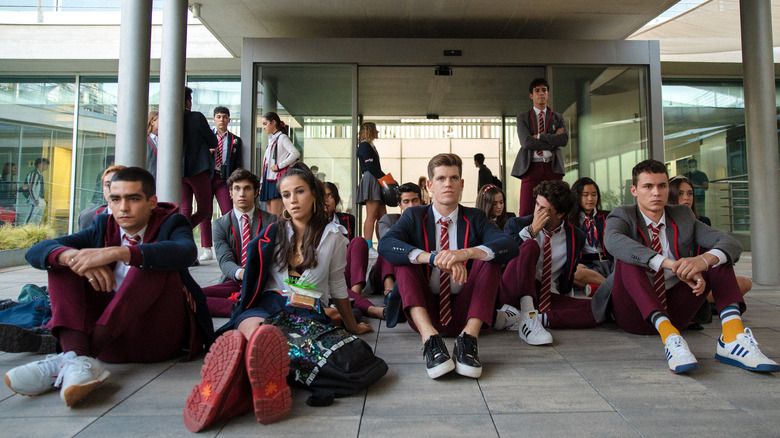 Netflix
One of the biggest questions going into "Elite" Season 5 is about which cast members are returning. Nothing on this subject has been announced yet, although there have been a couple new cast members who are officially attending Las Encinas next year, as Deadline reports that both Valentina Zenere and André Lamoglia are joining the Netflix series.
Meanwhile, there are a lot of things still unknown, secrets or unrevealed details about various characters and storylines. One of the biggest mysteries is what happened to Ari, Mencía, and Patrick's mother, who supposedly died in a car accident the year before that almost killed Patrick as well. Some fans theorize that Patrick, who appears to have some deep anger issues, might've had something to do with it. With "Elite," there's always something more to the story, so rest assured that we will learn more about the family's backstory in future episodes.
As for the biggest mystery of "Elite" right now, it's the question of whether or not the police will notice Armando's disappearance and look for him. At this point, so much death and crime has surrounded the kids at Las Encinas that the police will have to look into their involvement, and it's about time someone gets caught. Fans of the dark teen drama will have to wait and tune in when Season 5 of "Elite" comes out on Netflix to finally get some answers.