Where Is Melissa Morris From My 600-Lb Life Now?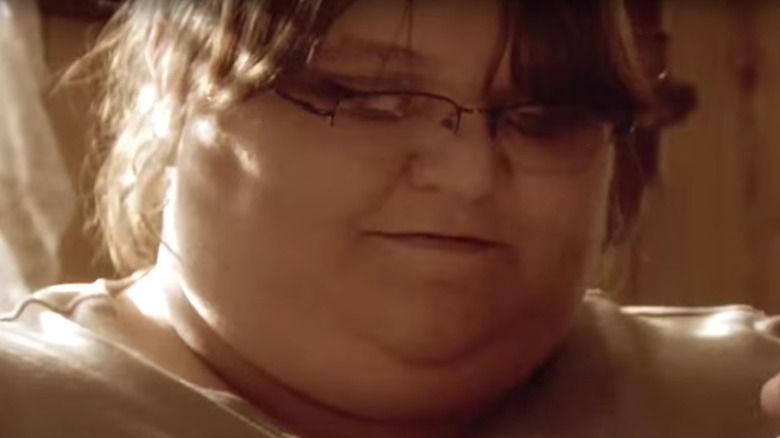 TLC
TLC's hit reality series "My 600-lb Life" has 9 seasons, a 7-season spin-off, and a legion of dedicated fans. However, the show initially began as a five-part mini-series chronicling the lives of four "morbidly obese" patients over seven years as they underwent gastric bypass surgery and embarked on difficult weight loss journeys. The success of that first season led to the format viewers are familiar with today: a six-month to one-year journey with various patients, with follow-ups via "Where Are They Now?" episodes.
On that first season, viewers met Melissa Morris, a 31-year-old who began her journey with the show's revered specialist Dr. Now weighing 692 pounds. Following the realization that her continual weight gain would interfere with her ability to carry a child, Morris wanted to make a change. Following a chance encounter with one of Dr. Now's former patients, she met with the surgeon and went on to lose 447 pounds. Viewers were drawn to her sweet, hardworking personality and were happy to see her back on the show in 2018.
So, where is Melissa Morris now?
Mother, healthcare worker, inspiration
Melissa Morris went from model patient to employee, announcing in 2019 that she was working at her "favorite place in the world" — Dr. Now's office. This April, she also revealed that she was going back to school to study Healthcare Management, a field she now loves but never expected to join.
With her career dreams underway, Morris is also living her dream of motherhood with three children. With that, she faced new variations of old challenges: weight gain, weight loss, cravings, and depression. Additionally, she and her husband Chris divorced, but the two appear to be on good terms as they navigate co-parenting.
On her Instagram, Morris shares health updates, motivational messages, and family pictures with her supportive followers. "I am no longer letting my weight define my beauty," she captioned masked selfie from December 2020. "I will no longer put value in anyone else's opinion of me!"
An inspiration to anyone who hears her story, Morris constantly expresses her gratitude to Dr. Now, his staff, and everyone who supports her. "I could tell you this whole journey was easy, but that would be a lie," she said in a follow-up episode. "But it wouldn't be a lie to tell you it was worth it."