Where Is Alicia Kirgan From My 600-Lb Life Now?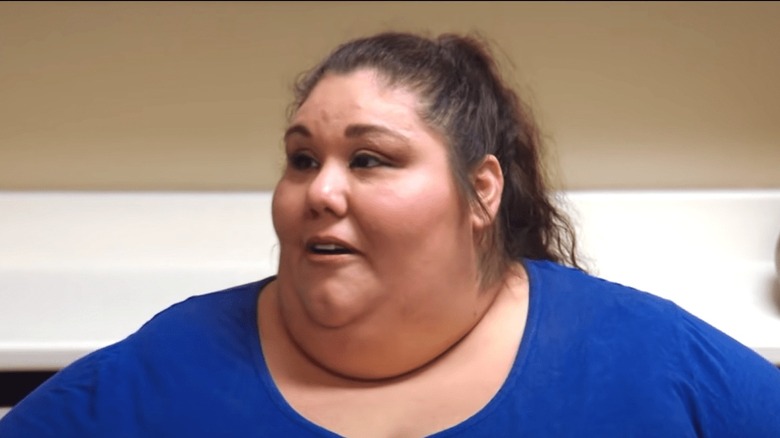 TLC
Season 6 of "My 600-lb Life" introduced us to Alicia Kirgan, a bright, family-focused young woman devoted to her partner and beloved nieces. According to the TLC reality show, she turned to them after reporting that her weight was having an impact on these treasured relationships — her long-term boyfriend Tim Carter threatened to leave her if she didn't attempt to slim down.
Across its nine seasons to date, "My 600-lb Life" has seen scores of overweight Americans like Kirgan work toward life-changing weight-loss with the help of its bariatric surgeon-in-residence, Dr. Nowzaradan. The no-nonsense doctor hopes to set his patients on the path to the healthier lifestyle they seek, prescribing a tough regime of diet and exercise, as well as a 'therapy session' purporting to investigate the psychological undercurrents of extreme obesity.
Such psychological distress was reported by Kirgan, who weighed 622 pounds when she first stepped onto Dr. Now's scales. Citing a "chaotic" childhood characterized by parental violence and alcoholism, she said. "I started to put on weight at a young age ... When my parents would fight, [my grandmother] would try to distract me with ice cream" (via Heavy). "So sugar became the thing in my life that would make me feel better when I was sad or upset."
She also described being shamed by her mother for her weight, and as Distractify noted, some viewers were concerned that the behavior of Kirgan's partner was similarly damaging. Here's how she's doing now.
She's lost more weight and taken control of the narrative
By the end of her first episode, Kirgan had already lost 186 pounds, and her "Where Are They Now?" follow-up documented a staggering overall loss of 366 pounds following surgery. As for her relationship with Tim Carter, Kirgan revealed on social media that they have split, as TV Shows Ace reported. Fans were concerned after Carter called his girlfriend "mouthy" on the show, frustratedly telling the cameras that "Alicia doesn't want to do anything at all. She just wants to sit in front of the TV and eat." However, Kirgan insisted on Facebook that this was not an accurate representation of their relationship, saying that the show had "flipped the script" through manipulative editing. Though the couple have separated, she maintains that he was supportive and that she "will always love him." 
Kirgan is so frustrated by the show's alleged conduct that she has filed a lawsuit against its production company, (via Nicki Swift). In the tenth legal challenge mounted against the show by its former participants, Kirgan accuses them of leaving her in serious medical debt after failing to cover costs related to the show, and coercing her into providing an inaccurate psychological assessment. Furthermore, Kirgan alleges the show's 'therapy' session was scripted — which is far from the first time this accusation has been levied.