Where Is Maja Radanovic From My 600-Lb Life Now?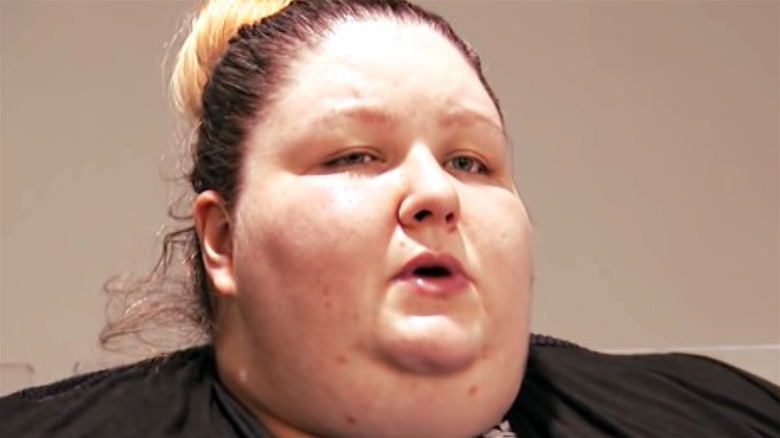 TLC
"My 600 lb Life" is a reality show on the TLC network all about people trying to make positive changes in their life. But there can be an ugly side to that coin: sometimes, when people try to better themselves, the loved ones in their life aren't always 100% on board. Sometimes they drop the ball. They may be motivated by jealousy or spite because the other person's self-improvement makes them feel bad about their own shortcomings. No matter what the reason, fans of the show saw this phenomenon play out in Maja Radanovic's episode.
During Season 7, Episode 8 of the show, fans got to know Maja and her boyfriend, Christian. When Maja started her weight-loss journey, she weighed just under 690 lbs. In this popular clip from the show, Maja and Christian can be seen arguing after Dr. Now expresses disappointment with her slow weight loss, which sends Maja into a tantrum. It turned out that Christian's lack of support and assistance played a large role in her disappointing results. Christian seems genuinely disinterested and unaffected by her distress in the clip and, after being questioned by Maja's mother about his lack of support, went so far as to say "Nobody helped me when I was on the street...gotta do it on your own."
At the end of her episode, despite losing over 100 lbs, Maja didn't quite qualify for weight-loss surgery and left Houston early in order to return home and take advantage of her support system (via TV Shows Ace). Usually, this spells disaster for guests of the show. But Maja wasn't ready to give up just yet. Here's where she is now.
Maja left Christian and is happier and healthier than ever
A little over a year ago, Maja posted an Instagram picture of herself smiling and standing next to a man whose face is blurred out with a little cartoon flower. The caption reads: "Well. Since people are nosy. I am no longer with Christian and haven't been since January. I have someone new in my life. Thanks and have a nice day." In the photo, they are both wearing matching hats, which is not the only time the couple can be seen dressed similarly on her Instagram feed accompanied by the hashtag #coupleswhomatch. She has since posted several pictures of them together without the censorship flower, the most recent one being in May of 2021.
Maja's Instagram feed shows a lot more than just her moving on to a new, healthy relationship. She appears to be committed to her weight loss journey and looks progressively slimmer in every photo. She has posted similar images to her Facebook feed. Maja has not been forthcoming with exactly how much she weighs now or where she's at on her weight loss journey, but if her social media presence is to be believed, she is very confident and determined to continue the progress she has already made.