Tuca & Bertie Season 2 - What We Know So Far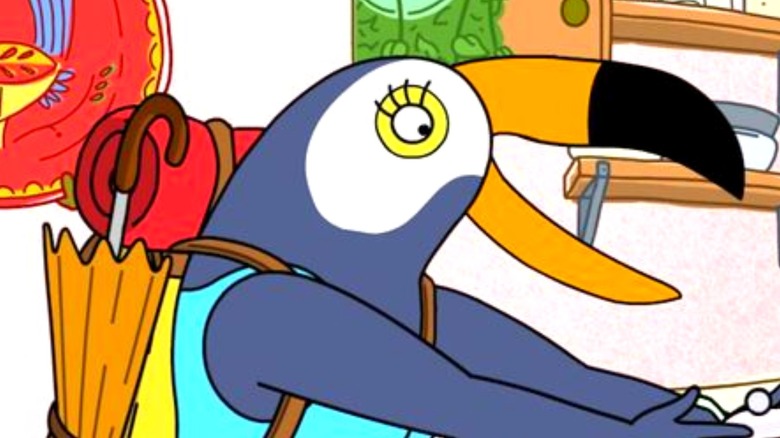 Adult Swim
The saga that brought "Tuca & Bertie" to this point has been long and winding. The series originally debuted on Netflix in May of 2019, and in the years since, it's almost disappeared from the airwaves altogether. Netflix originally canceled the series after just one season. Then, an extended campaign led to the show being renewed for a second season, albeit on Adult Swim (via The Hollywood Reporter). 
The series may not have been popular enough to remain a Netflix product, but it has only gotten more famous since it was originally canceled. "Tuca & Bertie" follows two anthropomorphic birds in their mid-30s who live in the same apartment building. Tuca (Tiffany Haddish) is a newly sober Toucan who mostly does odd jobs and often relies on a wealthy aunt for financial support. Bertie (Ali Wong) is her best friend and is more career-minded than Tuca. Bertie is a song thrush and is aspiring to become a banker. 
Here's what we know about the second season of "Tuca & Bertie" so far.
When's the release date for Season 2 of Tuca & Bertie?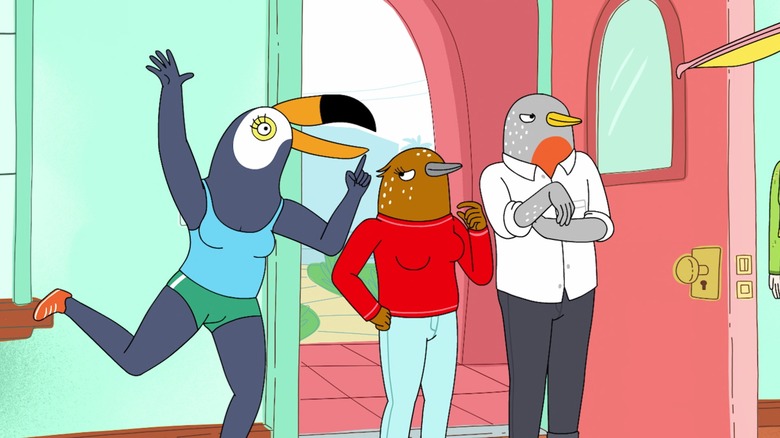 Netflix
More than two years after its debut on Netflix, "Tuca & Bertie" is set to start airing new episodes on Adult Swim at 11:30 pm EST on Sunday, June 13. Like the first season, Season 2 will feature 10 episodes (via Vulture). 
Given the show's extended absence, the creators have likely had plenty of time to begin working on new episodes. "BoJack Horseman," which is set in a similar universe and was created by "Tuca & Bertie" producer Rafael Bob-Waksberg, ran for six seasons on Netflix and varied its episode counts from season to season. Typically, though, the series ran for roughly 13 episodes a season, but it looks like "Tuca & Bertie" will continue moving forward with slightly shorter seasons. There has not yet been any word on whether the show will receive an order for a third season at Adult Swim.  
Who's in the cast for Season 2 of Tuca & Bertie?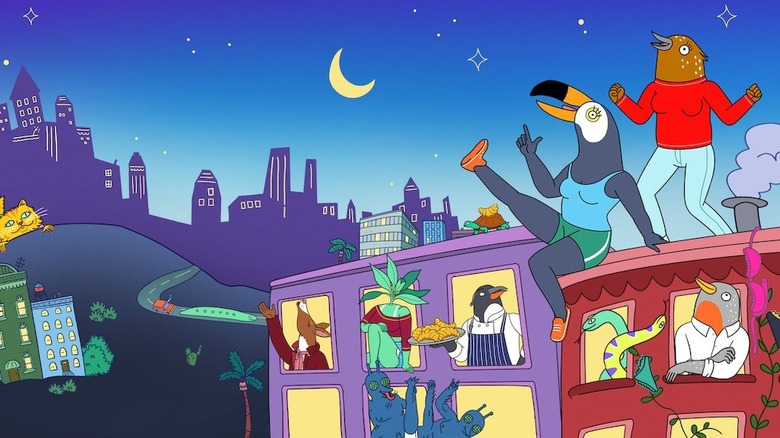 Netflix
Haddish and Wong are both returning to their roles in the upcoming season, as is Steven Yeun, who voiced Speckle, an architect robin who is also Bertie's boyfriend. Those three actors make up the show's principal cast, but the ensemble also included Nicole Byer, John Early, Richard E. Grant, Reggie Watts, Kate Berlant, and Shamir Bailey in supporting roles. 
All of these actors are likely to return for the show's second season, and Season 2 may also feature a roster of guest stars that rivals the show's impressive list from Season 1, which included names like Awkwafina, Tig Notaro, Amber Ruffin, Tessa Thompson, Jane Lynch, and Taraji P. Henson, among others. The series' impressive array of voice talent was one of the main aspects of its appeal, but there were also plenty of great stories and loads of outstanding jokes that took "Tuca & Bertie" to the next level. 
What's the plot for Season 2 of Tuca & Bertie?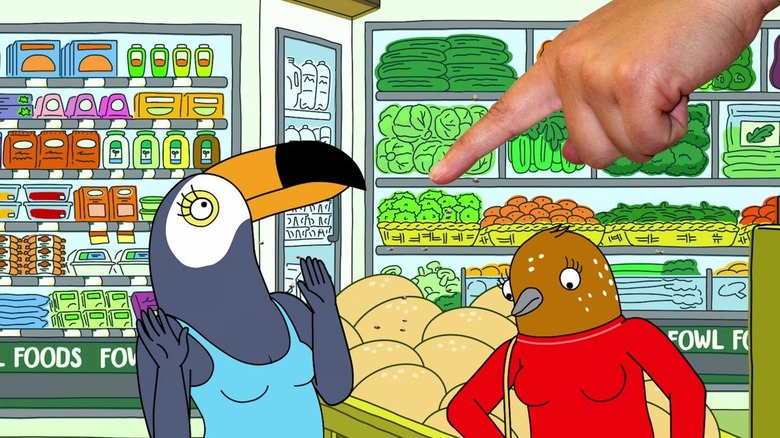 Netflix
Like "BoJack Horseman," "Tuca & Bertie" is really a show that tracks its characters' growth over time. Season 1 offered plenty of detail on who Tuca and Bertie are as characters, and Season 2's official synopsis suggests that there will be both character growth and plenty of wacky hijinks to come.
"Tuca (Tiffany Haddish) and Bertie (Ali Wong) are best friends, and they're both full of ghosts! Bertie is busy excavating her inner ghouls with the help of a therapist, while Tuca prefers to stuff hers behind the toilet," the synopsis reads, as quoted by Vulture. "She'll deal with them later, right now she's just too busy trying not to be single anymore!"
The synopsis also suggests that Speckle will spend the season working on a new house, only to find himself on the brink of insanity. What's more, it appears that viewers will never look at plants the same way again, whatever that means. The first season ends with both Tuca and Bertie attempting to be more present in their relationships. In Season 2, we'll have to see if they can stick to that commitment.