The Queen Latifah Musical Drama You Can Find On HBO Max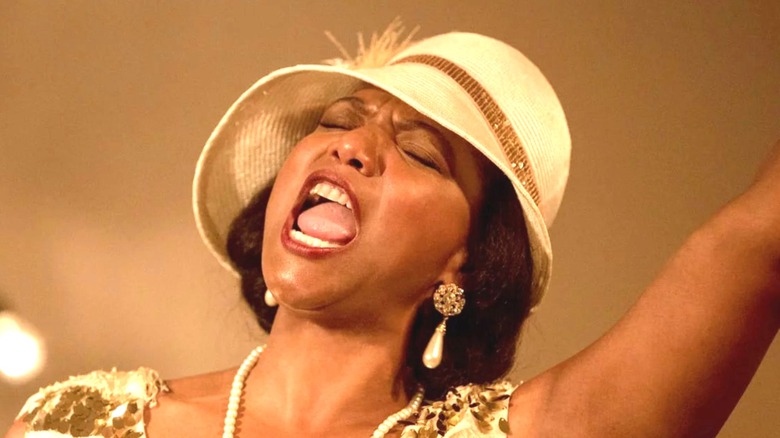 HBO
Queen Latifah is one of America's favorite performers. She currently stars in the most-watched new broadcast drama series of 2021, "The Equalizer" (via The Hollywood Reporter). She's also known for her Oscar-nominated performance as Mama Morton in the Best Picture-winning musical "Chicago," her long run as Khadijah James on the '90s sitcom "Living Single," and her turns in movies like "Set It Off," "Bringing Down the House," "Hairspray," and "Girls Trip." There's also her Grammy-winning music, for those of you keeping track at home.
Latifah's biopic work is already legendary. In 2020, she received praise for playing "Gone with the Wind" actress Hattie McDaniel in the Netflix limited series "Hollywood," and in 2015, she won significant acclaim for playing legendary Jazz Age blues singer Bessie Smith in HBO's made-for-TV biographical musical drama "Bessie." She won the Emmy for Outstanding Television Movie in her capacity as a producer of the film, and was nominated for Outstanding Lead Actress in a Limited Series or Movie. She also won a Screen Actors Guild Award for her performance, which required singing Bessie Smith's classic songs, including "Down Hearted Blues," "Work House Blues," and "Gimme a Pigfoot (And a Bottle of Beer)."
The movie is available to stream on HBO Max.
Bessie is an engaging musical biopic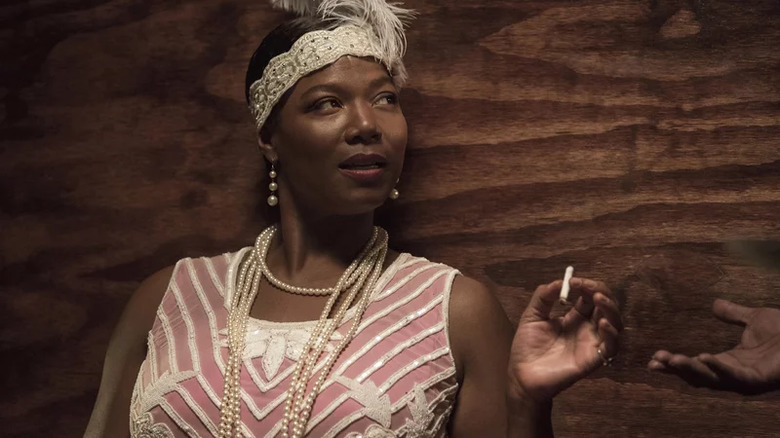 Frank Masi/HBO
The film tells the story of Bessie Smith, who was one of the most popular blues singers of the 1920s and '30s. It has the typical rise-and-fall-and-rise-again musical biopic format, following Bessie as she rises from an impoverished upbringing in Tennessee to become a huge star who lives unapologetically as a working-class queer Black woman. Despite all the establishment disapproval — even within the industry — the people love her music. Unfortunately, her personal life falls apart and her career takes a downturn during the Great Depression. To find out more, you'll have to watch it.
In addition to Latifah, the cast includes "The Wire" star Michael K. Williams as her husband Jack Gee, "Scandal" star Khandi Alexander as her older sister Viola, Mike Epps as her lover Richard Morgan, and Oscar-winner Mo'Nique as Bessie's mentor-turned-rival Ma Rainey. Williams and Mo'Nique were also nominated for Emmys for their performances. Additionally, Latifah's "The Equalizer" co-star, Tory Kittles, plays Bessie's brother Clarence.
The film was written and directed by Dee Rees, who went on to direct the Oscar-nominated film "Mudbound." Rees was nominated for writing and directing Emmys for "Bessie."
"Bessie" has a 90% "Fresh" critical score on Rotten Tomatoes. Variety's Brian Lowry described the film as "somewhat episodic in charting Smith's rise and fall, but it's sprinkled with wonderful supporting performances to augment a central tour de force" of Latifah's performance.
If you like musical biopics, "Bessie" on HBO Max is sure to please.