Will There Be A Girls Trip 2?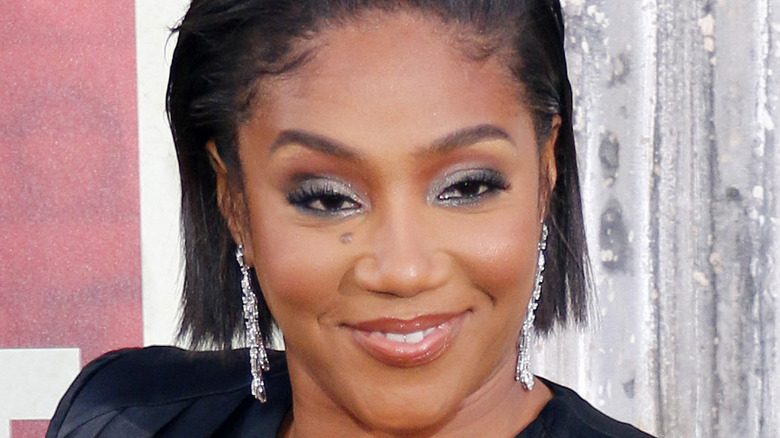 Shutterstock
"Girls Trip" premiered June 14, 2017, at the American Black Film Festival, kicking off summer right with the hilarious story of the Flossy Posse, a group of estranged friends who attempt to rekindle their bond with a trip to New Orleans for the Essence Music Festival. Starring Regina Hall, Tiffany Haddish, Jada Pinkett Smith, and Queen Latifah, "Girls Trip" balanced humor with a heartfelt narrative of the importance of friendship and resilience when facing personal and professional obstacles. The movie was wildly successful, earning over $140 million in theatres internationally (via The Numbers), and ever since its release, fans have been asking for a sequel — as have the actresses.
All four of the Flossy Posse have been teasing "Girls Trip 2" to various media outlets over the last three years, even as Universal Pictures has yet to confirm the sequel. Tiffany Haddish, with her signature enthusiasm, has even been talking about writing "Girls Trip 2" herself since soon after the first film's release — and continues to, to this day — just to get the ball rolling on it, per HuffPost. 
Regina Hall told BuzzFeed News' show AM to DM in 2018 that she and her castmates were trying to "get everything together now with the schedule," also noting that "they're working on something." The next year, Queen Latifah, who is a fan of sequels, confirmed to People Magazine, "We are all in for 'Girls Trip 2.'" And, to make it clear that the cast has not forgotten these promises to fans, Jada Pinkett Smith held a reunion for the Flossy Posse on her show "Red Table Talk" in April 2020. 
Here are some of the details we already know about "Girls Trip 2."
What we know about Girls Trip 2 so far
We know that Hall, Haddish, Pinkett Smith, and Latifah are all excited to reappear in a second "Girls Trip" — that's good, no major cast changes. And it seems that there are still plans to film a sequel, even though the clock keeps ticking since the first movie. Producer Will Packer told podcast host Jemele Hill on March 22, 2021, via YouTube, "If I'mma do 'Girls Trip 2' it's really gotta be right, but we are working on it behind the scenes ... Stuff is happening, it just hasn't happened yet, and I think it'll be right, you know what I mean? Like, I don't mind that it's a little bit of time in between 'cause I think it makes you miss those characters more." That sounds pretty promising.
But Packer might be painting a slightly rosy picture of the situation. The main holds on the production of the sequel seem to be negotiations of the actors' salaries and the screenwriting process. Haddish told HuffPost in March 2020, that original screenwriters Tracy Oliver and Kenya Barris are preparing a script, but that the project was halted because "it was like, 'Oh, you guys want too much money.'" Apparently, she had only made $80,000 for the first "Girls Trip," and her fame and starting salary have skyrocketed since then. Because of the money issue, the cast met up on Zoom in the early months of the pandemic to start writing their own "Girls Trip 2." This idea of a cast-written sequel might have been abandoned, however, as Packer told Hill that Oliver and Barris — and not Haddish and the rest of the Flossy Posse — are "working on some ideas."
Where is the Flossy Posse going in Girls Trip 2?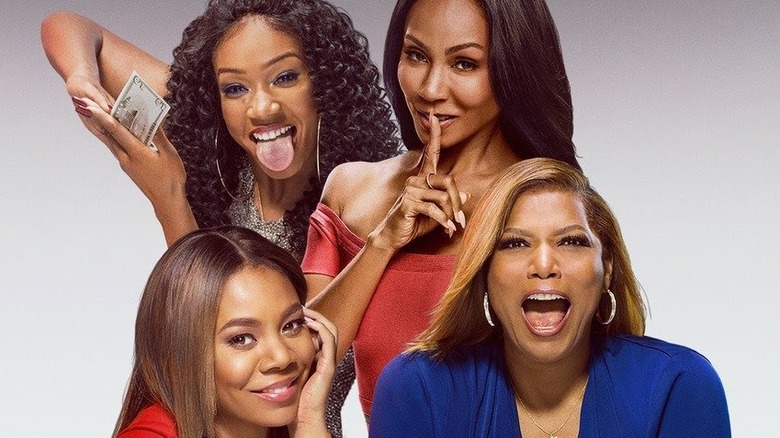 Universal Pictures
Of course, we won't know for sure who is writing "Girls Trip 2" or how much the actors will make until Universal Pictures releases official information about the movie. A lot will remain up in the air about it, including whether or not the sequel will chronicle another trip. Regina Hall indicated (via Twitter) that it would in 2018, saying, "I don't know where the girls are going, but... we're going somewhere." That somewhere, if left up to Hall, would not be a tropical location where the cast would have to get into skimpy outfits. She told Entertainment Tonight in 2019 that when the idea was floated about going to Rio de Janeiro for Carnival, "I don't need to be in that outfit ... I would want to eat ... Like, 'Damn, now I can't eat for three days 'cause I got to be covered in crystals." So it might not be Brazil, but the fact that ideas are being thrown around implies that the group of friends will go on another trip for "Girls Trip 2."
But there's a chance the sequel doesn't involve a second trip at all. Haddish, citing the financial and writing concerns that loom over the sequel, told HuffPost, "Maybe we'll do a different story just in case no one wants to make 'Girls Trip 2.'" If that's the case, and the cast breaks off from Universal Pictures to do an unrelated film with a similar story, who knows what the sequel — if you could call it that — would look like. 
With money issues, script holdups, and differing opinions abounding, we'll really just have to wait and see about "Girls Trip 2." But if it gets released, it will likely be propelled into being by the sheer excitement that fans and castmates alike have for seeing more of the Flossy Posse's antics.