The Kurt Russell Horror Western You Can Watch On Amazon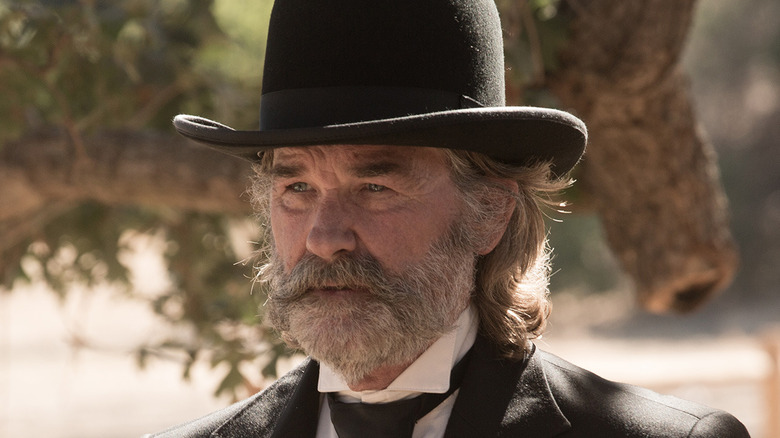 RLJ Entertainment
For fans of the horror genre, the last decade has been among the most rewarding in the history of cinema. With emotionally resonant and socially conscious titles like "The Babadook," "Get Out," "It Follows," and "Midsommar" shocking and delighting genre enthusiasts throughout, the 2010s also saw the horror realm earning a level of critical recognition typically reserved for prestige drama. Not surprisingly, the genre itself continues to dominate the streaming realm, with the major streamers Netflix, Hulu, and Amazon Prime Video flaunting some of the decade's creepiest flicks on their own platforms.
One of the more noteworthy additions to the land of streaming is simultaneously one of the 2010s best and oft-overlooked horror flicks, which is surprising as it boasts not only one of the finest performances to date from genre icon Kurt Russell (whose prior horror movie resume includes such haunting films as 1982's "The Thing," as well as "Escape from New York"), but equally estimable work from a killer supporting cast including Richard Jenkins ("The Shape of Water"), Matthew Fox (Jack on "Lost"), and Patrick Wilson ("The Conjuring" franchise). 
The film in question is called "Bone Tomahawk." It finds Russell and company encountering unconscionable evils in the Old West circa the 1890s. And you can now watch it as part of your Amazon Prime Video subscription.    
Bone Tomahawk is a brutalist genre mashup for the ages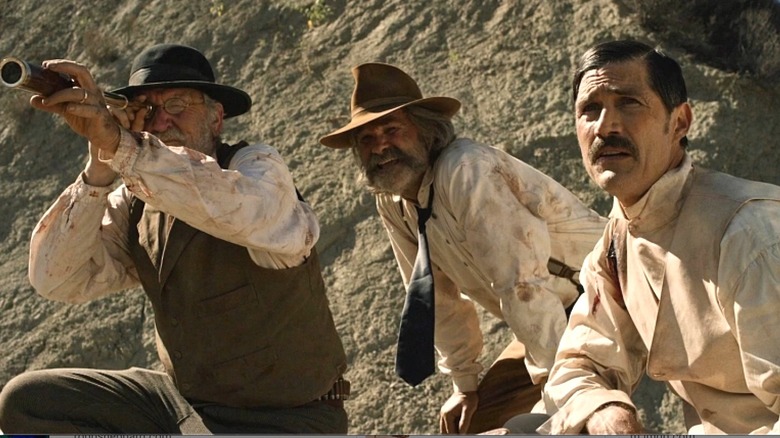 RLJ Entertainment
You really should watch "Bone Tomahawk" as soon as humanly possible, because it's truly among the decade's more egregiously overlooked horror confections. 
The film was released to virtually no fanfare in the fall of 2014, pitting Russell (at the dawn of his glorious bushy-beard period) as the beleaguered sheriff of a small Western town besieged by a previously unknown enemy after a wandering vagrant (David Arquette) arrives in town. When said enemy invades, taking hostage the vagrant, the town's Deputy (Evan Jonigkeit), and its lone Nurse (Lili Simmons), Russel and a three man posse set out to rescue them from a grim fate.
What they encounter in the untamed wilds of the Old West will not be mentioned here, because to ruin that shock for those who haven't yet seen "Bone Tomahawk" would be to undermine the entire gruesome ordeal. Just know that "Bone Tomahawk" writer-director S. Craig Zahler ("Brawl in Cell Block 99," "Dragged Across Concrete") presents the relentlessly gory action in unflinchingly vivid detail, making the film a grisly affair you'll not soon be able to shake. Know, as well, that the road to those ghastly horrors will feel tedious to some, as Zahler's meticulously-paced film takes its sweet time getting there. 
The payoff is well worth the wait, though, with "Bone Tomahawk"  delivering arguably one of the most shocking final acts in the annals of modern horror. Check it out on Amazon Prime Video today if you doubt that fact.