Get Your First Look At Helen Mirren In Shazam! Fury Of The Gods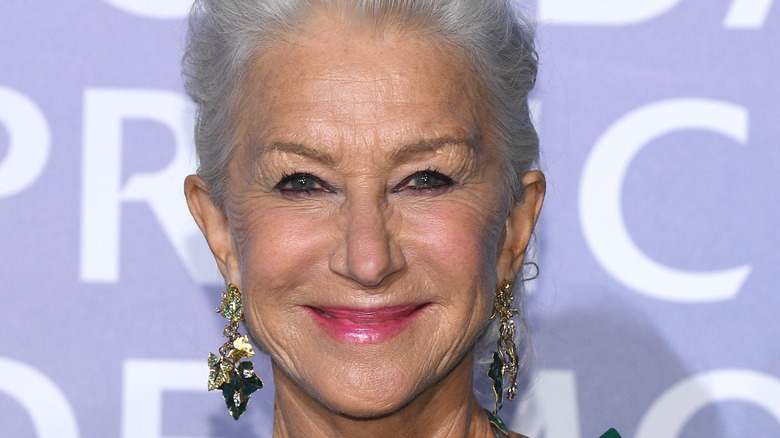 Pascal Le Segretain/Getty Images
Riding high on the success of December 2018's "Aquaman," Warner Bros., DC, and director David F. Sandberg released "Shazam!" to theaters. The comedic, light-hearted family flick stood out like a sore thumb in the sea of dark, gritty offerings the DCEU had become known for, yet it went on to find great success. It became a fan favorite in short order, grossed roughly $366 million at the box office, and proved itself as a viable franchise for the studio going forward. Naturally, talks of a sequel began to arise, and progress is certainly being made on said project.
Titled "Shazam! Fury of the Gods," the continuation of the 2019 movie is well on the way and scheduled for a June 2, 2023 debut. Once again, David F. Sandberg is leading the charge as director, with the likes of Zachary Levi, Asher Angel, Jack Dylan Grazer, and more returning — rocking some new threads all the while. Of course, they aren't coming alone as a couple of new names have been added to the cast list. Alongside Lucy Liu and Rachel Zegler, big screen veteran Dame Helen Mirren is set to make her DC debut in "Fury of the Gods."
Recently, photos of Mirren in full costume have surfaced, giving "Shazam!" fans a glimpse of what she'll look like in the 2023 film.
Helen Mirren looks ready for battle in her first superhero adaptation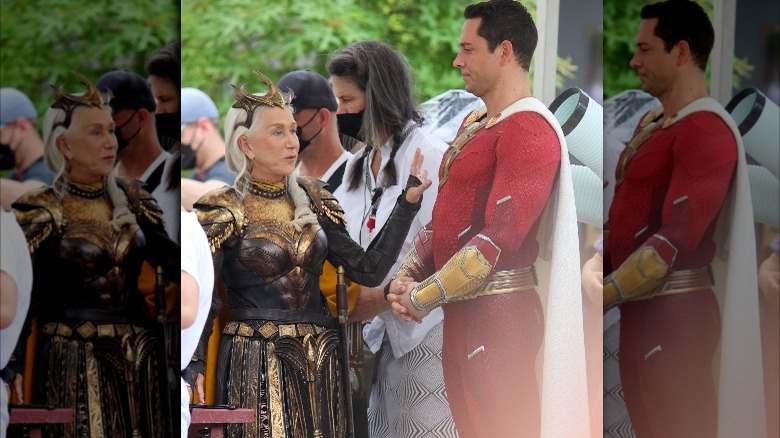 Backgrid
As seen above and below, Helen Mirren is all armored up for "Shazam! Fury of the Gods" while chatting it up off-camera with Shazam himself, Zachary Levi. For those unaware, she's set to portray one of the daughters of the Greek god Atlas, Hespera, which explains the regal yet ancient look of her chest plate and skirt, her ornate crown, and the sword on her hip. She doesn't exist on the pages of DC comics, but when looking at her history in actual Greek mythology, there are quite a few noteworthy attributes about her and elements of her story that may come into play in "Fury of the Gods."
Known as the goddess of immortality, Screen Rant notes that she and the fellow Hesperides — of which there were anywhere from three to seven — worked collectively to give off the light at sunset. They also protected the golden apple tree and took care of the garden surrounding it, never getting into any wild adventures or leaning too heavily as good or evil entities. Perhaps the reason for her presence in "Fury of the Gods" has to do with her father, Atlas, who has played both the hero and villain role in the DC comics universe, though he has yet to appear in the DCEU.
"Shazam! Fury of the Gods" will mark Helen Mirren's first time taking on a comic book movie, and even though the genre is uncharted waters for the tenured actress, it's safe to say she'll do an incredible job.