Shazam: Fury Of The Gods Director Reveals New Look For The Shazam Family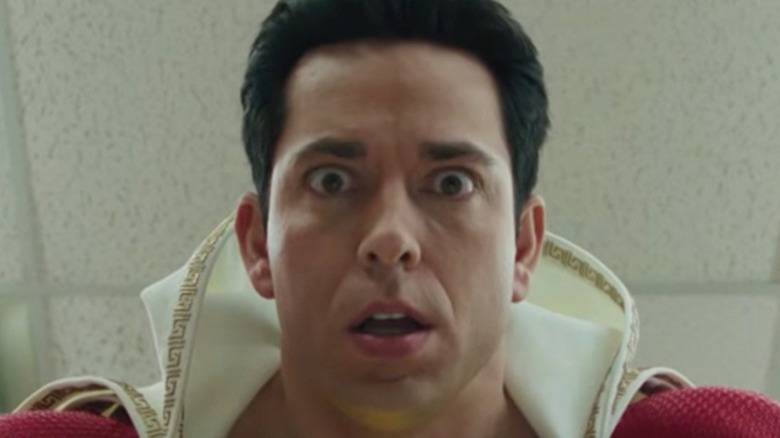 Warner Bros.
Throughout most of the run time of the 2019 DC film "Shazam!," there was only one Shazam (Zachary Levi) — Billy Batson (Asher Angel). But by film's end, it was clear that one superhero simply couldn't defeat Dr. Thaddeus Sivana (Mark Strong) as long as he was in possession of the powers of the Seven Deadly Sins. Since he had already kidnapped all of Billy's Foster siblings, the solution became self-evident: Billy had to share his powers and create a Shazam Family.
If you've seen "Shazam!," you know that a Shazam family is exactly what we got and you remember how their costumes were a multi-colored reflection of Shazam's red suit. Stylistically, "Shazam!" had a very colorful, very classic comic book vibe to it. There was almost more of a 1970s-Christopher-Reeve-Superman look to the costume than almost anything else in the current crop of DC superhero movies. It's a stark contrast with the Snyderverse films, to say the least.
We recently found out that Shazam's costume was getting a new look for the upcoming sequel, "Shazam: Fury of the Gods," one that fits in more with the DCEU style of superhero costuming. As you might have guessed, the rest of the Shazam Family are getting new costumes, too. We just got our first look at the updated costumes, so let's see how our heroes have changed (outfits) in the last two years.
New looks for the whole Shazam family, but especially for Mary
The 2019 "Shazam!" movie is colorful and designed for a general audience, but it's still got its scary moments — and that's likely because of the film's director, David F. Sandberg. Before sliding into a directorial role within the DCEU, Sandberg directed a number of well-known horror films including "Lights Out" and "Annabelle: Creation." So when there were moments of genuine terror for young Billy Batson to deal with, Sandberg really leaned in.
We don't know too much about what Sandberg has in store for "Shazam: Fury of the Gods," but we do finally know what the new costumes for the Shazam family look like, and they're much less whimsical than their previous incarnations. Perhaps feeling a little fear of his own, Sandberg tweeted, "Don't know how long we can keep the new suits from leaking so here's a pic I took the other day."
The new suits' colors are all more deeply saturated and there's a thicker, more defined texture to the fabric. Of particular note is Mary Bromfield's (Grace Fulton) costume which has left its more flowing skirt and short-sleeve blouse look behind in favor of something reminiscent of Gal Gadot's Wonder Woman suit. Something else you'll see confirmed in this photo is that Mary is no longer portrayed by two different women. Since Fulton, who plays Mary, is 25 years old, it seems like it no longer makes sense for her to be idealized by a more adult version (as originally played by Michelle Borth). Sandberg confirmed the change, tweeting, "Yes, Grace now plays both parts. But her hair and makeup is slightly different when she's super, so nobody will ever recognize her. Hey, it works for Wonder Woman!"
How much more like the rest of the DCEU "Shazam: Fury of the Gods" will be is still unknown, but if the costumes are anything to go by, the film will at least be more stylistically in step with the rest of the DC Universe.
"Shazam: Fury of the Gods" hits theaters on June 2, 2023.