People Are Asking A Major Question About Pixar's Luca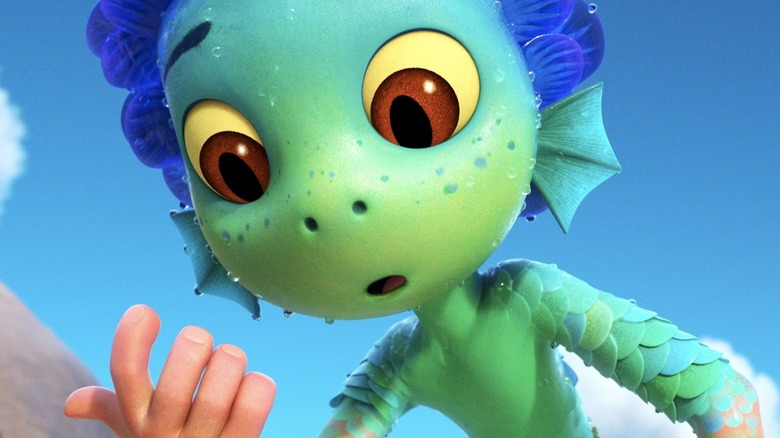 Disney+/Pixar
If you were one of the movie-watchers who saw "Luca" this past weekend when it released on Disney+ (and in one theater, via Insider), you might have noticed something about the new Pixar movie. It's about two boys who are actually sea monsters, trying to pass themselves off as human in a seaside Italian town as they try to raise money for a Vespa that will give them the freedom they desire to travel the world. These boys develop a very strong bond — one that even involves some possessiveness and jealousy — which manifests because they are outsiders trying to hide their identities from those who might wish to do them harm.
Ever since the concept art and a plot synopsis first came out last year, people have been speculating about this friendship between the two characters, Luca Paguro (Jacob Tremblay) and a boy he meets at the beginning of the film, Alberto Scorfano (Jack Dylan Grazer). They've been wondering if "Luca" is a gay allegory and Pixar's first queer love story. In fact, once the previews came out, many viewers started comparing the film to "Call Me By Your Name," a coming-of-age gay romance that was critically (via Rotten Tomatoes, with a 94 percent Tomatometer score) and commercially well-received (via Deadline) when Sony Pictures Classics released it in 2017. 
Some on Twitter are even dubbing "Luca" with the title "Calamari By Your Name." However, is "Luca" meant to be an LGBTQ+-coded romance designed for families? 
Internet users think Luca is definitely a movie that focuses on the LGBTQ+ experience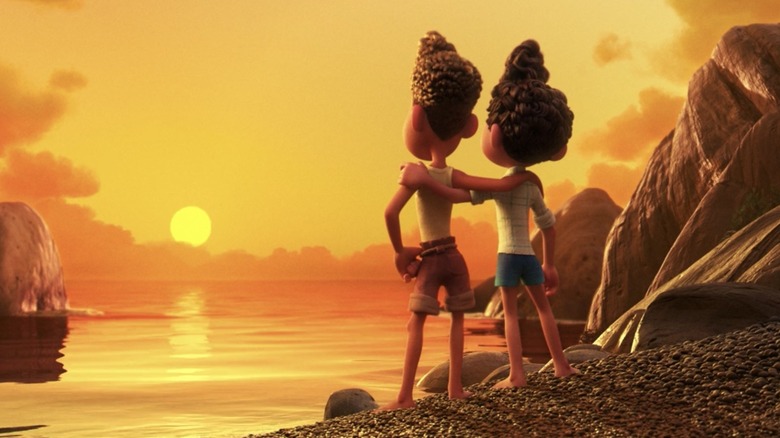 Disney+/Pixar
On Twitter, fans are definitely reading gayness in the main characters — and they're loving the feels the movie gives them as a result. "Luca is a gay Disney movie. Alberto is a homosexual and I love him," said @lgbtommysnail. "The gay allegory in Pixar's Luca was so poignant for my partner and I. What a great film!," posted @HMMLynnWrites. "#Luca is one of the most beautiful queer-coded films i've ever seen. it perfectly captures the feeling of the best friend you're kinda in love with as a young gay kid, the confusion, the fear of being different & hiding.. despite it using sea monster metaphors to do it. 1000/10!!," posted @blysmanors.
Not everyone was happy, of course, because they felt "Luca" was a gay film designed to be acceptable to the movie-going public. "the mixed messaging in Luca astonishing. It's exactly like saying ITS OKAY TO BE and then writing the word gay in lowercase cursive on a piece of paper and folding that paper and sticking it in someone's pocket," noted @absrdst. 
And @bingheluvr69 pointed out, "dk where I thought I heard something about Luca being gay so I got my expectations up also cus it's pride month I actually thought But it was still a cute movie even if DisPixar are cowards."
Others denied this read of the film, with one Twitter user asserting that Italian culture allows platonic friendships that look like Luca and Alberto's relationship. Some posters wondered why this had to be seen as a gay relationship versus a close boyhood friendship, although others noted that gay relationships are often sexualized on-screen but can be as innocent as youthful heterosexual relationships as well. And others felt that by viewing "Luca" through a queer-coded lens, the movie ceases being relatable to others. @CYBrady said, "What a way to reduce a timeless story into a single narrative. That's a GREAT way to kill it. It's NOT JUST about being the Gay. It's about BEING DIFFERENT."
The director has said the movie is meant to depict a pre-pubescent friendship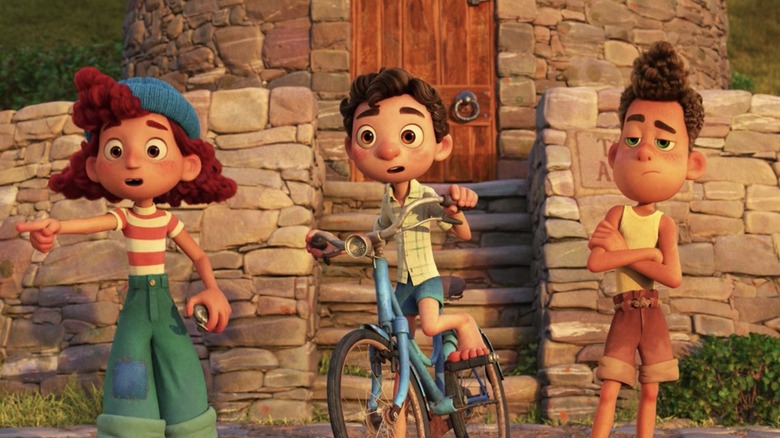 Disney+/Pixar
Speculation continues whizzing around cyberspace, but "Luca" director Enrico Casarosa said in April (via Polygon), "I was really keen to talk about a friendship before girlfriends and boyfriends come in to complicate things." He also said (via Entertainment Weekly), "Even narratively, once Giulia [Emma Berman) comes into the picture and we looked at the structure of it, sometimes the story would pull you toward some puppy love or romance. To be completely honest, I really wanted to talk about friendship."
Regardless, many still read the film as a gay-positive allegory. "To be clear, they story is very queer coded and is an excellent tale about friendship and being different and they're not explicitly queer but any queer kid watching this film is gonna GET it. They can still be just friends and it can still be very relatable to queer kids," said @JarrettPoore. And @ItsVegard posted, "Luca is the gayest film I've ever seen that was not gay." @aaronsbadtweets said, "i KNOW #Luca isn't an explicitly gay movie. i know that. but a movie about two adolescent boys growing up with a secret about their identity in a conservative town that persecutes people for that very secret? Pixar knows what they did there."
However, as one Twitter user pointed out, even if the LGBTQ+ coming-of-age message wasn't intended, there's even more to Luca's story, since the character doesn't just experience a blooming friendship, but also a thirst for knowledge. "Yeah IDK if the creator intended it, but watching it, my brother and I messaged almost at the same time "Wait, is this about coming out?" And not just *coming out coming out* but the process of owning what you actually want (Family/Education/Camradierie) and standing up for it."