Jacob Tremblay And Jack Dylan Grazer Reflect On Their Luca Characters - Exclusive Interview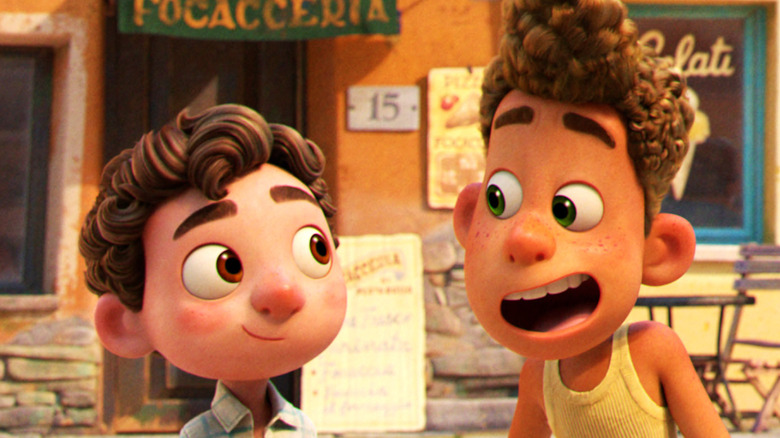 Disney/Pixar
Although only in their teens, both Jacob Tremblay and Jack Dylan Grazer already have impressive IMDb pages to show off.
Fourteen-year-old Tremblay got his big break in 2015 starring alongside Brie Larson ("Captain Marvel") in the critically acclaimed film "Room," for which Larson won the Oscar for Best Actress. Meanwhile, 17-year-old Grazer, nephew of legendary film and TV producer Brian Grazer, has had starring roles in such high-profile fare as "Shazam" and the "It" remake.
Now the two young actors' paths have crossed in the new Disney Pixar animated film "Luca," which will be available on Disney+ on June 18. In it, Tremblay plays the title character who goes on a summer adventure in the Italian Riviera with newfound best friend Alberto, played by Grazer. But the pair is hiding a big secret — they're actually sea monsters.
Directed by Enrico Casarosa, "Luca" also stars Maya Rudolph ("Saturday Night Live," "Bridesmaid") as Luca's overprotective mother Daniela, Jim Gaffigan ("Super Troopers," "Chappaquiddick") as distracted dad Lorenzo, and newcomer Emma Berman as land-dwelling companion Giulia.
In an exclusive interview with Looper, Tremblay and Grazer reflected on their "Luca" characters and how their previous roles helped shape their careers so far.
Jacob Tremblay and Jack Dylan Grazer reflect on the influence of past roles on Luca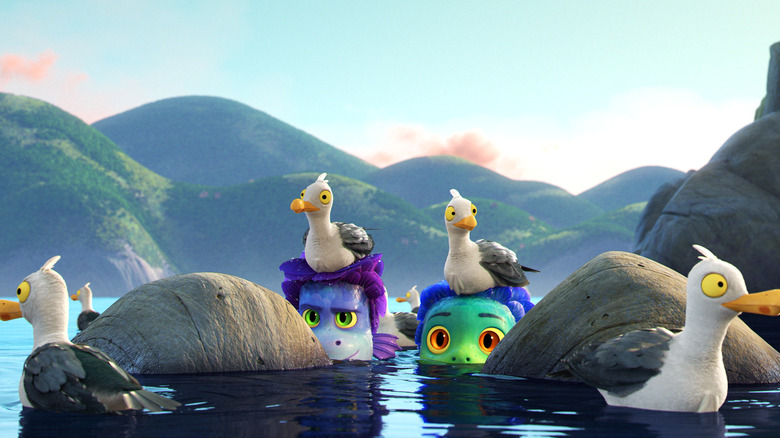 Disney/Pixar
Jacob, what does Luca, the character, represent to you?
Jacob Tremblay: I think he represents ... I mean, to everyone, he represents the curiosity of wanting to go explore, but at the same time having limitations.
And Jack, while Luca is kind of reserved, Alberto is a rambunctiously free spirit who seems to have a knack for trouble. Why was it fun playing him?
Jack Dylan Grazer: For all the reasons you just said. He's got a knack for trouble, he's free-spirited, he's rambunctious. Same as me. Well, yeah, sometimes ... Anyway ... no, that's not my answer. My answer is yes, it was fun, because playing a character like that, there's no way you can go wrong. It's just a blast.
You both have pretty impressive resumes for young actors. Jack, not only are you now part of the Disney Universe because of "Luca," but you're also part of the DC Universe because of your role in "Shazam." How does voicing a cute, sweet, animated film like "Luca" compare to starring in a live-action superhero film?
Jack Dylan Grazer: You know something? Now that you're saying this, I'm kind of thinking maybe Freddy Freeman [from "Shazam"] and Alberto Scorfano [from "Luca"] aren't too different. I mean, obviously, Freddy Freeman can't jump from a cliff because he's on a crutch, but they're both very confident and they both have a lot of charisma, and their sense of humor is great. And they both think very highly of themselves despite their insecurities, which is funny. But, I mean, comparing being in a Disney Pixar film to being a part of the DCEU is pretty similar, because they both have such long legacies and I grew up idolizing both. All of these things that are happening to me, it's unfathomable. I would have never dreamed of these things. I'm so full of gratitude.
And Jacob, you kind of burst onto the scene in "Room," starring alongside Brie Larson. I know you were very young when you shot that movie, but did you learn anything from Brie that you used on the set of "Luca"?
Jacob Tremblay: I mean, I learned stuff from Brie that I use on everything I do. She was my first real co-star, and she was such a great co-star too. We became really good friends. I remember I was so young that I thought it wasn't cool to cry in a movie, but I saw her doing her crying scene and that kind of motivated me, and I was like, "Okay, this is pretty cool. She did it, so I think I can." I think that's really helped my career and, yeah, had a big impact, for sure.
Jacob Tremblay and Jack Dylan Grazer never met while filming Luca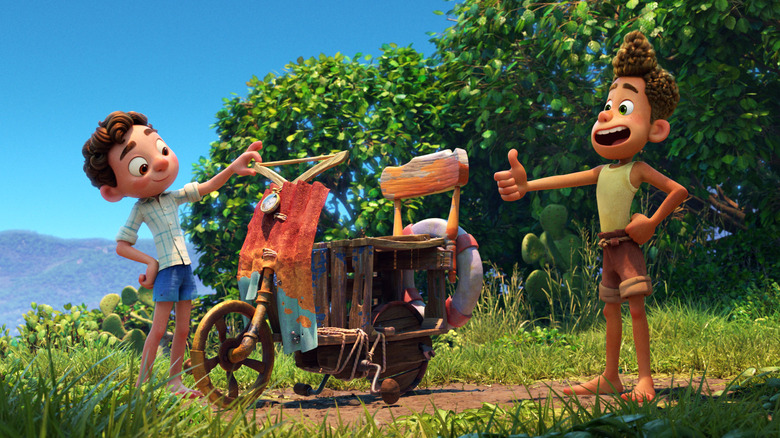 Disney/Pixar
Now I know shooting a live-action film is very different from animation, but were there any funny stories or memorable moments that happened between you two on set?
Jack Dylan Grazer: We got in a pinball fight. No, I'm lying. You know something? We had never met in person till this day. The first time we ever really communicated is because of these press junkets, so we did a meeting on Zoom to get to know each other before we started this press stuff. That was no use because we still terribly dislike each other.
Jacob Tremblay: Yeah, it's true.
So was it hard since you guys didn't meet to meld the characters together?
Jacob Tremblay: Well, it's pretty funny, because our chemistry in the movie just seems so good, and we had never met each other. Yeah, it is cool to see how it was pieced together. I think they did an amazing job, and Jack did an amazing job playing Alberto too. So it was really cool.
Jack Dylan Grazer: Enrico, the director, also had a great role to play in how great we kind of melded.
Jacob Tremblay: Definitely.
And last question: what do you hope people take away from this film?
Jacob Tremblay: I hope they take away a really good time, and I guess I hope that it inspires people to just be themselves, and, yeah ... I think it's important to step out of your comfort zone. I think that's what this movie will show people.
Jack Dylan Grazer: Yeah, and the value of friendship.
Jacob Tremblay: Well said, co-star, well said.
"Luca" will be available on Disney+ on June 18.