The Ending Of Luca Explained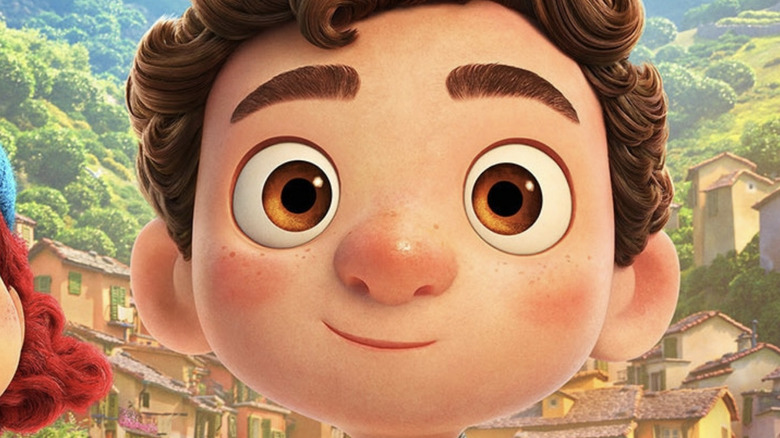 Disney/Pixar
Contains spoilers for "Luca"
The latest Disney and Pixar film to hit Disney+ is here just in time for summer — and it's certainly made a splash. The heartwarming animated feature "Luca," which arrived on Disney+ on June 18, is about the titular young sea monster's journey of self-discovery. Luca Paguro (voiced by Jacob Tremblay) is a sheltered young goatfish herder who helps his neurotic mother Daniela (Maya Rudolph) and preoccupied father Lorenzo (Jim Gaffigan) on their underwater farm. When Luca meets the brave Alberto Scorfano (Jack Dylan Grazer), he realizes that sea monsters turn into humans on land — and soon, he has a whole new world to discover. 
The fun continues when Luca and Alberto meet the feisty human girl Giulia Marcovaldo (Emma Berman) in her seaside town of Portorosso, and the trio decide to enter a triathlon together — all while Luca and Alberto try to hide their true identities.
"Luca" is sure to be a hit with audiences of all ages, thanks to its beautiful animation and touching story that had some unusual inspiration behind it (several different Italian sea monster legends influenced the story). While the plot of "Luca" has the same happy, upbeat tone and structure characteristic of Disney-Pixar movies, there are plenty of unique aspects to "Luca" that make it a film unlike any other. 
Here's what happens at the end of "Luca," and what it means.
The end credits of Luca give us a peek into the kid's futures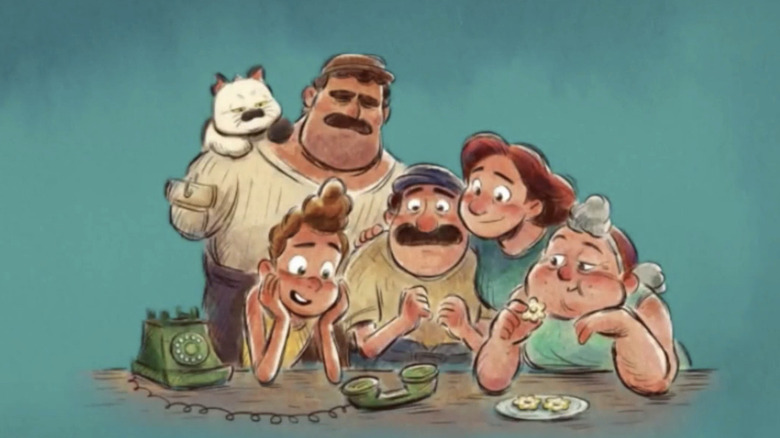 Disney/Pixar
The final scenes of "Luca" have the potential to leave viewers with a bunch of unanswered questions. In the film's last moments, Luca heads off to join Giulia at her school, leaving Alberto behind with Giulia's kind father Massimo (Marco Barricelli). Luca boards the train headed for school, and he looks at Alberto sadly as the two move further apart. Then, Luca smiles and looks at the beautiful open world around him. Bittersweet ending, right? It also leaves some loose ends: Will Luca be accepted at his school in the human world? What will become of Alberto?
Thankfully, the filmmakers address these concerns in the end credits of "Luca." As the credits roll, some sketches appear on screen. They document the events that take place after the movie's conclusion: Luca and Giulia are at school with their new friends, who marvel at his sea monster self; Alberto is having fun in his new home town of Portorosso; and the two boys stay in touch via phone calls. 
Viewers who stick around to enjoy these last heartwarming sequences of "Luca" will be glad they did, and feel like there was a truly happy ending for everyone.
Luca is a testament to childhood friendships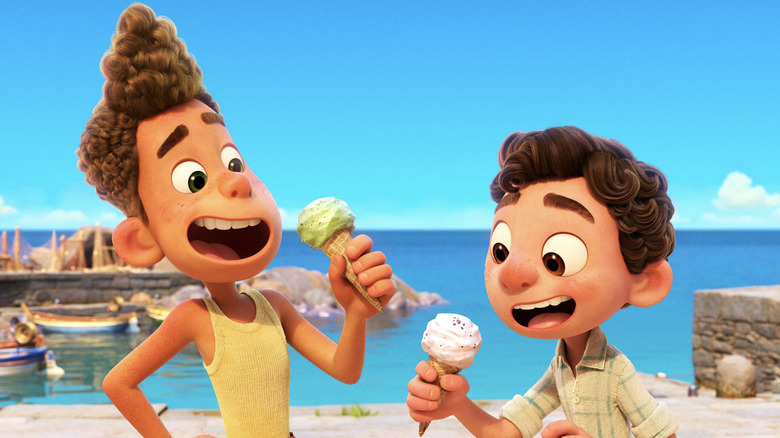 Disney/Pixar
The majority of "Luca" is centered on Luca, Alberto, and Giulia's friendship. Though the trio have their ups and downs throughout the film, they ultimately prove to be genuine friends who care about and support each other for who they are. This is especially evident when Giulia realizes that Luca and Alberto are sea monsters. She's a bit surprised at first, but quickly accepts their true nature and concerns herself with making sure they stay safe. Since Giulia is a bit of an outcast herself, it's especially touching to see how easy it is for her to accept her friends, knowing that she isn't always so readily accepted.
In a Pixar featurette, the cast and crew of "Luca" expanded on the poignancy of the friendships in the movie. Lorenzo voice actor Jim Gaffigan described the film as "a story of friendships that are authentic and only found around a certain age." Maya Rudolph noted, "I love this moment in a young person's life — having someone push you out of your comfort zone to discover yourself." Jacob Tremblay also chimed in, saying, "I really loved watching the friendship between Luca, Giulia, and Alberto. I'm hoping that it will bring back a lot of memories for people of summers when they were kids."
The close (and quick) bond that Luca and Alberto share is even more special when considering it was inspired by "Luca" director Enrico Casarosa's real childhood. He told Disney News, "My best friend Alberto was a bit of a troublemaker, [while] I was very timid and had a bit of a sheltered life — we couldn't have been more different. We were also a bit of 'outsiders,' so it felt right to use sea monsters to express the idea that we felt a little different and not cool as kids. Alberto pushed me out of my comfort zone, and pushed me off many cliffs, metaphorically and not. I probably would not be here if I didn't learn to chase my dreams from him. It's these types of deep friendships that I wanted to talk about in 'Luca,' and that is what's at the heart of this film."
Luca reminds us to accept others — and ourselves
"Luca" constantly reminds us to be proud of who we are and accept others as they are as well. None of the friends in "Luca" try to change one another — instead, they encourage each other to be themselves, as good friends should. And again, even when Giulia realizes her friends are sea monsters, she still cares for them and wants to help them. 
A short scene with Massimo is another great example of acceptance. When he catches Alberto staring at his missing arm, he jokes that a sea monster ate it before explaining that it's simply how he came into the world. The topic isn't brought up again, and the moment serves as a reminder that someone's differences aren't the most important parts of a them. Instead, Massimo's kindness, fishing skills, and love for his daughter are the focus of his character.
Andrea Warren, the producer of "Luca," expanded on the film's theme of acceptance. She told Disney News, "We always liked the idea that the metaphor of being a sea monster can apply to so many different things. There is a theme of openness, showing oneself and self-acceptance, as well as community acceptance. Confronting the idea that there's more to sea monsters than they realized. You know that they've only seen it through one perspective, one lens, and so I think that that's a wonderful theme in the film, which is that those ideas weren't right and that there's more to learn." 
Director Enrico Casarosa added, "We hope that 'sea monster' could be a metaphor for all [manners] of feeling different — like being a teen or even pre-teen — any moment where you feel odd. It felt like a wonderful way to talk about that and having to accept ourselves first, whatever way we feel different."
"Luca" is now available to watch on Disney+.