Luca Review: A Fairytale That Makes A Little Splash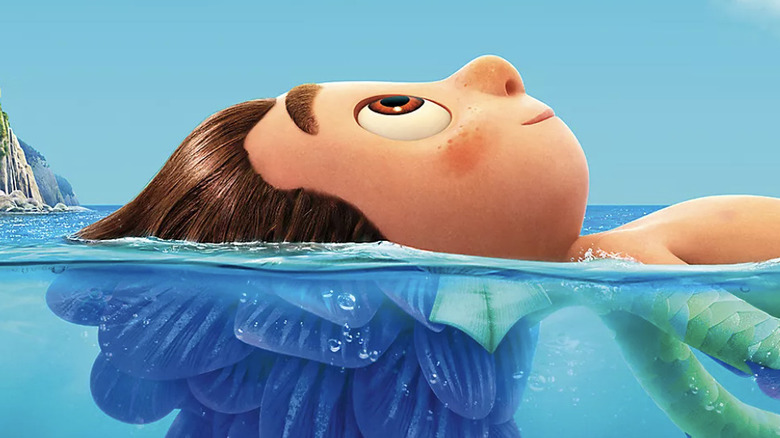 Walt Disney Pictures
They may still be winning Oscars with every other new release, but it's becoming clearer with each film that Pixar are straying further from their golden age. Back in 1994, before "Toy Story" was even released, the studio's leading animators had a lunch meeting where they noted down ideas for four future movies on a napkin — ideas that over the decade that followed would become "A Bug's Life," "Monsters Inc.," "Finding Nemo," and "Wall-E." Since being bought by Disney, the studio has rarely exhibited the same creative energy, opting instead for an endless string of merchandise-ready sequels, with the original films that fall between all shamelessly borrowing the plot beats of their biggest successes. "Soul" may have been their biggest critical hit in some time, but it still shamelessly lifted its narrative from the recycled scraps of earlier films; a bit of "Inside Out" and its metaphysical race against time here, a touch of "Coco" and its irreverent look at the afterlife there. It doesn't exactly make for a bad film — just one that doesn't possess the same imagination characteristic of the greatest Pixar productions.
"Luca," the studio's latest offering, is another decidedly mid-tier outing from the studio, albeit one that makes up in charm what it lacks in originality. Like all late-period Pixar, you don't need to squint to notice the similarities to the studio's greatest hits. In fact, some characters even seem designed to specifically evoke memories of earlier, better films, right down to the overprotective underwater parents who you'd imagine would be great friends with Albert Brooks' curmudgeonly dad in "Finding Nemo." But even at their weakest, the studio still offers up enough simple pleasures to make spending time in these worlds worthwhile. Here, first-time director Enrico Casarosa (who previously made the 2012 Oscar-winning animated short "La Luna") blends traditional fairytale magic with the studio's offbeat storytelling sensibilities much more effectively than their prior attempt at the genre, 2012's "Brave." It doesn't have the emotional resonance of the studio's best work, and definitely won't have the shelf life either — but while watching, many will find themselves won over by the effectiveness of its fairytale simplicity regardless.
A sun-kissed fairytale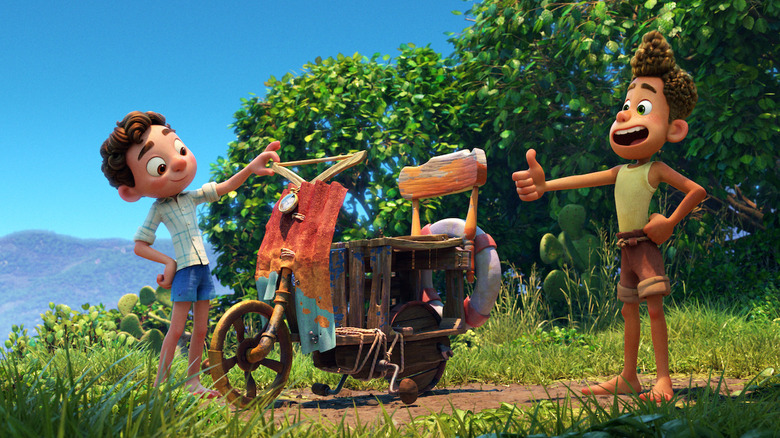 Walt Disney Pictures
Luca Paguro (Jacob Tremblay) is a young sea monster living beneath the waves just off the Italian coastal town of Portorosso. His overprotective parents (Maya Rudolph and Jim Gaffigan) have long instilled in him a fear to leave his underwater home and explore the outside world, but one day he meets the adventurous Alberto (Jack Dylan Grazer), a sea monster who spends more of his time above the surface than he does beneath it. The pair quickly become friends, although Luca's fear gets in the way of Alberto's adrenaline junkie approach to life, as he's told to live in the moment and embrace his inner daredevil. After being told he can no longer go above the surface by his parents, Luca and Alberto decide to run away together into the nearby town. But as they blend in by taking human form whenever they're away from water, they discover a dangerous secret: here, people hate sea monsters, and there are rewards out for anybody that can kill them.
Almost immediately, the pair cause a scene after getting on the wrong side of Vespa-riding local bully Ercole (Saverio Raimondo), an intimidating thug who is beloved for winning the town's annual bicycle race three years in a row. His biggest rival is Giulia (Emma Berman), and after she sees Luca and Alberto get in Ercole's bad books, she takes it upon herself to defeat him in the race with them as the team behind her. The only problem? Luca has never ridden a bike before — but as Alberto's dream is to ride the pair around the world on a Vespa, he opts to take part so his friend can win the money to buy one. This is easier said than done when hiding their fishy secret, and is made a lot harder as Luca's parents have come above water to find him and send him off to live in the ocean depths with his oddball uncle (Sacha Baron Cohen), where they can be sure he'll be safe.
Enrico Casarosa has described "Luca" as a personal film, inspired by a formative friendship he had growing up in Italy during the 1970s and 1980s. However, there's not much sign of it onscreen, with his personal tale relocated to a postwar period long before he was born, and any authentic hints of rural Italian life buried beneath a broad, albeit loving, caricature — the third act does, after all, hinge on a bicycle race where participants must pause to eat a full bowl of pasta midway through. If you were charitable, you could say it does for Italy what "Ratatouille" does for France, offering a heightened, romanticized view of the country that reclaims its silliest stereotypes as a point of national pride. But the most damning thing is that these touches have all been dreamed up by two American screenwriters, Jesse Andrews and Mike Jones, and not the director himself. Visually, this is an evocative, nostalgic depiction of life on the Italian coast, but without the director's own experiences, this feels like the result of an American director making a film in an imagined, stereotyped version of a country, and not a personal film from a filmmaker inspired by his own childhood memories.
"Luca" is a lot more successful when it comes to rejuvenating classic fairytale story beats. Much like Hayao Miyazaki, whose film "Ponyo" seems like a clear influence (alongside his film "Porco Rosso," the title of which gives the name to the fictitious town in "Luca"), Casarosa lifts much of the magic of his film from Hans Christian Andersen's "The Little Mermaid," effectively reimagining its core tension of life above water as a crisis of friendship and family, not romantic love. Similarly, he utilizes the fairytale trope of a small town untrustworthy of a fantastical creature to delightfully subversive effect, twisting the town's murderous hatred of sea monsters into something quietly poignant in its later stages — which only furthers the perception that the film has a very obvious allegory hiding in plain sight.
Coming of age story -- or coming out story in disguise?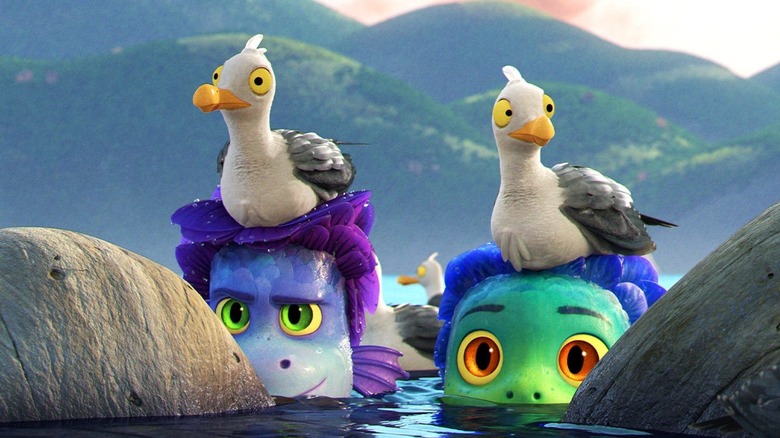 Walt Disney Pictures
When "Luca" was initially announced, it seemed like everybody rushed to make the same joke: this was Pixar's take on "Call Me By Your Name," all because of the Northern Italy setting, and a title that shares its moniker with that film's director, Luca Guadagnino. As the film is based on a real-life friendship, it seems unlikely Enrico Casarosa chose to model his film on a more adult coming of age story, but there are definitely aspects to this fantastical tale that feel more suited to a coming out narrative rather than a tale of two friends spending the summer together. After all, the classic fairytale trope of creatures having to hide their true identities to blend in with the more conservative world away from home will take on a whole new meaning for any LGBTQ viewer, and the subtle way the film reveals other sea monsters hiding in plain sight only furthers this.
"Luca" may be a broader allegory for outsiders in general coming to terms with their true identities, but for queer viewers, even in its broad state it will likely prove far more effective as LGBTQ representation than Pixar's previous attempt: an embarrassing shoehorned cop character in "Onward," who made a passing reference to her girlfriend before disappearing from the film. No, there's nothing groundbreaking in "Luca" when it comes to representation, and TV animation (from "Adventure Time" to "Steven Universe") is light years ahead when it comes to explicitly including LGBTQ characters — but at least you won't roll your eyes.
When viewed as a film purely about friendship, "Luca" is at its best in the moments where it becomes a hangout movie, focused solely on the boys' adventures on a carefree summer. The only moments in the film that break free from Pixar convention are these early sequences, as the pair bond over building their own Vespa and performing stunts — the most accurate depiction of spending all day during summer doing nothing you could expect from a film about two mythical creatures. I was left wishing that there would be less of a high-stakes plot in the movie that followed, and more of the grounded depiction of those fondly remembered summers in childhood.
Like most of their recent output, "Luca" won't get anywhere beyond the middle of anybody's Pixar rankings. But there's a lot of charm to this fairytale — you'll enjoy it in the moment, while being fully aware that this is one of the studio's slightest efforts.