How Luke Baines And Katherine McNamara Got In Trouble On The Final Day Of Shadowhunters - Exclusive
Freeform
The ending of Freeform's series "Shadowhunters" may have taken fans by surprise, but no one took the cancelation news harder than the show's cast. 
After only three seasons, the fans and cast alike had to say goodbye to their favorite characters. Onscreen siblings Katherine McNamara (Clary Fray) and Luke Baines (Jonathan Morganstern) almost couldn't get through their final scene together, because the goodbye was so difficult to bear. And who can blame them? During an exclusive interview, Looper spoke to Luke Baines about the ending of "Shadowhunters," and he took us down memory lane, revealing interesting details about just how he and Katherine McNamara got into trouble during their pivotal scene. 
The final scene between Clary and Jonathan may be raw and emotional, but it's nothing compared to what the actors went through on that last day of filming. Baines said, "The most challenging aspect was the fact that it was five o'clock in the afternoon and the sun was going down, and we had no more days. So if we didn't catch what we could catch in the 40 minutes we had daylight left, we wouldn't have had an ending to the show." That's a whole lot of pressure for McNamara, Baines, and the entire crew.
The 'don't cry' mantra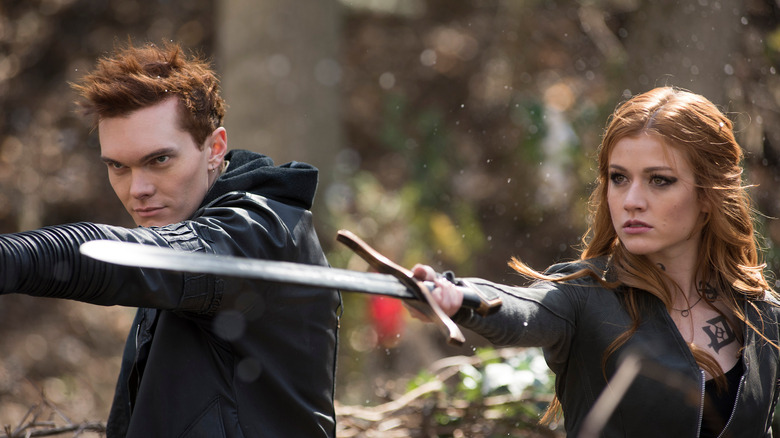 Freeform
Baines had to repeat a mantra to himself to keep the waterworks at bay: "A lot of my inner monologue was, 'Don't cry. Don't cry, don't cry, don't cry.'" 
Of course, McNamara was the catalyst for Baines' failed mantra. He added, "Because Kat had also started crying before we'd even got to set, we got out of the cast van, and we were walking to set, and she was like, 'I just realized, this is the last time we're going to get to work together.' And I'm like, 'Seriously? You're going to do this to me right now?'"
Baines continued, "So all through blocking, she was just crying, and all through rehearsal, she couldn't stop crying." And while Baines is certainly nothing like his cold, callous, and unfeeling character, the actor couldn't afford to stray from Jonathan's demonic demeanor given how small of a window they had to shoot the scene. Yet it was nothing a little scolding from the showrunner couldn't fix. "I was crying in rehearsal, and Todd Slavkin, our showrunner, who was also directing the episode, was like, 'Guys, this is all great and everything, but Luke, you have no emotions. You're devoid of humanity at this point. You need to suck it up,'" Baines recalled with a laugh. "So that's very much what I was thinking of, and then, up until the bitter end."
Baines also dished that, "What's actually funny, though, is that Todd also said the same [to Katherine McNamara]. He said to her, 'Don't cry too much, because you know, with the audience, they're going to remember that he's also just killed everybody in the whole institute.'" He added, "So she was trying not to cry, to hold back the tears as well."
For fans feeling nostalgic, they can watch every season of "Shadowhunters" on Hulu. But before doing that, fans can check out Katherine McNamara and Luke Baines' incredibly witty and clever new satirical horror film. Their film, "Untitled Horror Movie," is now available on VOD.